Matching Configurations by Kyle Keyes - Book Tour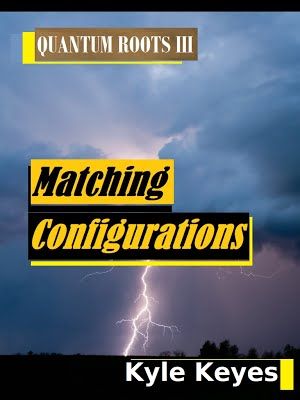 Fiction, Light Sci-fi, Satire
Date Published:
March 2019
Olan Chapman returns in this third edition of Quantum Roots, as Calvin Cannonball
Cooper, a vigilante from yesteryear who uses powder guns, throwing knives and
cannonballs to neutralize the bad guys of today's society.
History books fail to mention Calvin Cooper, but this defender of the weak and

helpless, went down with Jim Bowie, Davy
Crockett and William B.Travis in that 1836 slaughter we remember as The Alamo.
Acknowledged or not, Cooper lives again each time Olan Chapman dons a cavalry outfit, found in a New England attic overlooking the sea.
Matching Configurations is based on a belief that any quark assembly that spins through
a series of worm holes, must format with a matching configuration triggered
from this side of the Time Wall.
This 296 page novel contains some adult material not suitable for readers under 18.
Excerpt
CHAPTER 1
The intruder slipped into the masquerade party unnoticed, an easy feat in a noisy room filled with zany people and daffy costumes.
Mickey Mouse was there, and Donald Duck.
As was Bugs Bunny, Bat Man, the Green Lantern and a host of other rubber faces. The intruder wore a black head stocking to cover a black mustache and two evil eyes, spaced too close together. His name was Muhammud Dym Lyt Farouki. He had a picture of a camel painted on his car top, and a Luger tucked in his black waistband. He was here on a holy mission to kill women and baby infants.
"I don't see any children," he whispered to a woman dressed as Xena-Warrior Princess.
"This is an adult party" said the woman.
"Allah will be angry," replied the intruder.
"I'm sure you can find your way back to your camel," said the woman.
World wars have been started with less fuel. The intruder pulled the Luger and aerated some mildewed ceiling tiles.
Bedlam continued.
The terrorist walked calmly to a roped off dance floor and targeted a be-speckled senior dancing with his wife. He shot the senior through the head.
Screams filled the air as blood squirted to the floor. Party goers stampeded to the exits of this fire house second floor, only to find the stairwell doors locked. The terrorist fired more shots into the ceiling.
All fell silent.
"Thank you for your attention," said the camel jockey, "I will now have all men drop to your knees, and all women line up against the wall for execution."
This particular Halloween gala was a staff party for employees of a small, New England computer firm. Mostly, the men had bookkeeper bellies and the women were anything but jocks.
There wasn't a hero in sight.
Then, as the men knelt on trembling knees and women cowered against a stolid wall, deliverance appeared in the form of a U.S. Cavalry soldier. The terrorist was just about to execute the first woman in line, when the new comer came out of a nearby men's room. He was dressed in blue and navy garb, with a flat brim stetson hat. A powder pistol hung from his right side, a throwing knife hugged his left thigh.
The two men locked eyes.
"Drop to your knees," ordered the terrorist.
"Fuck you," said the soldier.
The terrorist raised his pistol.
Witness accounts would later vary on details, but the bottom line was written in blood. The cavalryman's dagger went from it's scabbard through the terrorist's throat in a move second only to lightning. Not one witness could swear they saw the draw or the under hand throw.
The men did testify that the terrorist's broken ribs came from revengeful kicks to rectify being shamed to their knees.
The cavalryman vanished.
Other Books in the Quantum Roots Series: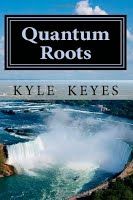 Quantum Roots: The Vigilante Sightings
Federal agents, Alexis Grumman and Jeremy Wade track down a current day vigilante,
whose fingerprints match those of a Korean War veteran. Author Kyle Keyes uses
characters from two previous novels, to promote a theory that particle energy
formats with a quantum root system, that can bypass time and space. Keyes
believes that such fiction could turn to fact as we move into the age of
quantum mechanics. Adventure fans everywhere should delight in this fast paced
action story, that brings yesterday's gun play back to settle cyber-age
injustice. Synopsis: Jesse Joe Jacks was born sometime during the snow blizzard
of 1923. The Lower Elk County, game warden died from a lightning strike on July
23, 1959, while wearing a sheriff's star. Olan Chapman came to life in August
of 1974 and found a computer career with a center city, electronics firm.
Chapman drinks heavy and is haunted by flashbacks of an older sister, lost to
an unsolved case of gang rape and murder. Jacks loved nature and lived to
protect wildlife. He stood tall and fought to uphold justice. Jacks was also a
crack shot with a firearm – any firearm. Chapman attends the theatre, plays
piano and at one time led a march against the National Rifle Association. Both
men have the same fingerprints, much to the chagrin of Lt General Alexis
Grumman who heads the federal department for para-normal activities. Working
with special agent, Jeremy Wade, Grumman breaks open the case when Chapman's
fingerprints also match those of the vigilante.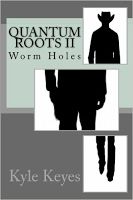 Quantum Roots II: Worm Holes
In this sequel to Quantum Roots, the meekish Olan Chapman faces danger as
vigilante Samuel Leroy McCoy, a US deputy marshal who upheld law and order in
1876, Dodge City.
The metamorphous holds an eerie transformation, cloaked with rolling sagebrush and
horse whinnies from yesteryear, which causes DPA Director, Alexis Grumman to
rethink the validity of worm holes.
"Creation is a worm hole," replies Dr Norman Daly, "Atoms require hadrons to form a
nucleus, and each hadron comes through it's own worm hole. Two quarks form the
bi-dimensional plane needed to support the hole. The remaining quark squeezes
through this hole, after which the first two quarks follow to shape the hadron
to a given genetic, configuration. The hole then closes to divide time from timeless."
The gunfighter is wanted for multiple killings, a consequence that keeps the
slender computer wizard on the run from authorities – and domineering wife, Ivy
Chapman.
As in Quantum Roots, aka The Vigilante Sightings, Quantum Roots II is based on mounting evidence that people form from recycled energy.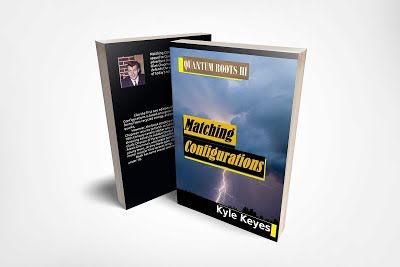 About the Author
Kyle Keyes is widowed, has two children and an armload of grandchildren and great
grandchildren. When Keyes isn't at work, he can be found in the nearest sand
trap, hitting himself in the ankle with a sand wedge.