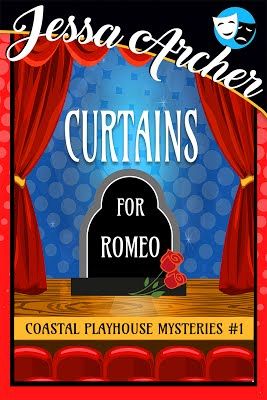 Coastal Playhouse Mysteries #1
Publisher: Archer Mysteries
Date Published: July 9, 2019
ROMEO, ROMEO, WHEREFORTH ART THOU?
Acting jobs are scarce now for former TV teen detective Antigone Alden. So when a teaching position opens up at Southern Coastal University, Tig packs up her teenage daughter and heads home to the Outer Banks of North Carolina.
The house she inherited from her mother isn't entirely empty, however. Her mom seems stuck between this life and the next, and now Tig is a local reporter's prime suspect in the murder of the former theater professor. Given his reputation as ladies' man, there are plenty of people with a motive.
Tig isn't a detective. She just played one on TV. Will that be enough to help her find the killer?
The discovery of Amundsen's body meant that all of my classes were canceled. Lunch with Dean Prendergast was canceled, as well. I was perfectly okay with that since I no longer had the slightest bit of appetite.
Dr. Martin Peele arrived at Muncey Theater just before campus police, about ten minutes after Ben phoned him with the news about his junior colleague. Most of my interviews for the open position had been handled in an online video conference, but I'd met Dr. Peele in person once, when I was on campus with my mother a few years back. A short, squat man with thick eyebrows and an expressive face, he reminded me of a slightly taller and younger Danny DeVito. My first thought when I met him—aside from the fact that he had sweaty palms—was that he was tailor-made for character acting.
As soon as Dr. Peele was inside, campus police turned their questions to him, which made sense, given that I'd never even met Amundsen…well, at least not when he was alive. So I slipped out the side door with a book, in search of someplace quiet, preferably with lots of fresh air. I ducked into the cafeteria to grab coffee from the vending machine and then found an empty bench at a little park between Muncey Auditorium and the main campus. The last inch of the coffee remained in the bottom of the cup as I sat on the bench reading, so that I could bring it up to my nose and breathe it in as needed. Even a half hour later, out in the wide open where the January air carried a hint of the ocean, the awful smell from the theater remained lodged in my nostrils.
The scrappy girl detectives on Private Eye High encountered a corpse in pretty much every episode, and there were even a few cases where they stumbled upon a long-dead body. Given that the makeup department generally did an excellent job of making the bodies look real, I would have sworn that I was fully inoculated against squeamishness. But I'd never really considered the olfactory element. Murder mysteries will be much less popular if anyone ever invents smell-i-vision.
"Well, well, if it isn't Antigone Alden. How is it that you're in town less than twenty-four hours and we already have a dead body?"
I hadn't heard Alicia Brown's voice in more than twenty years, but the nasal twang was unmistakable. When I left Caratoke High School at the end of my sophomore year, after landing the part in Private Eye High, Alicia was the reigning Queen Bee-with-an-itch. She didn't like me for one simple reason: Travis Lamm did like me. In fact, he liked me so much that we'd ended up dating for over three years, even keeping the relationship going after I was in California.
Sighing, I snapped shut the technical theater text I'd been thumbing through halfheartedly. "The body's been in the trap room for way more than twenty-four hours, Leash."
I didn't even have to look up to know the expression on Alicia's face when I pulled out the old nickname, Leash. I could picture the woman's ferretlike nose twitch perfectly. That's one good thing about old frenemies. You already know which buttons to push.
"You stepped right into his job," Alicia said. "That might make some people a little suspicious. Or maybe trouble just follows you around like a bad stink. Can't believe you've decided to come back and live among us commoners. Is California's cost of living too high for washed-up has-beens?"
At that point I did look up and was surprised that the Alicia in my head didn't look much like the one standing in front of me. Alicia's hair was platinum now, rather than her natural brassy blonde. Two decades of tanning booths, Quarter Pounders, and cigarettes had taken a toll. Alicia now looked more like her mother, who'd sat in the bleachers at home games, than the pert and perky head majorette who had strutted across the field at halftime.
Rather than try to cover my surprise, I decided to use it. "Wow. I am so sorry, Mrs. Brown! I could have sworn I was talking to your daughter, Alicia."
Alicia cocked her head to one side. I could almost hear the hamster wheel spinning away as she tried to dredge up a smart retort.
I decided to spare her the torment, thinking maybe if I just cut to the chase, Alicia would leave. "Did you want something, Alicia?"
"Actually, I do. I'm the lead reporter for The Clarion these days and unfortunately, my editor tasked me with writing a human-interest piece on your move back to Caratoke. Us being old friends and all. I have to get a photo to go with the article, so say cheese." Alicia held up her phone and snapped the picture before I even had time to smile. She tucked the phone back into her little red handbag and then turned on her heel to walk away.
About the Author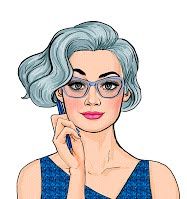 Jessa Archer writes sweet, funny, warm-hearted cozy mysteries because she loves a good puzzle and can't stand the sight of blood. Her characters are witty, adventurous, and crafty in the nicest way. You'll find her sleuths hand lettering inspirational quotes, trying to lower golf handicaps, enjoying a scone at a favorite teashop, knitting a sweater, or showing off a dramatic side in local theater.
Jessa's done many things in her long career, including a stint as a journalist and practicing law. But her favorite job is spinning mysteries. She loves playing small town sleuth and transporting readers to a world where the scones are delicious, wine pairs with hand lettering, and justice always prevails.