The Hockey Player and the Angel by Kirsten Paul - Book Tour + Giveaway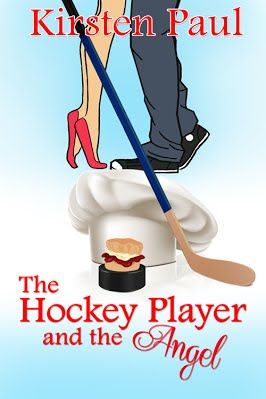 Book One of Calendar Men of King Court
Publisher: The Wild Rose Press
Date Published: July 22, 2019
Top chef Katrina Sherrer should have left hockey pro Marc Johansen out in the cold. That's where she's headed if she can't change his mind. The all-star defenceman is determined to buy the family-owned Acadia Restaurant and Inn and tear it down. But the gods of blizzards and power outages have other ideas—they want to have fun. They strand Marc at the inn and Katrina in his room. Cognac, fireplaces, cold showers, wrong medication, and scones need to work their magic to prove that Marc can be more than Katrina's arch-enemy and business is not all about money.
Katrina added the last log to the fire. The power was still out but she checked the door anyway. If it didn't come back soon, she wouldn't have any more logs to keep the room warm.
Her sisters and the guys laughed and talked. Their voices carried all the way from the lobby and over the salsa music they played.
"They're having a good time," Marc said, his voice slurring.
He looked groggy. "Are you, all right?"
"I feel. I feel light. Airy."
"Shouldn't pain killers make you feel that way?"
Katrina picked up the orange bottle. "I gave you two as you asked." She looked closer. "Holy shit. I gave you Tyler's meds—Tylenol three and he only takes one."
Marc laughed. "That's why I'm feeling so—pain free. And happy. But drowsy. One is enough to knock out an elephant. Like Tyler. Tyler the elephant." He laughed, amused at his own inane joke.
She picked up another orange bottle and saw Marc's name on it. "Your medication has a tangerine lid. You should have said tangerine, not orange."
"Too late for oranges and tangerines. You've killed me for real, Katrina. Katrina Sherrerrrrrr. Goodbye, my angry angel, my honey, my sweetie…," he sang.
Katrina dropped the pills and raced to him. "Oh my God. This isn't good. I didn't mean it, really. I've over drugged you." She raced to the door and banged on it. "Help!" She banged but the music was so loud, no one heard. She took out her phone, remembered it was drained, and threw it at the door. "I need your phone."
He put it under his leg, stretched out his arms, and puckered his lips.
Was he for real? Had the painkillers transported him back to teenage-hood?
As much as she wanted to give him a big smooch and more, she had to save him first. Otherwise, the lawsuit would be bigger than before. "Give me the damn phone now."
"I'm yelling because I have to call for help."
He pushed it higher, almost under his buttocks.
"You've got to be kidding me." She marched to him and stuck her hand under his seat. Marc threw her onto the bed and tickled her.
"There's no time for this, Marc." She rolled off the bed, landing on the carpet but with the prize in her hand.
Marc peered over the side at her. "You're no fun at all."
She jumped up. "I need to save you first." She moved as far away from him as possible and called Eric. He picked up after a very long time. "Eric, it's Katrina. You have to help me. I gave Marc the wrong medication and double the dose, too. I gave him Tyler's Tylenol three. Ask Tyler. What the hell am I supposed to do? He's really—happy."
Eric spoke to Tyler and they laughed.
"Help, I've over drugged him."
Tyler couldn't stop laughing. "Get him into a shower and make him move around."
"But the shower will be cold."
"What about side effects or repercussions?"
"Extreme and utter nirvana." The phone went dead.
"You're swearing quite a bit, Katrina Sherrerrrrr." Marc wagged a finger and sang her name.
Gone was the charming king of the castle. In his place was an annoying adolescent prankster.
"I've only just begun." She threw the cell on the bed, grabbed two candles, and put them in the bathroom. "I have to get you into a shower."
"No." Was he for real? "Now get up." With her arms around him, she helped him to the bathroom. She put down the toilet lid, pushed him onto it, and opened the shower head. It was lukewarm but soon it would be cold. "Okay, let's get you in."
"Only if you come in with me."
"I'll join you once you're in."
"I'm holding you to it." He stood, swayed, and pulled his tie off.

He was about to undo the buttons on his shirt but stopped. A sly smile curled his lips. He stretched out his arms and swayed toward her. "Help."
Katrina rolled her eyes. If she hadn't done this to him and she wasn't stuck in his room, she would have charged out.
She began to unbutton his shirt, but the feel of his warm skin and the sight of his chest made her fumble. He was the picture of a weightlifting, muscle crunching, cardio sweating-god only a professional athlete could be. The dusting of hair on his chest that crawled down his abs, into his pants and, presumably, all the way down yonder where the puck and hockey stick had strategically been placed for the photo, gave him away as a mere mortal.
Marc drew closer. "Are you afraid of me?" His voice was a sensuous whisper.
"Then why are you going so slow?" More of the silky tone. "Rip my shirt off just like the movies."
She focused on the job or risk losing herself in his allure. "I can't afford to buy you another."
"I've got plenty. Come on. Rip it off. I work out. I have a good chest. Me Tarzan. You Jane. Rip."
"This is not the jungle." She undid another button.
His eyes narrowed but glinted with slyness. "You are afraid of me."
Katrina pulled his shirt apart, the buttons flying everywhere. "Satisfied?"
The shirt was stuck over the ripples of his shoulder muscles. "You haven't finished."
Katrina dragged it off, ripped it in half, and threw both pieces in his face. "Ripped."
Laughing, he batted them away.
She put her hands on her hips. "Any requests for the pants?"
His eyes lit up. "With your teeth."
She charged out of the bathroom.
He pulled her back. "Just joking."
She undid his buckle and pulled his belt off.
Marc drew closer, his lips touching hers. "Unless you're up for it."
He shrugged like a dejected little boy. "Another time, okay?"
"Absolutely not." She put her hands on his zipper but threw them right off.
"Alas, as you've so rightly noticed, it's a little crowded down there."
"Alas, I have rightly noticed." He was hard. He was aroused.
"All complements, of course."
He waited and so did she. "You're up at bat, Honey."
About the Author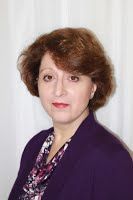 Under the pseudonym of Kirsten Paul, Franca Pelaccia has written two romantic comedies, The Hockey Player and the Angel and The Detective and the Burglar. She has also written a woman's adventure entitled Moses & Mac, the first book of the Vatican Archaeological Service series.
Writing as Francesca Pelaccia, Franca self-published The Witch's Salvation, a historical paranormal novel that won the Beck Valley Reviewers' Choice Award for 2013. An avid reader, Franca reviews novels for the Historical Novels Society.
Giveaway