Senna's Secret by Karen Tjebben - Book Tour + Giveaway

Date Published:
October 12, 2019
Senna Lang knew that fairy tales didn't come true. There was no prince desperately searching for her to rescue her from the humdrum monotony of life. And whenever her heart dared to hope that there was, she'd shut down that line of thought because it led to the dull, persistent pain centered in her heart. Most of the time she could ignore the ache, but sometimes she couldn't help but wonder what her life could have been if she hadn't screwed everything up with Josh ten years ago. Would they be living in a two-story bungalow with water views and wrap around porches on the idyllic town of Avenel? Would they have a couple of kids and a rambunctious but friendly dog?
Regardless of her hopes or fears, returning to Avenel would thrust her into Josh's realm. He was her first, and she still wasn't over him. Even though he didn't know it, she carried a secret from their past that could change their lives forever.
Josh Turner couldn't believe his eyes. He'd heard Senna was coming back, but he hadn't known when. But when their paths crossed, the curves of her body took him on a slow trip through memory lane. She'd been his first love and his first heartbreak. After high school, she'd ghosted him and cut him out of her life as if he was a cancerous tumor to be tossed aside. He'd been heartbroken and angry, but as the years passed, his anger cooled to indifference, but being in her presence again unleashed a swell of emotions that he hadn't expected. All their 'firsts' crashed through him like a tsunami and destroyed the barriers he'd erected around his heart. He'd thought he was over her. He wasn't.
Everyone has secrets, but some secrets are too heavy to bear alone. Those need to be shared.
Excerpt
Josh gazed into her heated blue eyes. "I thought I was over you, but I'm not. All this time, I'd pushed you to the back of my mind, but now you are up front and center, demanding my attention."
Disappointed by his implication that she was demanding him to be with her, she interrupted, "You don't have to be here. You don't owe me anything." She tried to pull her hand free of his, but he held tight.
"No, that's not what I meant." He shifted on the love seat until he faced her. "I'm glad you're back in my life. When I was dating other women, you were the measuring stick. I compared them all to you. And none of the other relationships even came close to what we had."
Placing his hand on her cheek, he asked, "Can we try this again? You and me? For real?"
His words sent her heart on a tilt-a-whirl ride. A slight dizziness rolled through her. He was her biggest regret in life. She should have done everything differently, but even so, he was there, begging her to take him back. Little did he know that he didn't need to beg. He'd always been in her heart.
"Yes," even though the single word was barely breathed, its meaning altered their worlds. Her chest rose and fell as her breathing quickened.
"I need you, Senna. Just a taste. I need a connection to you." The words tumbled out of his mouth in a low rumble, like a sexy pleading that overwhelmed her.
Her eyes narrowed slightly as desire pulsed through her. Was she ready to do this?
Hell, yeah. She stood, eyeing him as she stepped in front of him. When she moved closer, he scooted into the middle of the sofa. With a knee on each side of him, she straddled him. Easing onto his thighs with her core pulsing between her legs, she nestled atop him. There was no missing the firm bulge that tented his shorts.
As her weight settled over him, he leaned forward and slid his hand behind her head. Then, pulling her closer, he pressed his lips to her neck. The moan that fell from her lips encouraged him.
He pulled her hips closer so that her core pressed against his erection while he kissed his way to her ear. Despite the fact that they'd made out countless times as teens, this felt like new territory. Like each caress and kiss was a bonding, a uniting of themselves to the other.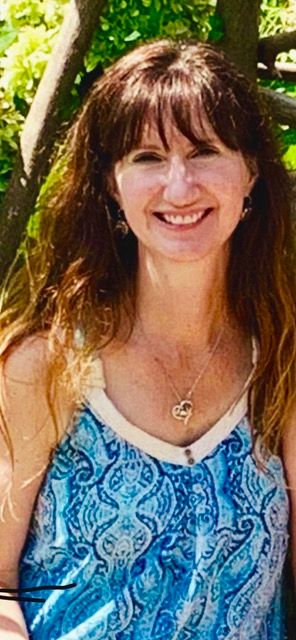 Karen Tjebben lives in central North Carolina with her wonderful husband and twin daughters. She loves traveling the world. Whether it's to the heights of Yosemite, the white sands of the Caribbean, or even Down Under, she's always ready to pack a bag in search of inspiration. She enjoys creating worlds filled with unique characters that will delight and raise goose bumps on her readers.