The Light of Distant Suns by Lauren C. Sergeant - Book Tour
Published Date: November 19, 2019
Publisher: INtense Publications LLC
Ihva is horrified to find out she might be the most dreaded individual in all of Gant, but before she can discover the truth, she is whisked away on a rescue mission. Prince Jasper's fiancee has gone missing. As they chase his betrothed all over the continent, Jasper is hiding secrets of his own, and he's willing to risk his life to keep them. Is Ihva the feared harbinger of the world's doom? Will Jasper find a way to save his bride and his kingdom? Only time will tell the answers, and then it might be too late.
A ways off from camp, Jasper turned back around to find the girl following him so closely she almost ran into him. He stepped backward and steadied himself, then held out a sword. She took it.
Where to start? Maybe it'd be best to see where her instincts led her, see how much he could use and how much he'd have to train out of her.
"At the ready," he commanded.
She held the sword in front of her, exactly parallel to the ground. They'd work on that later. He raised his own blade, and without giving warning, he made a strike at her side. She flailed but managed to knock him away. Somehow.
"At the ready," he repeated.
She returned to the first position. He couldn't help a slight grimace. They'd have to work on that sooner rather than later, but he wasn't finished testing her. He swung from the other side. A swing was not as effective as a thrust, and it was easier to block. She parried about as awkwardly as the first time. Not much to tell which side she was better at defending.
He brought his sword up this time and swung down on her. She raised her blade, cringing, and there was a clack of wood on wood. She'd need to learn to open her eyes, but still, maybe it wasn't going as badly as Jasper had expected. Time to see how she was on offense.
She obeyed immediately, catching him off-guard. He recovered quickly and blocked her thrust. Disappointment flashed on her face and was gone.
She swung this time, and Jasper parried neatly. She had better form on the offensive than on the defensive, he had to admit. He met her eyes again and found a sudden spark in them.
She thrust without his command. Startled, he brought his sword up just in time and glanced at her face. Her eyes narrowed. Maybe he should let her hit him, give her a little encouragement.
She thrust again, and he parried, determined that he would let the next blow strike, but before he could feign a defensive move, she sliced him across his left side. He winced and met her eyes again. She looked as shocked as he felt.
Without warning, she swung again. He blocked her, but she came back at him, and her blade clacked against his. She was moving faster now. He didn't have a hard time defending against her really, not after she caught him in the side, but he felt slightly out of breath by the time he called for her to stop for a break.
He'd misjudged her, it seemed. She was no novice. Had her father given her sword lessons? Surely not, with that painful starting stance. Still, something was strange about this girl. Curiosity sparked in Jasper.
"At the ready," he whispered, smoothing his face as a smile tried to touch his lips.
He swung, and she parried. She thrust, and he blocked. Again and again.
Lessons with Ihva Marchand ended about thirty minutes later, but Jasper continued to wonder about the girl.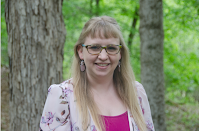 Lauren C. Sergeant is a poet, a founding contributor for the Auburn-Opelika Moms Blog, a writer, and the author of Light of Distant Suns, the first book in the Children of the Glaring Dawn series. Her writing career began in junior high with composing poetry, and by age 26, she started on her first novel. She has always had a passion for fiction as a means of both escape and reconnection to the world around her. Her fascination with world customs, her deep interest in personal relationships, the plethora of spellbinding stories she has read and watched, and her enthusiasm for the fantasy genre combine in wondrous ways in her engaging debut novel. Shaped by these influences, she creates compelling cultures and fascinating, relatable characters in lush imaginary realms.
In her spare time, when she is not writing, you can find her curled up on the couch with a good book, whether it be fantasy, history, physics, or calculus. She lives in Opelika, Alabama with her beloved husband and dear son, though she grew up in Southern California and never imagined calling the American South home.
It seems the unanticipated things in life are sometimes the most delightful, though.