E.V.A.IN.E. by Jackson Burrows - Book Tour + Giveaway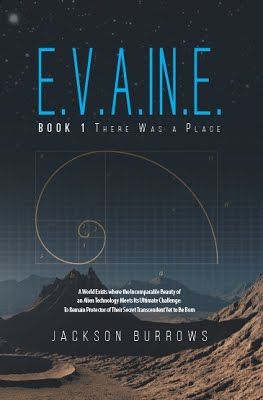 E.V.A.IN.E.: Book 1 There Was a Place
Horror Romance, Science Fiction
Published: October 19, 2016
Publisher: Page Publishing
A world exists where the Incomparable Beauty of an Alien Technology Meets Its Ultimate Challenge: To remain Protector of Their Secret Transcendent Yet to Be Born.
Set within their spiral galaxy, between the expanse waves of Mira and Axis Prime, an exploring society called Deneva has created the answer to a harmonious continuance in the universe. One citizen of remarkable insight and intelligence, Dr. Shesgal Ollemanhalu, has created a transferable, virtual representative from his doctorate work in the natural world to aid his people in establishing the natural development of genesis in order to save his race. He name his virtual creation, E.V.A.IN.E. She is the carryover of Shesgal's doctorate breakthrough in behavioral progression that leads to transcendence. The revelation which was meant only for his world becomes Shesgal's remarkable change to life in the universe. It is known by the greater name of E.V.A.IN.E. World Foundation. In the search for fulfillment beyond their own survival, others, along with Shesgal would develop nature's greatest creation; a super being of transcendent capability who can lead them all into their place of higher belief in the universe.
Excerpt
Planet Deneva and the E.V.A.IN.E. World Foundation Period
The coming and establishing of the E.V.A.IN.E. ancestral ghosts were required instruction for the younger inhabitant's education on Deneva. An instructional teacher of the rich history on the world of Deneva stood before her classroom. Not someone identical to you and I but recognizable in the sense of the word. She was an artifice. An exceptional mix of working parts that required little if no replacement except for the intrusion of unexpected trauma. True enough she was lifelike but behind her white eyes and underneath her artificial skin was a mechanical wonder. She asked her children of which she was assigned if they would set aside for now their basic framework of mathematical formula rationalization for their analytical historical studies. Sharing the room with their teacher was a teaching artificial intelligence helping and moving about the students. The children were far away in thought and had been for most of the morning with only the reward of solutions confirmed by the A.I. to problems to excite them. Her voice had taken them unaware being in deep concentration with the logic required for intricate problem solving in their studies. She would re-enforce their efforts with an example of pleasure explained in the Great Guardian's philosophy to sustain them in the ongoing race of their mandatory indoctrination. Their education adhered to a rigid prescribe allotted time for comprehending and must be fully attained by the sessions demands so that they could continue to achieve the knowledge for the role of Denevan explorer. For her to have said so had made them glad to relax for a short spell in what was left to the day. Looking over her students of mostly girls to boys, roughly two thirds to one third respectively, she was proud of their efforts this morning and so wished to excite them with a reward. She asked them if they could recall where in their civilizations history did the place of redemption point to next.
What the children had been shown so far, in relation to the creators place with them in the world of Deneva's past, was mostly preparation he had dictated to himself in his scientific studies and research. Now the fruition of his efforts would be revealed as closely as possible along the timeline it had occurred in and projected like a living story there in the classroom.
The girls devoutly raised their hands to be called upon and the boys leaned gregariously nearly coming out of their seats and spoke out quick without being felt to be under formal permission to wait. With brief acknowledgements to each face, the teacher had meant to be understood only rhetorically, but was delighted they were enthusiastic about their home world's deep past and its state of steady recovery. For although their worlds last catastrophe had been passed by now for many generations, the history of it still had a way of affecting even the newest of their population. To placate as well as encourage their curiosity she now asked them more specifically if they would like to investigate once more the archival histories. There had been no need to ask. Seeing their happiness to explore the histories, she had with deliberateness set aside for the remainder of the day the regimentation of their mathematical education before class would be suspended till tomorrow. All of their visual and mechanical aids were retrieved into the cavities on their individual desks. The soft form seats they occupied were adjusted and the working desks removed themselves being only holograms of teachable aids. Their level of completion to the list of formulas was recorded before being sealed by the authority instructing them. The teacher felt their sense of exploring returning to the past and set in motion the participation of the assisting android to access the last waypoint the class had entered from its internal archival library.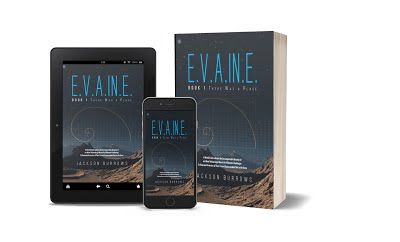 Other book in this series:
E.V.A.IN.E.: Book 2 Lessons Learned from the Old Makers
Publisher: Page Publishing
Date Published: March 26, 2018
All life forms dream. Even the overlooked organism in the soil beneath our feet which ventilate the soil. Many of these have extended life spans exceeding our own. Likewise among this category are variations that achieve remarkable transformations to their physical makeup. The struggling caterpillar, which has the ability to acquire a state of metamorphosis, can attain a winged form capable of drinking the nectar of its culminating attainment...its philosophy if you will. Thereby fulfilling its destiny. The passage of time has shown the prediction to evolve a thought to take a form that will result in an action of beauty and resounding results. My daughter will also dream one day following this pattern of evolution and guard the flower's nectar for the future transcendent and its proclamation to the universe. The "fractal key" will propel my created daughter to acquire a complexity that surrounds the observer and instructs him to abolish the excess that is defeating its efforts to become something more than before...To transcend!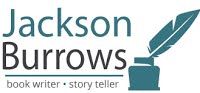 Jackson Burrows currently lives in Deep South Texas along the perimeter of the Rio Grande. Earlier in Life, he worked in many occupations ranging from an agricultural tree farmer to a gravedigger at a cemetery. During the Vietnam conflict, he was drafted from Oklahoma State University during his sophomore year through the 'lottery system' developed by the Nixon administration to fill up the ranks for the already lost war. After serving in the USCG search and rescue detachment, he rode the deep sea ships of the merchant marine. In 1981, he became an emergency services personnel and eventually completed his employment of twenty five years as a fire captain and emergency medial tech. He is now retired and has completed the first book of his novel he developed those many years ago when he attended OSU.