Date Published: 11/14/2019



The exciting sequel to Fusion World.
A world on the brink. A team divided.
It's been months since Vai and Edam disappeared through the portal created by the destruction of the Fusion World machine. Unfortunately the machine contained the last known Dark Orb, the critical component to interdimensional travel. Luckily, a prototype is found in the vault of its creator, Dr. Charles Vindia. Vint SawWood, Vindia's protégé, is pressed into service and can reactivate the device. But it is decades old and may only work once. There is no way to know.
Undaunted, Sajaeler and Raven lead a mission to find and rescue their missing teammates. What they discover is a world in the midst of a civil war. A shapeshifter has rallied an army of disaffected citizens to his cause and will stop at nothing until he subjugates the planet. To make matters worse, Raven becomes gravely ill. Coming to this world of mythical foes and allies has triggered something within. She must face her past in order to survive.
With the war boiling over, the team at odds, and Raven on death's door, can Vai, Edam, Sajaeler and a new band of friends save the world and each other?
From Chapter 26: The Time Distortion Device
Rylie paced back and forth down the corridors of the Crisis Response Academy, a look of worry across his face.
Raemund exited Peltron's office and leaned up against the wall, watching Rylie. "So, what are you going to do?" Raemund gently questioned.
Rylie stopped pacing, placed his hands in his pockets, and turned towards Raemund. "What would you do?"
"I'm going to be a father really soon," Raemund acknowledged. "My family has always come before my duty."
"Then you know what I have to do."
"You're going with us," Raemund concluded.
"You're not going," Rylie shook his head.
"I have to go," Raemund argued. "Vai is still trapped there. My team is there. Reece is there."
"I don't know how long we'll be gone," Rylie patted Raemund on the shoulder. "And Roz is due soon. You're having twins, as if one isn't hard enough. You know you need to stay here."
Raemund hesitated. "I want to help."
"You have. You've done plenty, Rae. I got it from here. You need to be there when they're born."
Raemund nodded. "After you get Reece… Make sure Vai's alright."
"I'll bring home your brother," Rylie promised. "You have my word." Raemund nodded and went back inside Peltron's office.
Rylie paced throughout the lobby. He had overheard the plan to use the Fusion World Machine to activate the orb but wasn't sure how they would transport artillery and equipment. The door to the lobby swung open and a man in a black suit and sunglasses walked in. He lifted the sunglasses up onto his hairline and approached Rylie, extending his hand.
Rylie couldn't believe it. "Vice President Montiaiga?"
"Captain Mulloway, I hope you're doing well."
"I'm as well as I can be, Sir. Are you here on behalf of President Larneld? Stevyn and Raemund are in the office if you need to speak to them."
"Actually," Montiaiga interrupted, "I'm here to speak to you." He paused. "I heard what happened with your daughter. And President Larneld is discontinuing missions. That's rough." He folded his arms over his chest and let out a chuckle. "Did you know something of value disappeared from the National Archives last night? Because I just found out about it early this morning."
Rylie shook his head. "I wouldn't know anything about that."
"I wasn't accusing you of anything," Montiaiga smiled. "If that's what you think." He let out a sigh. "Anyway, I just wanted to say, it's a tough break, what happened with your daughter. You work hard all your life for your rank, you try to provide for your girl, and then this happens. Everybody deserves a break sometimes."
He walked back towards the doors to the lobby, as if to leave, and then stopped and turned around. "Speaking of which, the MPs at the harbor have been working very hard lately. I'm taking them out for drinks a half an hour before their shift ends, and before the night shift shows up." He looked back at Rylie. "The men and women on your ship are loyal to you, not to Larneld. They'll follow you wherever you ask them to go. Do what you need to do."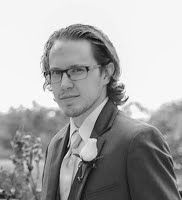 Joseph Lewis Tamone lives in Wilmington, Delaware. Despite getting a degree in Environmental Engineering, Joseph has always found an escape in his quirky imagination that lent its way to his passion for writing. Joseph is an avid animal lover and history buff. When he is not writing, he enjoys escaping into the world of video games, nature, and most importantly, reading and researching. He lives in Delaware with his lovely wife, Erica, and their house full of animals.