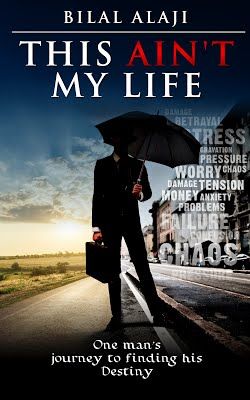 Date Published: July 27, 2019
Publisher: Bookstand Publishing
"This Ain't My Life" is the compelling story of author Bilal Alaji's journey to finding his destiny. Growing up Muslim, Bilal experiences many trials throughout his youth with his father leading him down an arduous path. As he fights and claws his way out of every obstacle he relies on his faith to pull him through. Bilal shows his willingness to never give up on finding his true purpose. As he goes through failed marriages, criminal proceedings, the shelter system, and lost jobs; Bilal refuses to believe that this is the life he was meant to live. He challenges his reality and what he believes by stating, "This Ain't My Life."
Bilal Alaji is an entrepreneur, mentor, investor, motivational and public speaker. As the Ceo of Illustrious Shoes and O' Ramadan, Bilal, is a transformational leader that uses his platform to inspire and educate others. With over 15 years working with youth in group homes, transitional housing facilities, and corrections, Bilal uses his experiences to motivate youth. "My life is my message", said Gandhi. So, Bilal has chosen to use his life' s story as a way of communicating with today's youth.
Also known as LOGIC THE OFFICIAL, Bilal spent 20 years as an emcee. He performed at such venues as the world-famous Apollo theater and the Nets arena. During his tenure as an artist, he had the privilege of working/ performing with artists such as Shanice, LL Cool J, Big Daddy Kane, Gang Starr, Brand Nubian and more. LOGIC THE OFFICIAL generated 2 CDs and 2 street CDs with a compilation of recorded music.
Bilal left the limelight of the music industry obtaining his MBA from Metropolitan College of New York. While in college Bilal worked as a student mentor providing support, counseling, and resources for students to meet their educational goals. After graduating college Bilal became the founder/ Ceo of Illustrious Shoes and O'Ramadan.
Now, the author of This Ain't My Life, Bilal has shared his story in an effort to help inspire others to live their best life. Bilal speaks to diverse audiences sharing strategies, techniques, and life experiences that will ultimately change lives. There is no obstacle too great for Bilal. Bilal is living proof that "what doesn't kill you, only makes you stronger".