Author: Mercedes Rochelle
Narrator: Kevin E. Green
Length: 10 hours 25 minutes
Series: The Last Great Saxon Earls, Book 2
Publisher: Mercedes Rochelle
Release date: June 11, 2020
Genre: Historical Fiction

Emerging from the long shadow cast by his formidable father, Harold Godwineson showed himself to be a worthy successor to the Earldom of Wessex. In the following 12 years, he became the king's most trusted advisor, practically taking the reins of government into his own hands. And on Edward the Confessor's death, Harold Godwineson mounted the throne - the first king of England not of royal blood. Yet Harold was only a man, and his rise in fortune was not blameless. Like any person aspiring to power, he made choices he wasn't particularly proud of. Unfortunately, those closest to him, sometimes, paid the price of his fame.




This is a story of Godwine's family as told from the viewpoint of Harold and his younger brothers. Queen Editha, known for her Vita Ædwardi Regis, originally commissioned a work to memorialize the deeds of her family, but after the Conquest historians tell us she abandoned this project. In The Sons of Godwine and Fatal Rivalry, I am telling the story as it might have survived, had she collected and passed on the memoirs of her tragic brothers.




Harold's siblings were all overshadowed by their famous brother; and in their memoirs, we see remarks tinged sometimes with admiration, sometimes with skepticism, and in Tostig's case, with jealousy. We see a Harold who is ambitious, self-assured, sometimes egocentric, imperfect, yet heroic. His own story is all about Harold, but his brothers see things a little differently. Throughout, their observations are purely subjective, and witnessing events through their eyes gives us an insider's perspective.




Harold was his mother's favorite, confident enough to rise above petty sibling rivalry, but Tostig, next in line, was not so lucky. Harold would have been surprised by Tostig's vindictiveness, if he had ever given his brother a second thought. And that was the problem. Tostig's love/hate relationship with Harold would eventually destroy everything they worked for, leaving the country open to foreign conquest.

https://youtu.be/xuTwrK2ZrI0

Mercedes Rochelle is an ardent lover of medieval history, and has channeled this interest into fiction writing. She believes that good Historical Fiction, or Faction as it's coming to be known, is an excellent way to introduce the subject to curious readers. Her first four books cover eleventh-century Britain and events surrounding the Norman Conquest of England. The next series is called The Plantagenet Legacy about the struggles and abdication of Richard II, leading to the troubled reigns of the Lancastrian Kings. She also writes a blog: HistoricalBritainBlog.com to explore the history behind the story. Born in St. Louis, MO, she received by BA in Literature at the Univ. of Missouri St.Louis in 1979 then moved to New York in 1982 while in her mid-20s to "see the world". The search hasn't ended! Today she lives in Sergeantsville, NJ with her husband in a log home they had built themselves.

I have been narrating audiobooks for nearly 10 years, and have recorded over 80 full length books. I first started 'narrating' books when reading to my two young sons at bedtime, and I read the complete Lord of the Rings to each of them -including character voices! I have many years acting experience, and I have my own recording studio where I record and master my own recordings. I love narrating books for a living and enjoy all genres, fiction and non-fiction alike.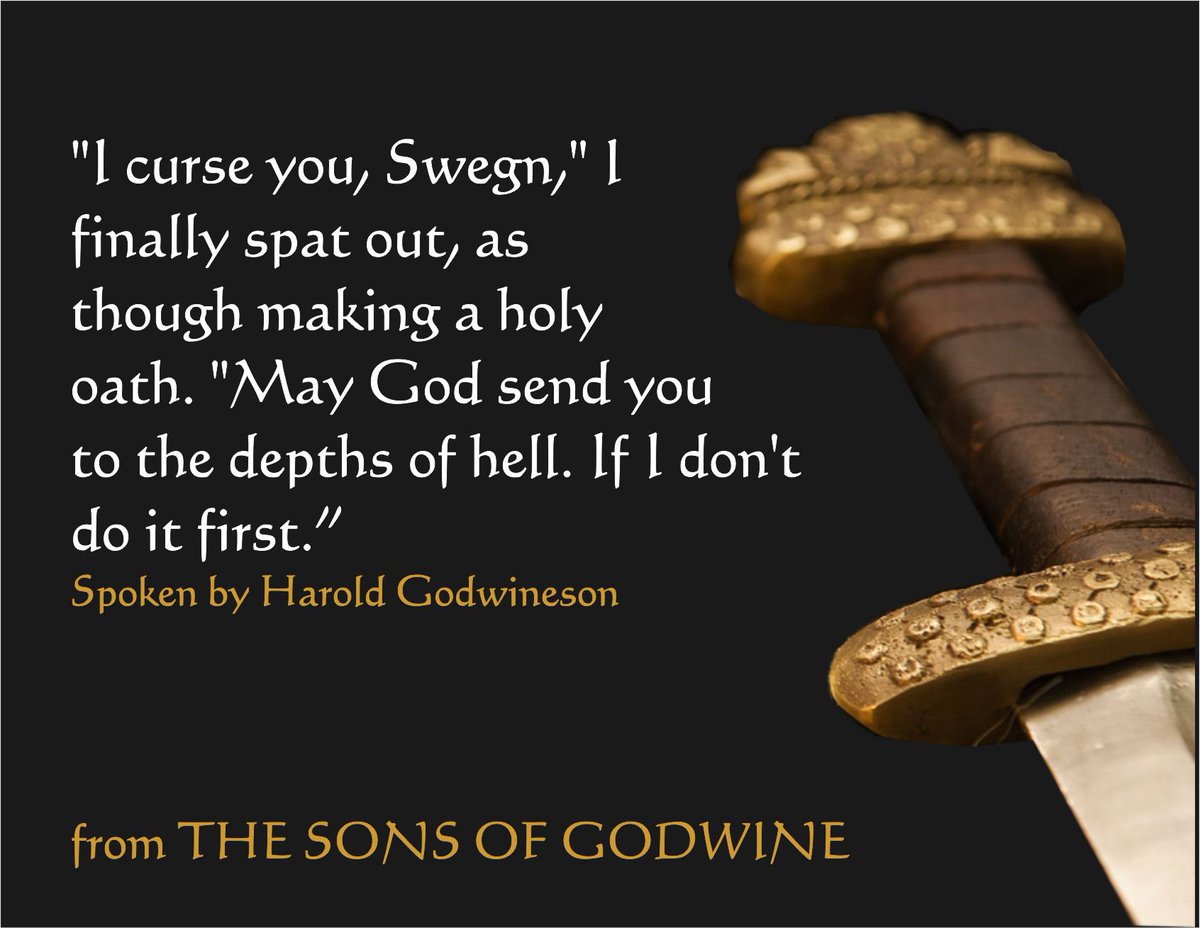 BOSHAM, HOME OF THE GODWINE CLAN
By Mercedes Rochelle
A visit to Bosham reveals a very pretty coastal town with firm connections to the Godwine clan. In an earlier
post
, I conjectured that Earl Godwine may have used Bosham as one of his main residences. It makes sense, since it is one of the only places in England actually drawn in the Bayeux Tapestry; Harold departed from Bosham before his fateful visit to Normandy.
The Holy Trinity church is said to date back to the 10th century on the site of a Roman Basilica, and there is a gravestone under the Anglo-Saxon arch marking the spot believed to hold the bones of an unnamed daughter of Canute who drowned in the millstream. There is no proof that the child's skeleton belonged to Canute's daughter, but the position of importance in the church combined with local legends makes a strong case. I find the Canute connection very interesting, since he and Godwine were close throughout Canute's reign. It is thought that Canute actually had a residence in Bosham as well, and may have built it on the foundations of Emperor Vespasian's palace; tradition has it that the Romans established an encampment there. Oh, and this is the place where Canute allegedly tried to Command the Tide, to demonstrate to his followers that even the king's powers were limited compared to the supreme power of God.
Canute's daughter's marker (my photo)
Even more interesting, in 1954 an unmarked coffin was discovered under the floor stones, just a few feet from the royal princess. Although the skeleton was not intact, they did identify the "thigh and pelvic bones of a powerfully built man of about 5 ft 6 in. in height aged over 60 years with traces of arthritis"
(see John Pollock, "Is King Harold II buried in Bosham Church?").
Its proximity to the princess denotes a person of importance, and local tradition has long believed that the bones belonged to Earl Godwine himself. However, the Anglo-Saxon Chronicle states that Godwine was buried in Winchester, and John Pollock believes that the bones could have belonged to Harold Godwineson. A headless one-legged skeleton would certainly be consistent with the condition of poor Harold after he was hacked to pieces at the Battle of Hastings! Also, it was said that William the Conqueror wanted to make sure that Harold's resting place would not become a shrine, and he insisted that his conquered foe would be interred somewhere in secret. He even promised to bury him on the seashore, overlooking the land he tried to defend. Hence, the unmarked grave? Godwine's manor was reportedly the only territory William took possession of in Sussex.
Although I couldn't find a "Harold Slept Here" marker, it was clear that Bosham claimed him as one of their own, and were very proud of their heritage.


Plugging you into the audio community since 2016.
Sign up as a tour host here.