Mystery Bones Murders by Karen Randau - Book Tour + Giveaway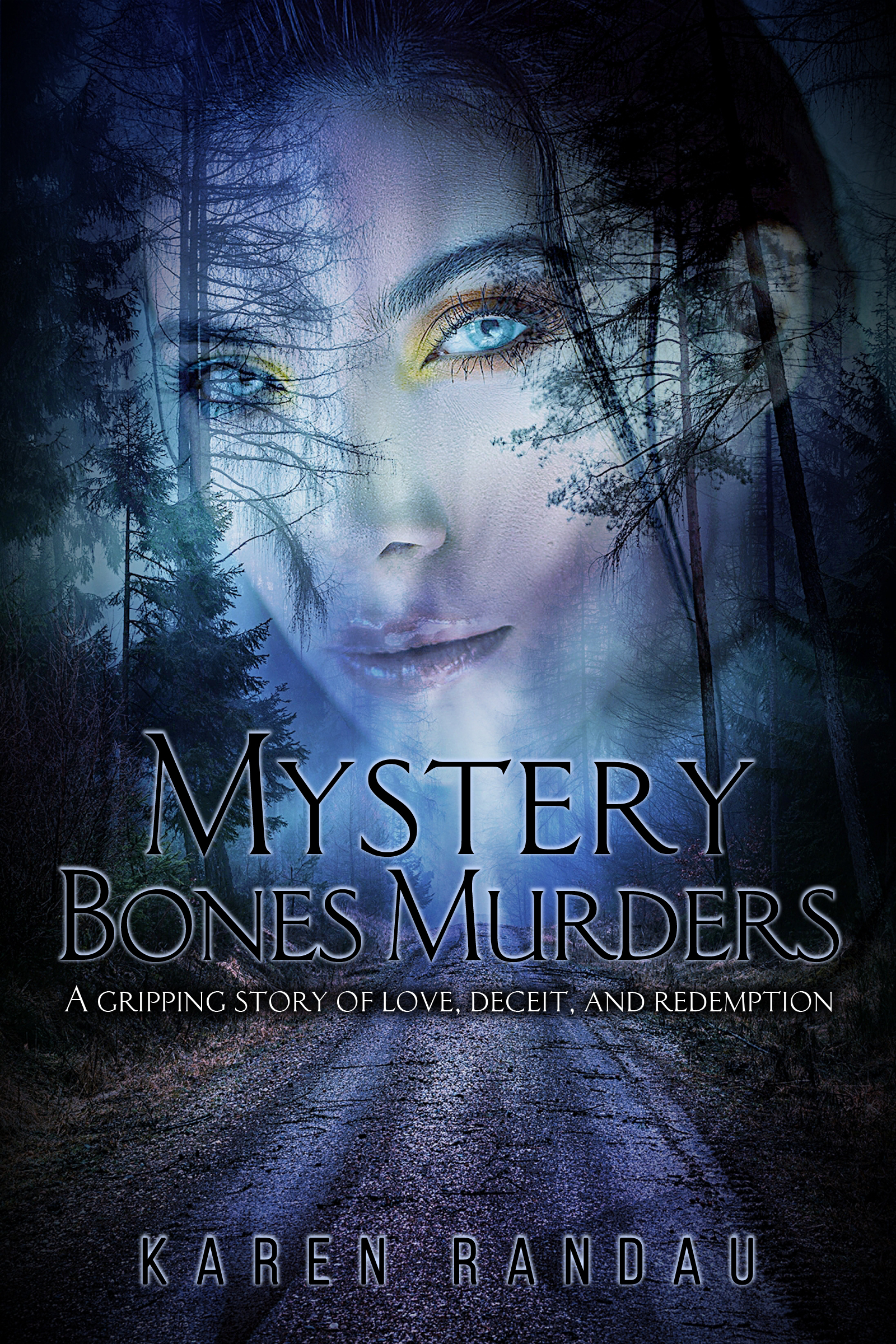 Notorious Minds Crime Mystery Thriller Boxset
Mystery/Thriller
Date Published: October 13, 2020
Publisher: Fire Quill Publishers
Frankie Shep is still mourning the deaths of her husband and young son when she finds a bone in the far corner of her Wyoming cattle ranch.
Excited to think she may have discovered an ancient Native American village, she takes the bone to a lifelong friend who is now a forensic anthropologist on contract with her county.
After a cursory inspection, he turns a blood-chilling stare at Frankie. The bone isn't ancient. Worse, the victim could be the remains of Frankie's mother. She disappeared from her own bed more than a decade ago.
And now her retired father is missing.
As Frankie digs deeper, she discovers the terrifying truth that a serial killer is using her land to bury his victims, all members of her family and inner circle.
And now he's watching her.
Mystery Bones Murders is a story of love, heart-wrenching deception, and finding redemption.
Available exclusively in the Notorious Minds box set!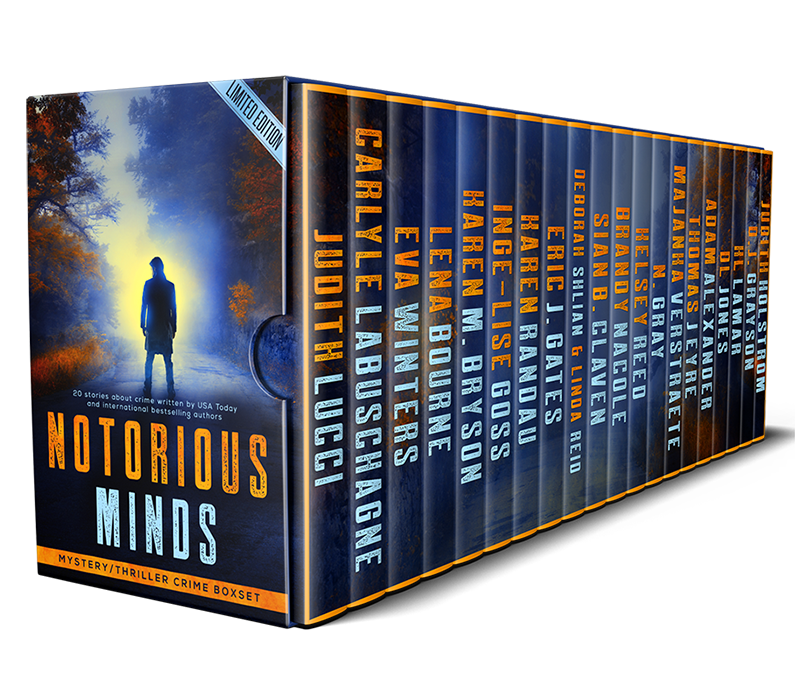 What does it take to commit the perfect crime?
Delve into these dark and twisted tales by twenty USA Today and International Bestselling Authors.
No matter what kind of crime story typically catches your imagination, there's sure to be something for everyone.
Conspiracies, political plots, and yes, even murder, are just a few of the crimes waiting inside this box set.
Discover a narcissistic grandmother running an underground syndicate, or a support group bent on murder…and even a serial killer who turns his victims into fairytale creatures.
Uncover the passion, jealousy, and fear lingering in every tale.
This box set is packed with thousands of pages that will hold you on the edge of your seat, crying for answers.
EXCERPT
Mystery Bones Murders
By Karen Randau
Chapter 1
The howl of a wolf pierced into Frankie's end-of-the-workday stillness. Alarmed, she lifted her feet from the table she kept on her wrap-around porch. By the time the animal howled a third time, Frankie's skin prickled—with both concern for her animals and the eerie reminder of how alone life had left her.
She walked to the big oak door of her Wyoming ranch house. When she swung it open, the door's hinges creaked. The tinny sound mingled with the darkness inside the house to taunt Frankie about her isolation.
But the moment's mission didn't leave time to dwell on self-pity, so she did what she always did… shoved her heartache into the wasteland her insides had become in the last five years.
She reached into the house and flipped up the light switch. Her four-year-old German Shepherd—Lexi Princess Warrior—rose from her bed near the fireplace on the far wall of the great room.
Lexi barely contained her excitement as she sat at Frankie's feet with a smile on her lips and love in her dark eyes. She wagged her tail against the wood floor, and it swept an arc into the hair the dog had shed during the week.
Frankie knelt to caress her best friend's jaw. "I have to go find Diesel," she said.
Lexi's ears perked up at the mention of the calf they had befriended.
"You can't go this time, girl. The wolves are out tonight. I couldn't bear to lose you, too." She hugged Lexi and lingered for a just a beat against the dog's warmth.
When Frankie stood, Lexi lumbered toward the fireplace and plopped onto her bed with a thud. She frowned at Frankie as she dropped her head onto her feet and gave a disappointed groan.
Frankie moved to the coat closet near the door. She slipped into a heavy jacket, gloves, and a warm hat. At the gun cabinet, she opted for the rifle instead of her Glock handgun. Just to be safe, she stuffed wolf repellent into her pocket before blowing Lexi a goodbye kiss. She stepped out onto the porch and stood at the top of her five slate steps to massage a painful knot in her back.
A distant violin 's soulful tune turned her attention to the fading dusk. She looked past the silhouette of her pickup truck that was parked beside hay bales she and her ranch hand—Cole—had stacked earlier.
Was the music coming from the abandoned Collins ranch? It didn't matter. There was no time to linger on the question.
Still, she lifted her arms and pretended her husband was still alive to waltz her down the steps to her enclosed front yard, where her pet cow Rosie stood six feet away.
Another wolf howl sent Rosie into an excited bellow. The ruddy brown animal's white head faced the snow-tipped Rocky Mountains. Her tail swished faster than usual. She darted to the gate in the picket fence, then back to Frankie. The whites of her eyes bulged.
"Don't worry, Rosie," Frankie said as she squinted into the distance. "I'll find your baby."
She lifted the collar of her denim shirt to shield her neck from the October wind. The air smelled of rain. "Diesel?" Frankie turned her ear toward the corner of her acreage where she had last seen the calf. She heard nothing but the fiddle music.
The musician now played a haunting ballad that stabbed Frankie's heart with memories of the love she had lost. Images from long ago floated through her brain. But they were too painful to face. Yet.
She tuned out the fiddler and yelled across the field. "Diesel, please don't make me go looking for you." She sent a stronger plea for mercy into the universe. It was not a night to roam the ranch. But it seemed she had no choice.
"Be right back with your boy, Rosie." She patted the cow's behind. "Come on. You should wait in the barn."
Rosie followed Frankie toward her and Diesel's stall.
As Frankie approached the barn, she noted the sliver of moon rising over the structure's two-story profile. White oak. Covered paddocks on both the east and west sides. Cedar trees to block the south and north winds. All nestled beneath Wyoming's Rocky Mountains.
She loved this place. And wouldn't it be nice if Diesel ambled around the corner right about now? "Come on, Diesel. Let me get back to that almost-good orange chicken I left cooling beside the microwave seconds before I heard the wolf."
When she entered the barn, earthy and leathery smells hugged her. Good smells.
She put Rosie away, turned toward the horse side of the structure, and approached her American Paint gelding. Concho was white with large brown spots. He greeted her with a pulsating nicker and an affectionate nuzzle on the shoulder.
She rubbed the kink in her lower back before stroking Concho's silky nose. "I know we worked hard with the cattle today, but we have to find Diesel."
Concho nodded, gave another whinny, and mouthed the bridle hanging on the wall beside him. Frankie took that as permission to slip the bit into his mouth. The horse relaxed, one back leg cocked in rest, while she threw a blanket and saddle across his back.
Outside the barn, Frankie heaved her five-seven aching body onto the saddle.
At the intersection of her half-mile-long driveway and the dirt road that circled her property, Concho carried her past the cement bench facing a dozen family gravesites. She watched the granite headstones of her husband and son, killed together in a freak car wreck on the way home from a soccer game. Then she glanced at her mom's gravesite, where friends and family buried an empty casket after the search party stopped trying to find her.
The guilt of still being alive when her family had died carried more weight this time. Why couldn't she picture her husband's face anymore? She had no right to forget Jason, not after what she had done.
A drop of water landed on her nose.
"Diesel!" She pulled a rubber poncho from the saddlebag. As she dragged the hood over her hat, the wind blew cold sleet over her. She leaned forward and down to tuck as much of herself under the rain gear as possible.
Concho could use his senses to find the calf. Frankie needed to stay dry and sort of warm.
As the downpour eased, Frankie heard Diesel's high-pitched bawl on the other side of a rise. The one she and her friends used to sled down as children.
When she found the calf, Rosie's baby was struggling against a thorny gooseberry bush beside a birch tree. Concho seemed skittish as they approached.
"How did you get here, little guy?" Frankie dismounted and propped the reins over the saddle horn. Another wolf howl convinced her to slip the rifle from the scabbard attached to Concho's saddle. She checked the repellent under her rain poncho and guided her horse behind a fallen log that was under a birch tree.
"Stay here, Concho."
He snorted and pranced around something brownish white, nudging it with his nose.
Frankie set the rifle next to her knee and avoided thorns as she reached in to untangle Diesel. The calf was too panicked. He struggled against her, causing a bruise and a muscle cramp in her forearm. As she pulled back, barbs tore the skin on her wrist. She sucked on the deepest wound while returning to Concho to retrieve a rope and a utility knife from the saddlebag.
Back at Diesel, she wrestled with the calf to loop the rope around his neck. She cut the branches that pinned him to the bush and pulled on the rope. Diesel kicked and fell, then bawled and tried to run. When he realized he was freed from the bush, he stood still, panting and shivering.
Frankie wiped water from her eyes while inspecting a cut in the calf's left hind leg. It wasn't so serious to keep him from walking home before she doctored it. With a grunt, she pulled on the rope and led Diesel toward Concho.
As they approached, the horse pranced and snorted like crazy. Frankie caught Concho's reins and rubbed his nose. "What's wrong with you?" He stood still long enough for her to secure Diesel's rope to the saddle horn, then returned to his dance.
His hoof clicked against the thing she had seen sticking up from the ground earlier.
"What did you find?" She knelt and dug dirt and mud away from a bone.
"Concho, did we find an ancient guy's campsite? Is that what has you so spooked?"
As kids, Frankie and her friends had often daydreamed about finding a nomadic Native American tribe's village on the ranch. But where they sledded every winter?
"Cool." She moved more dirt until she could pull the bone from the ground and examine it.
The bone seemed small for a man. Her former friend, Harbin Williams, now a professor in the anthropology department at the University of Wyoming, could confirm her exciting suspicions. But…
She couldn't force herself to attend his son's funeral five years ago. Their kids died together in the accident her husband caused. She had isolated herself in her struggle to heal her grief, and she couldn't face helping her best friends with their recovery.
A growl jolted her attention from the bone to the bared teeth of a gray wolf—ten feet from her.
The rifle lay six feet away, behind the fallen log.
She hopped over the log and took a fighting stance between her animals and the wolf, and then rushed to pull the repellent from under her rain poncho.
The predator stepped closer. Saliva dripped from its huge teeth.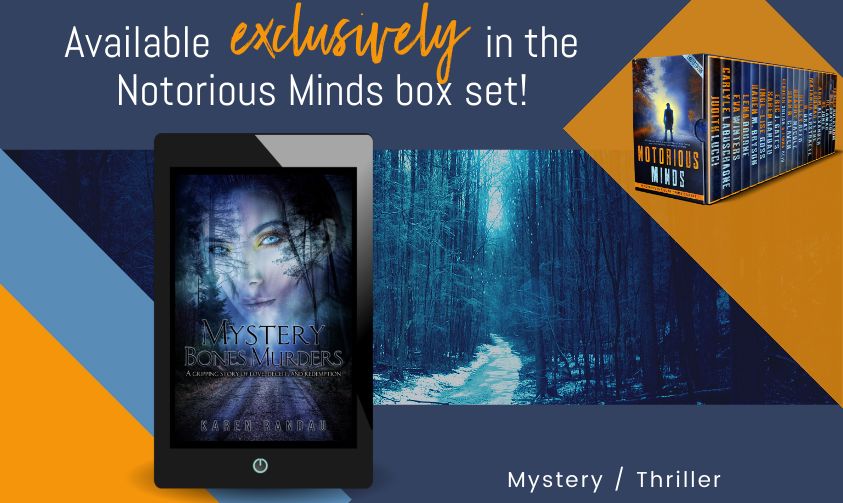 About the Author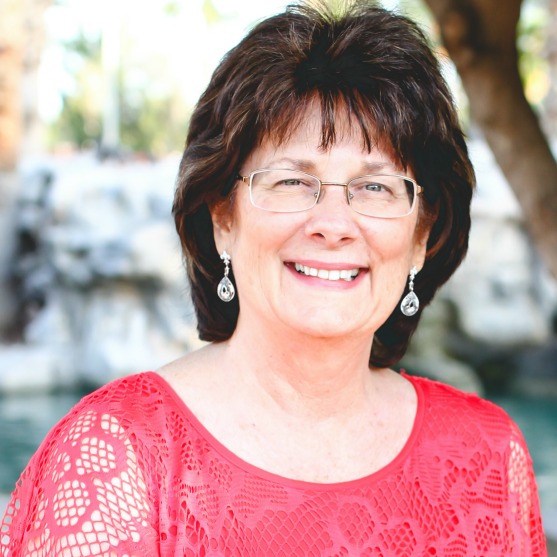 Karen Randau authors fast-paced stories with intricate plots and lots of actione. Her debut novel, Deadly Deceit, was the first in her four-book Rim Country Mysteries and has twice reached the #1 slot in Amazon's amateur sleuth category. The fourth book in the series, Deadly Payload, was a finalist in the 2019 Book Excellence Awards and the 2018 Beverly Hills Book Awards®. She was one of seven authors in the Tawnee Mountain Mystery Series with Deadly Reception and now is joining 19 other others in the Notorious Minds Crime Mystery/Thriller boxset.
A native of the southwestern U.S., Karen has traveled internationally and witnessed famines, violence, and hopeful people working to overcome abject poverty. She draws on both her creativity and personal experience to weave together an interesting cast of characters with rollercoaster-like twists and turns.
Contact Links
Purchase Links
Giveaway