A Whirl With My Mocha-Chocolate Swirl by Dalia Dupris - Book Tour + Giveaway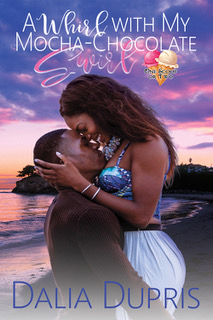 Contemporary Romance
Date Published: September 9, 2020
Publisher: The Wild Rose Press
Rebecca Layton returns to her beachside hometown of Sunnyville, California, determined to explore the possibility of rekindling her past relationship with the love of her life, Raymond Colton. She's devastated to discover that he has moved on and is now engaged.
Raymond Colton harbors resentment towards Rebecca for abandoning him to pursue her dreams of life in the big city. Now she's back and more beautiful than ever. But Raymond's heart has been broken more than once and risking more heartache with Rebecca isn't a gamble he's willing to take.
When Rebecca agrees to use her marketing expertise to help Raymond's father salvage his failing family business--Colton's Ice Creamery--she and Raymond are thrown together, and old flames are ignited. Can they heal the wounds from their past and embrace the possibility of a brighter tomorrow?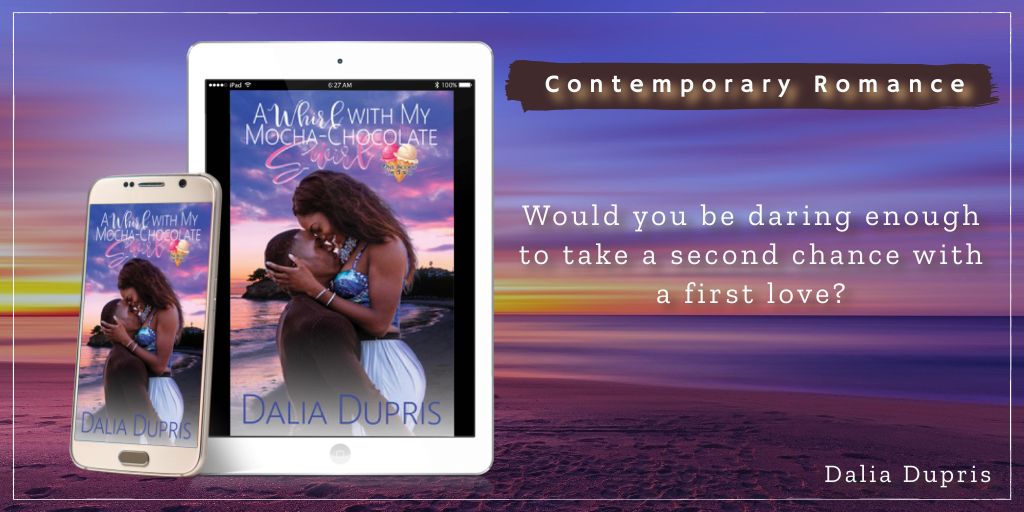 Author Interview
1. What would you consider to be your Kryptonite as an author?
Great question. I think it's the magic of listening to the characters as they show up in my mind and letting them express themselves through the story.
2. If you could tell your younger writing self anything, what would it be?
Editing is part of the process. Don't give up. Definitely, study the craft and then keep writing and reading.
3. What book do you feel is under-appreciated? How about overrated?
There are probably a lot of them out there. There are so many excellent writers and not all of them are well known. I remember, when I was younger, I liked Alice Walker's, The Temple of My Familiar and I don't know if it ever got as much acclaim, as it deserved. I remember being so impressed by the scope and complexity of the world she created.
4. Favorite childhood memory involving books?
I am the youngest of seven children and I have five older brothers. My favorite reading memory was getting away from all those loud males and finding a quiet place to read, such as under the dining room table or beneath the large sprawling tree in my parents' backyard.
5. If you could dine with any literary character, who would it be and why?
I'd probably dine with Dana, the main character in Octavia Butler's novel, Kindred. I'm not ordinarily a science fiction or paranormal fan, but that character's experience continues to haunt me. I shudder to think about her experience time travelling to a darker time in America's history, but I'd still want to have a chat with her over lunch one day.
6. What fantastical fictional world would you want to live in (if any) given the chance?
I wouldn't mind living as an Empress in some past royal court.
7. Did you want to be an author when you grew up?
Yes, I did. I have always loved writing and grew up surrounded by books. My parents never censored what I read, so I'd pick up adult novels, when I was thirteen and read them. I have always kept journals, wrote poetry, and short stories, some of which were published in our local newspaper when I was just eight years old. I majored in English Literature in college and wrote for high school and college newspapers.
8. If you had to describe yourself in three words, what would they be?
Tenacious, driven, and loving.
9. What is your most unusual writing quirk?
I don't know if this is unusual, but I like to listen to the sound of ocean waves or thunderstorms when I'm writing.
10. What's one movie you like recommending to others?
I saw The Photograph, on Valentines Day this year, before we had to self-isolate and it was a feel good love story.
11. If you could own any animal as a pet, what would it be?
Probably a fish. We recently had a dog, which loved to bark, so right about now, fish sound good. I use to have an aquarium and will probably get another one in the future. I liked my little neon tetras.
12. Have you ever met anyone famous?
I live in Los Angeles, so you do occasionally come across famous people. Often, they look so different that it's initially difficult to recognize them. I've met some television personalities.
13. How long, on average, does it take you to write a book?
6 months to a year.


About the Author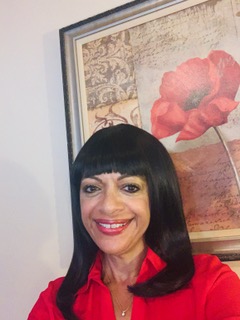 After years of not pursuing my writing dreams, I decided it was time to stop sitting on the sidelines of my publishing aspirations. In 2019, I contracted with The Wild Rose Press for a three book series, California Hearts. The release date for my debut novel,
Orange Blossoms-Love Blooms
, is October 19, 2020. My novella,
A Whirl With My Mocha Chocolate Swirl
is part of The Wild Rose Press' s One Scoop or Two series and will be released in September 9, 2020.
I write contemporary romance and women's fiction with emotion-driven characters and unexpected plot twists and turns. The character's journeys are layered with heart and soul and reflect the diversity of the world around me. My stories center around love, familoes, friendships, following your passion, second chances and overcoming obstacles.
When I'm not busy plotting my next novel, you will find me bike riding along one of Southern, California's scenic beaches with my husband or discussing love, life and the mysteries of the universe with my daughter.
Contact Links
Twitter: @dalia_dupris
Pinterest: Dalia Dupris


Giveaway
a Rafflecopter giveaway