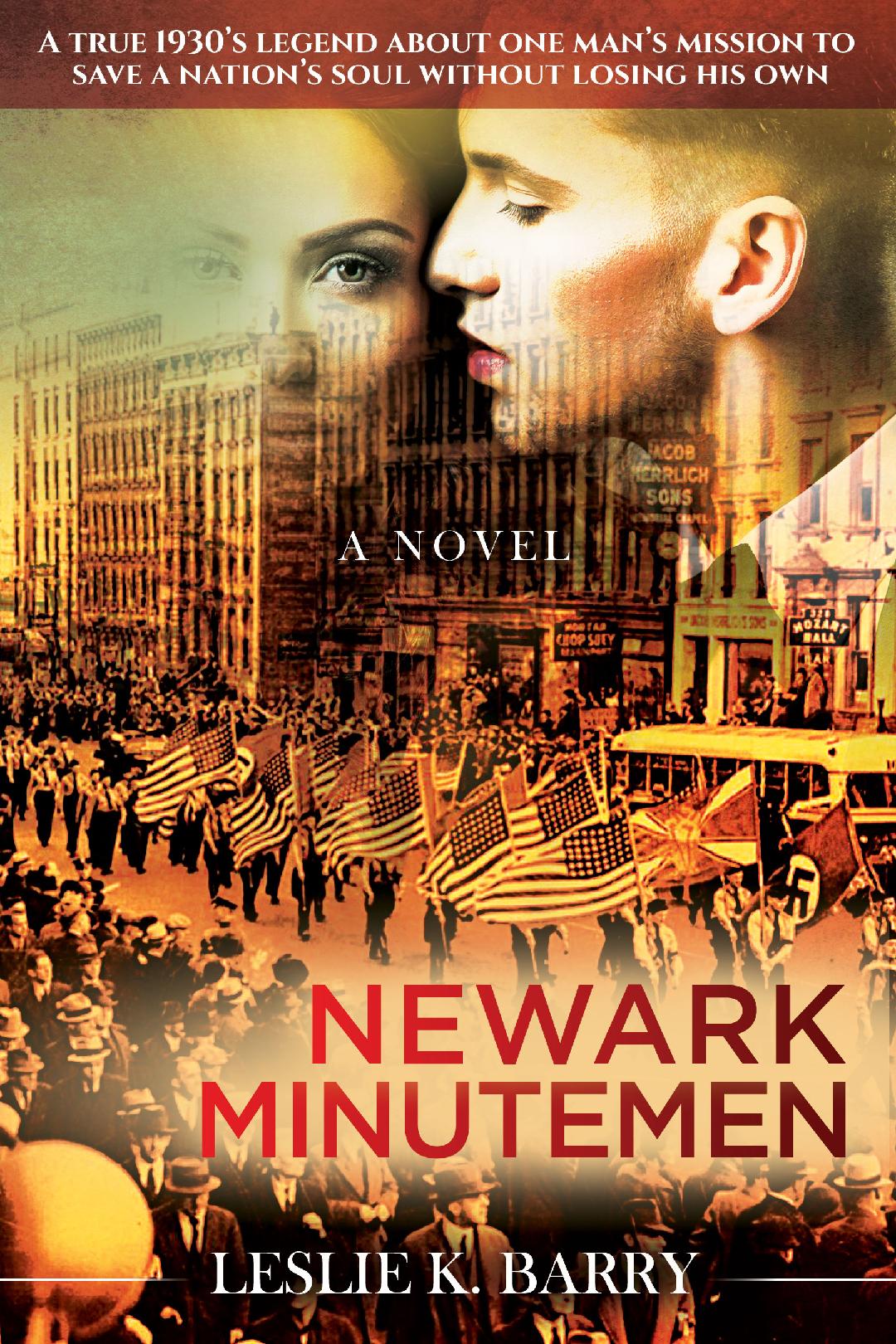 Historical Fiction
Date Published:
Publisher:
Based on a true story about fighting fascism in 1930s New Jersey, Newark
Minutemen tells an unforgettable tale about forbidden love, intrigue and a
courageous man's search for avenge….
During the Great Depression, Jewish boxer Yael Newman meets Krista Brecht,
daughter of the German-American Nazi high command. When his affections turn
real, his friends warn him against crossing the line. When Krista leaves for
American Nazi summer camp in Long Island, New York, he swears to rescue her.
Minutemen by the Jewish mob and FBI to go undercover and fight the American
But his mission becomes much more when he's recruited into the Newark
Nazis who are taking over America.
Newark Minutemen Optioned first film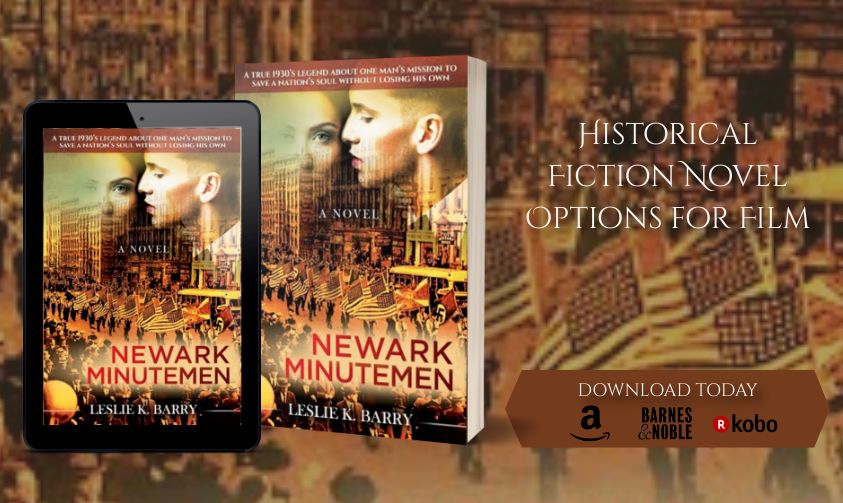 Author Interview

1.
What would you consider to be your Kryptonite as an author?
a.
The green, crystals rom Superman's world of Krypton that had first weakened me as an author grew from my experience as a screenwriter. I'm so used to "showing rather than telling." It took my editor Catherine Stine helping me write in first person through four narrators for Newark Minutemen that helped me get into the characters head and "show" what they were feeling.
WATCH i23news interview: https://youtu.be/eFp9FDxv-yE

2. If you could tell your younger writing-self anything, what would it be?
a. I would tell my younger writing-self that there is no end to your writing your story. Your story is like a song. You can sing it so many ways and make so many improvements that if you're not careful, you'll never be done. I was fortunate that I promised my ninety-four year old Mom that I would have Newark Minutemen, the story of her older Jewish-boxing brother, published by the time she was ninety-five. And we did it!

READ NJ.com https://www.nj.com/entertainment/2020/09/newark-minutemen-movie-will-tell-story-of-jewish-boxers-who-fought-nazis-in-america.html

3. What book do you feel is under-appreciated?
a. Across the Nightingale floor and the series that followed is a magnificent work. In fact, the story put me on a path to becoming a writer and writing Newark Minutemen. Set in medieval Japan, the young hero discovers he is part warrior, part pacifist and part assassin. Talk about conflict.

4. How about overrated?
a. I know this will not make me friends, but I think "Where the Crawdads Sing" is overrated. Albeit my expectations were so high, but the motivation of characters wasn't satisfying. I wish the way the reader finds out that Kya murdered Tate was more clever.

5. Favorite childhood memory involving books?
a. My favorite childhood memory involving books was reading a book called "Tom Brown School Days," about an English boy coming of age at boarding school. It was the first time I fell in love with a character. I also am shaped by Stephen King's "The Shining." I learned how much a book can come alive and shock you. The other memory that influenced me was the reading of "The Magus" while travelling through Greece after college. If your haven't read this book, you will be flattened by the twists. The puzzles that unravel in Newark Minutemen are a directly influence of this amazing story..

6. If you could dine with any literary character, who would it be and why?
a. I love unlikely heroes. Katniss from Hunger games is my favorite and I hope that if I ever have to step it up, I would be like her. The hero from Newark Minutemen, Yael Newman, is made from this same fabric. At an early age, Yael experiences an inciting action that sets him on the path of revenge and retribution. His values drive the story, including his choices around a star-crossed love affair.

7. What fantastical fictional world would you want to live in (if any) given the chance?
a. How could there be a better fictional world than Harry Potter as the details truly let you transfer into this world . For Newark Minutemen, a story that takes place during the Great Depression in the 1930s, I spent two years talking with my Mom walking in her shoes so I could share this world with the reader and offer that escape. Many readers who lived during the times have been profoundly touched by the memories. I'm especially warmed by those who are inspired to research their own family.

8. Did you want to be an author when you grew up?
a. When I was sixteen, I wrote down that I wanted to tell a story that had a meaningful impact on the world. I am crossing my fingers that Newark Minutemen will touch readers and encourage them to being a voice for the voiceless.

9. What book do you wish you had written?
a) I wish I'd written "American Royals," a modern day alternative history where colonial America had assumed a monarchy under George Washington and crowns its first Queen. My devotion to fictionalizing history as with 1930s Newark Minutemen and personal ties to George Washington would have made this an ideal story to have written.

IMBD
https://www.imdb.com/news/ni63005089?ref_=nwc_sb_nwc_li

Jerusalem Post
https://www.jpost.com/diaspora/story-of-jewish-boxer-recruited-by-fbi-to-fight-nazis-to-become-a-movie-642917?fbclid=IwAR2G-8S0WVGHVoIz0f5mtjEIgaQOsTNp5CvbQAXR3dDdhd-mY0xNwBcj2kE

Aliance France
http://www1.alliancefr.com/actualites/lincroyable-histoire-dun-boxeur-juif-recrute-par-le-fbi-pour-combattre-les-nazis-6090152?fbclid=IwAR2aUIh8Vpgx1us0krFMhGnU9655SBeZ-lLj6N4NWZCSnDy81P1F1ZSkF9U

Facebook 123news
https://www.facebook.com/watch/?v=767876430733867&extid=iVLZcZL7Guy2KSF

Aish.com
https://www.aish.com/jw/s/Newark-Minutemen-Fighting-Nazis-in-New-Jersey.html?s=hp2
About the Author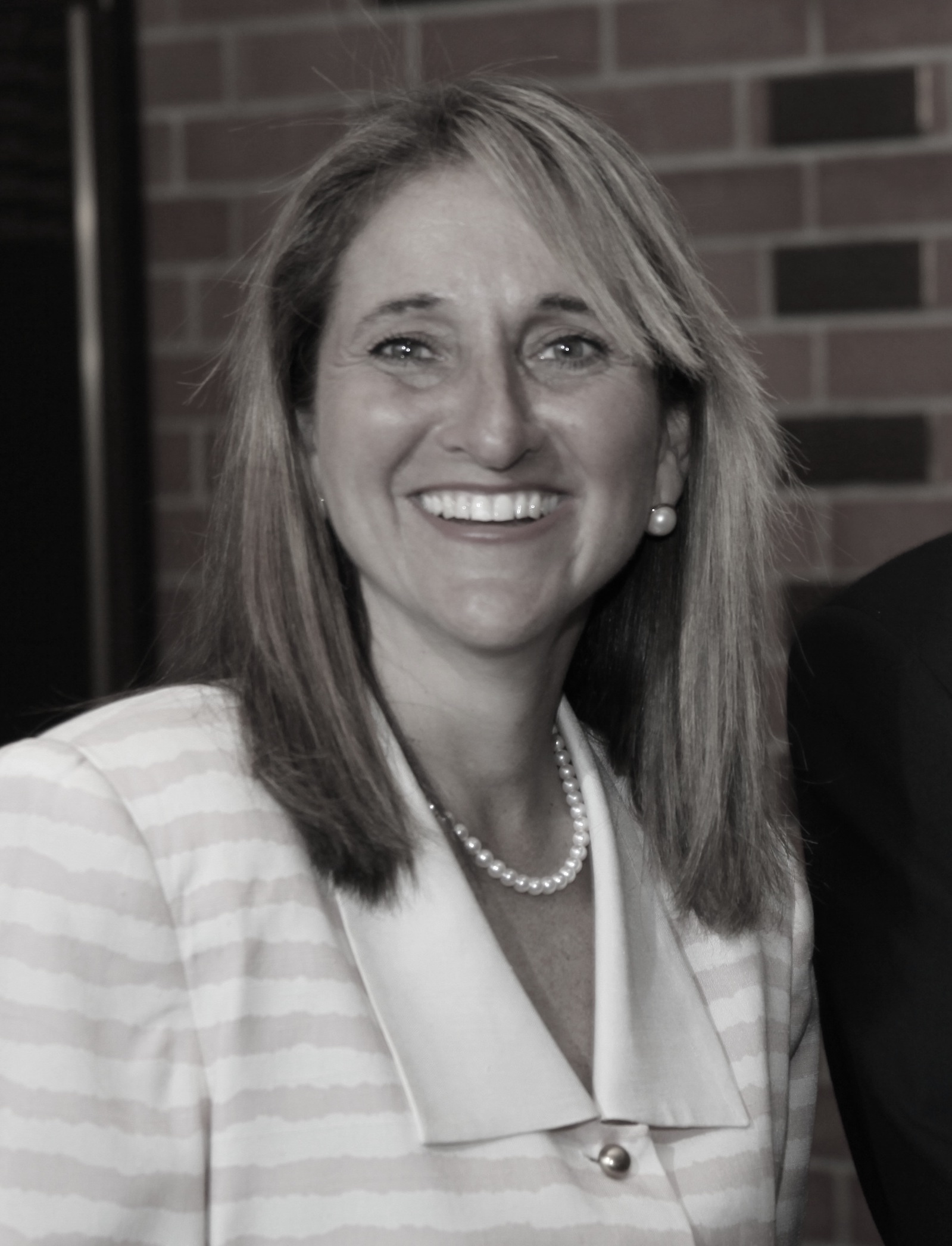 Amazon best-selling author, Leslie K. Barry is most recently a
screenwriter, author, and executive producer. Her previous professional
work includes executive positions with major entertainment companies
Mindscape Video Games. Other areas of business include executive for the
including Turner Broadcasting, Hasbro/Parker Brothers, Mattel, and
first e-shopping platform called eShop and marketing for Lotus
JMU (James Madison University) in the heart of the Shenandoah Valley and
Development, the US Post Office, and AOL. She was an Alpha Sigma Tau at
attended a grad program at Harvard. She has spent the last twenty-five
side, she's devoted to genealogy where she has uncovered many ideas for
years with her husband, Doug Barry, in Tiburon, CA raising their four
kids, Zachary, Brittany, Shaya, and Jackson, and their dog, Kona. On the
tennis, and visit her family in Maryland, Virginia, and South Carolina,
developing untold stories that help us appreciate the context of history,
preserve lessons of the past, and honor memories through family
storybooks. For fun, she likes to travel, ski in Sun Valley, Idaho, play
where she most enjoys Maryland hard crabs and hush puppies, Ledo's pizza,
Contact Links
Twitter: @NMinutemen
Purchase Links