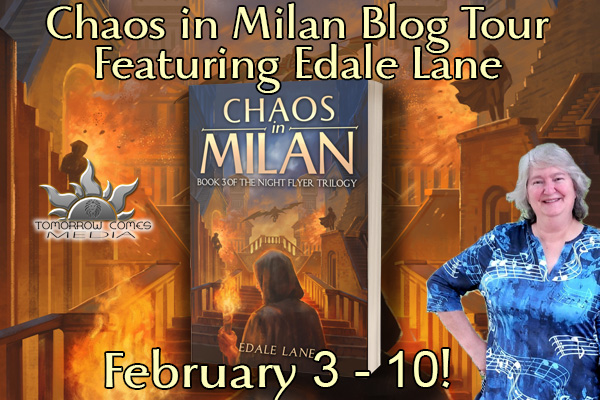 Welcome to a great new blog tour celebrating Chaos in Milan, the final book of the Night Flyer Trilogy by award-winning author Edale Lane! Readers of historical thrillers and historical romance will love this triumphant conclusion to the trilogy, with many twists, turns, lots off action, and a rich historical setting.
Explore the writing of Edale Lane, Chaos in Milan, and the Night Flyer Trilogy in this blog tour running February 3-10 with new guests posts, reviews, interviews, and more!
About the author: Edale Lane is the author of an award winning 2019 debut novel, Heart of Sherwood. She is the alter-ego of author Melodie Romeo, (Vlad a Novel, Terror in Time, and others) who founded Past and Prologue Press. Both identities are qualified to write historical fiction by virtue of an MA in History and 24 years spent as a teacher, along with skill and dedication in regard to research. She is a successful author who also currently drives a tractor-trailer across the United States. A native of Vicksburg, MS, Edale (or Melodie as the case may be) is also a musician who loves animals, gardening, and nature. Please visit her website at: https://pastandprologuepress.lpages.co/
Book Synopsis for Chaos in Milan:
One woman stands between chaos and order – the Night Flyer.
When chaos strikes at the heart of Milan, it is up to Florentina's alter-ego the Night Flyer to stop it. As Florentina and Madelena's love deepens, so does the well of danger surrounding them. The race is on to discover the mysterious Shadow Guild and uncover who is behind the deadly rampage, but Florentina's mission is threatened by a gang of assassins. Can the Night Flyer prevail, or will Maddie's love be ripped from her arms?
Chaos in Milan is the third book in Edale Lane's Night Flyer Trilogy, a tale of power, passion, and payback in Renaissance Italy. If you like action and suspense, rich historical background, three-dimensional characters, and a sweet romance, then you'll want to complete the Night Flyer saga.
___________________________________
Author Interview

1. When did you write your first book?
When I was in second grade, I wrote a dinosaur book, complete with illustrations! I continued to write through high school, college, and grad school; however, my first novel wasn't published until 2002. It has now been re-released through my Past and Prologue Press label as "Tribute in Blood, a Tale of Vlad the Impaler."
2. What sparks your creativity/how do you get your ideas?
I get my ideas from a variety of sources, something I see or hear, an article I read, a painting, a piece of music, nature. Sometimes they just fall from the sky or emerge from my gut. With Heart of Sherwood, I was looking at an open call for submissions for short stories on the theme of fairy tales reimagined. I started thinking about Disney movies, myths, and legends and then became excited about the idea of what if Robin Hood had been a woman? As I thought of the plot, it was too much for a short story, so I skipped the anthology submission and wrote the novel.
3. What do you like to do when you're not writing?
What I like to do when not writing is to garden, play with my dogs, play computer games, and go to movies. What I actually do when not writing is my day job of driving all day-every day, working on marketing my books, and taking online classes to learn to be a better writer, and primarily how to develop better advertising and sell more books.
4. What's a typical writing day like for you?
Think of ideas while driving; get inspired while driving; replay scenes I plan to write while driving. When I'm parked I may have an hour or two to type up what is in my head, or work on editing, or create more Amazon ads, or some combination of all the above. It is amazing that I could publish 4 books in the 2020 calendar year with such little time available to write. I REALLY hope to change that soon!
5. Do you listen to music when writing?
Can't do it. I am first a musician and I would be completely distracted by music; although occasionally I can listen to Classical period music or instrumentals.
6. If you could have a dinner party with 3 other authors, who would they be?
Oh wow! Living or dead, I presume. So, I would invite Mark Twain and J.R.R. Tolkien. Then I'd bring in J.K. Rowling because she did what I want to do; maybe she can share her secrets to success.
7. If you had to pick a celebrity to cast for your main character, who would it be?
I don't know, would probably never write about a celebrity. If I had to choose, I'd say maybe Greta Garbo. She had an interesting life.
8. If you could travel anywhere in the world to write, where would you go?
I have plans (although I know not when) to travel to Australia. I have long wished to go there for the animals, but I have an idea for a historical lesbian romance set in 1800s Australia. I have gained a loyal fanbase in Australia and want to write a story set there.
9. Would you ever write under a pseudonym?
I would and I do! Edale Lane is my pseudonym. My given name is Melodie Romeo, and I write horror and thrillers under that name. I chose a penname for my lesbian romances so that my divergent audiences know what kind of book they are getting.
10. Do you have a favorite food/snack/drink when writing (or anytime)?
When I'm writing, I get in a zone and typically don't even stop for a sip of water. The time available for me to write is so limited that nothing interrupts it.
11. How do you choose your book covers?
For most of them, I work with an artist. I let him know what the book is about, give him some ideas and images to work with, and go from there. The books I have used stock photos for simply do not sell as well as those that I spring to pay an artist for.
12. What's one thing you'd like to say to your readers?
THANK YOU, THANK YOU, THANK YOU!! You mean more to me than you know.
___________________________________
Author Links:
Twitter: @EdaleLane
Official Site: https://pastandprologuepress.lpages.co/
___________________________________
Tour Schedule and Activities
2/3 The Literary Underworld http://www.literaryunderworld.com Guest Post
2/3 Jazzy Book Reviews https://bookreviewsbyjasmine.blogspot.com/ Author Interview
2/4 The Sinister Scribblings of Sarah E Glenn http://saraheglenn.blogspot.com/ Guest Post
2/5 Kim Smith, Author http://Kimsmithauthor.com/weblog Guest Post
2/5 Oohana Children's Church http://www.oohanacc.wordpress.com Video - Interview Response
2/6 Horror Tree https://www.horrortree.com Guest Post
2/7 The Seventh Star Blog http://www.theseventhstarblog.com Guest Post
2/8 Jorie Loves A Story http://www.jorielovesastory.com Review
2/9 Afshan Hashmi https://afshanhashmi.com/books-coming-to-me-from-book-tour-hosts-for-my-analysis Guest Post
2/10 Sapphyria's Books https://saphsbooks.blogspot.com/ Guest Post
______________________________________________
Links for Chaos in Milan:
Kindle Version: https://www.amazon.com/Chaos-Milan-Three-Night-Trilogy-ebook/dp/B08Q7H6DFX/
Amazon Print Version: https://www.amazon.com/Chaos-Milan-Three-Night-Trilogy/dp/B08PXK13B3/
Barnes and Noble Link: https://www.barnesandnoble.com/w/merchants-of-milan-edale-lane/1136051210?ean=9781654780197