Dark Secrets of the Bayou by Kim Carter - Book Tour + Giveaway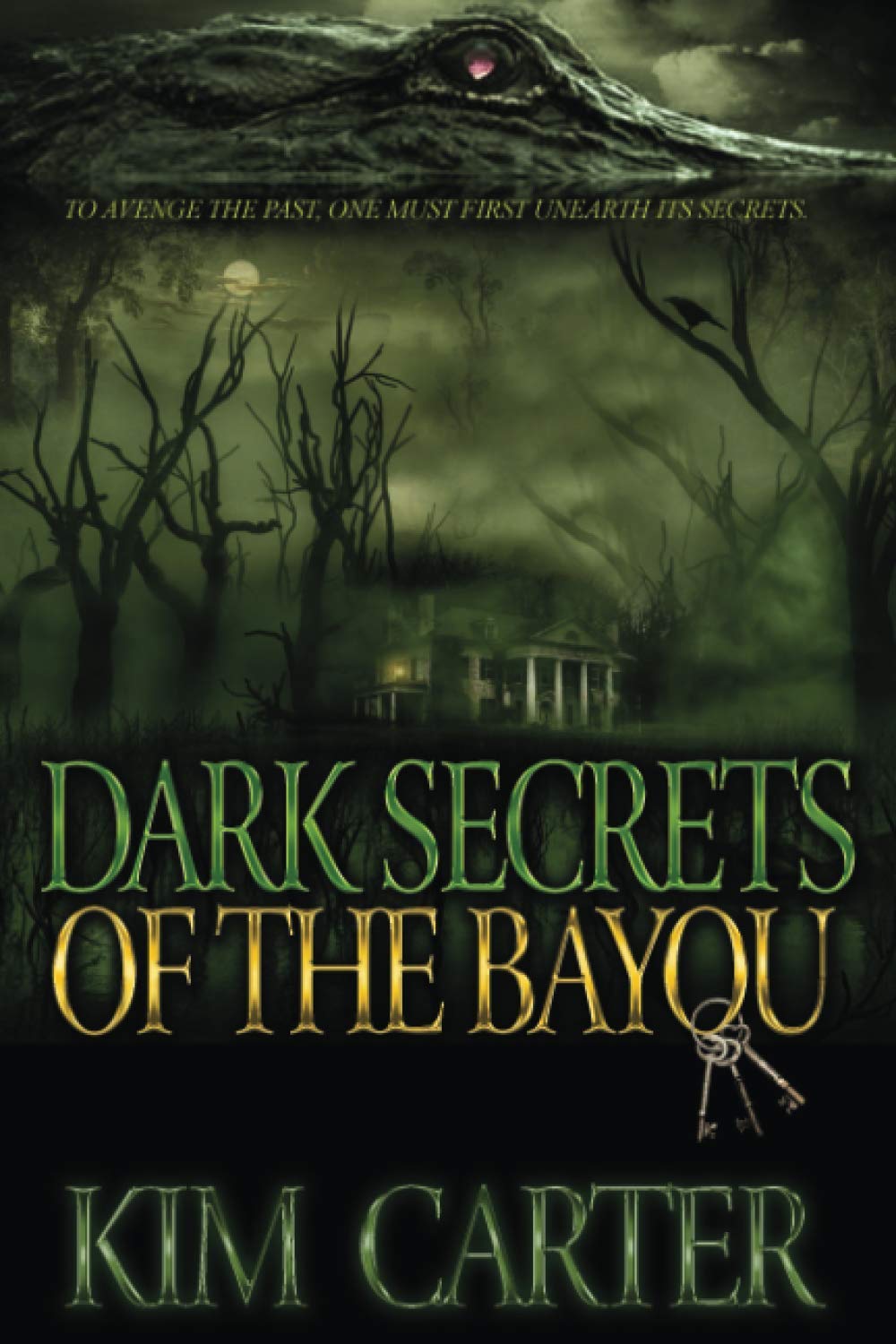 Mystery, Suspense
Date Published: November 2020
Publisher: Raven South Publishing
Catherine "Tink" Mabrey, an up and coming attorney, is shocked by her recent inheritance from her estranged family on the bayou. After her mother died during childbirth, Tink's father had quickly relocated them to the big city of Atlanta, Georgia. With no memory of her mother, she is determined to learn more about her lineage and decides to visit the bayou town of Kane, Louisiana. Candace, Tink's co-worker and best friend, agrees to make the trip with her.
Before she has time to explore her family's history, or decide what to do with the declining property, local murders plague Tink's homecoming. She quickly finds herself caught in the middle of a multiple murder investigation – and quite possibly, the prime suspect. When Candace retreats back to Atlanta, Tink, with the support of an unlikely cast of characters, sets out to discover clues that have haunted and tormented her family for generations.
Could a concealed crime from the 1800's, or the family's estate itself, harbor keys to unlocking the past? The more they learn, the more they question whether some secrets are best left buried.
Other Books By Kim Carter:

Sweet Dreams, Baby Belle (2017)
Murder Among The Tombstones (2017)
No Second Chances (2017)
Deadly Odds (2018)
And The Forecast Called For Rain (2018)
When Dawn Never Comes (2018)
Author Interview
1. If you could tell your younger writing self anything, what would it be?
Write because you love it. Anything that happens beyond that is just a bonus.
2. What book do you feel is under-appreciated? How about overrated?
I've always had a such a strong connection with the characters in No Second Chances. I think they were the hardest of all my characters to say goodbye to at the book's end.
3. Favorite childhood memory involving books?
Oh, my goodness, the majority of my childhood memories revolve around books – from my mother reading them to me when I was a toddler – to learning to read myself. We lived less than a block from the local library and I often rode my bike there to check out books. There were several that I checked out more times than I could count and can still visualize exactly where they were located on the shelves. I enjoy finding those now on eBay and am collecting sets of my favorites for my grandchildren. I treat myself to two, or four (lol) eBay books a month. When they come in the mail it is like being reunited with an old friend.
4. Did you want to be an author when you grew up?
No I didn't, which I suppose is somewhat strange as books have played such a big part in my life. I wanted to become an archaeologist. I loved reading about Mary and Richard Leakey and their work and lives in Kenya and Tanzania.
5. If you had to describe yourself in three words, what would they be?
I'm a mom.
6. What is your most unusual writing quirk?
I always write in my pj's.
7. What's one movie you like recommending to others?
I always recommend the mini-series, The Truth About the Harry Quebert Affair, adapted from Joel Dicker's novel and starring Patrick Dempsey. Unfortunately, not many people have heard of it and it's absolutely phenomenal.
8. If you could own any animal as a pet, what would it be?
A giraffe. Seriously – how cool are they???
9. Have you ever met anyone famous?
Yes, I've met several actors and politicians, but I was most tongue-tied and star-struck when I met my two favorite authors, Sue Grafton and Karin Slaughter. I ran into K. Slaughter in a public restroom at a book event and I was like – OMG! It's Karin Slaughter! She said – well I have to pee too.
10. What is the first book that made you cry?
Where the Red Fern Grows. Best book ever.
11. How do you select the names of your characters?
I ask friends and my kids, go through the phone book, baby name books, and watch the credits at the end of shows and movies.
12. What creature do you consider your "spirit animal" to be?
I've never been able to relate to a spirit animal because they all have such admirable character traits. I may have a few positive traits, but they're typically overpowered by my inability to keep my thoughts from overflowing out of my mouth, my inability to contain my laughter at the most inappropriate times, and my lack of coordination when an event calls for professionalism and couth.
13. If you were the last person on Earth, what would you do?
Eat only fattening foods and binge suspense movies.
14. What fictional character would you want to be friends with in real life?
Kinsey Millhone from Sue Grafton's alphabet series. She has a great sense of humor, isn't concerned with other people's opinion of her, and she's tremendously intuitive.
15. Do you have any advice for aspiring writers?
Before anything else, write for the love of writing.
16. Tell us 10 fun facts about yourself!
I love to laugh – for it is indeed the best medicine. I love animals and children, probably in that order, lol. I love to cut grass; it is my emotional and physical therapy. I LOVE to write and receive letters via snail-mail. I collect old globes, antique books, toby mugs and typewriters. I personally think I have a wonderful sense of humor, but my kids think I'm lame. Whatevs. I think two of the greatest inventions ever are the crock-pot and the dyson cordless vacuum. I'm the youngest of four kids and my siblings think I'm stubborn and spoiled. Again, whatevs. AND obviously I can't count and I'm not good at following directives.
17. If you could live in any time period, what would it be and why?
The '80s – by far the best music.
18. What is your favorite genre to read?
Mystery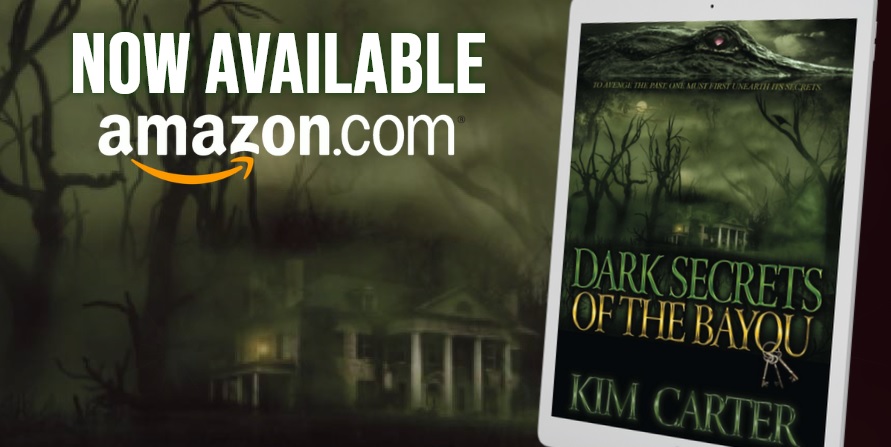 About The Author
Kim Carter is an author of suspense, mystery and thriller novels. She was a finalist in the 2018 Killer Nashville Silver Falchion Award and recipient of the 2017 Readers' Choice Award for her book Murder Among The Tombstones. This is the first book in her Clara and Iris Mystery series. The characters in this series are a couple of overly curious widows who become private investigators and were inspired by Kim's mother and her mom's best friend.
Her other titles include: When Dawn Never Comes, Deadly Odds, No Second Chances, And The Forecast Called For Rain, and Sweet Dreams, Baby Belle.
Kim's writing career started after she suffered an illness that made her housebound for a couple of years. An avid reader of mystery novels, she embarked on writing as a means of filling her time. Kim shared those early writings with friends and family who encouraged her to pursue writing professionally. Her health struggles and successes have been chronicled on The Lifetime Television in early 2000, The Atlanta-Journal Constitution, Women's Day Magazine, and Guideposts.
Prior to her illness, Kim worked in many different capacities in county government ranging from Park Director with Parks and Recreation to the Grant Department with Human Services. But, ultimately, it was her job as a correctional officer that provided her the opportunity to interact with a variety of people from all walks of life. Her experiences ran the gamete of inspiring success stories to tragic endings, much like her mysteries.
She self-published her first book No Second Chances. One of the guest speakers at the launch party she had at the Performing Arts Center in Newnan, Georgia included her close friend retired Atlanta Police chief Eldrin Bell. This connection would become helpful as she started doing more research for other books, this time working with a small publishing house.
Kim started networking and made connections with the Fulton County Medical Examiner's Office. Her research has taken her many places including morgues, death row and the occasional midnight visit to cemeteries.
She is a college graduate of Saint Leo University, has a Bachelor Degree of Arts in Sociology. Kim and her husband have three grown children and live just outside of Atlanta, Georgia.
Contact Links
Purchase Link
Giveaway