Date Published: March 9, 2021
Publisher: Ink & Magick
What is the price of justice?
As a ward of the Lacklands, Robyn Loxley has lived a privileged life. Even now, in 1942, when another war ravages the world and people on the home front must do without, her adopted family is not affected by the rations and shortages.
That's not to say she hasn't been affected by the war personally. As Robyn hits yet another roadblock in her quest to see her best friend Will, trapped in a Japanese-American concentration camp, she stumbles onto the people of Sherwood.
With dark truths revealed about the Lacklands and what really goes on in Midshire, Robyn must answer what justice means to her and what she's willing to do to exact it.
Robyn and the merry band get an update in this dieselpunk sci-fi adventure.

Author Interview
1. Did you want to be an author when you grew up?
No, I wanted to be a paleontologist for most of my childhood. I majored in history my first year of college, but then switched to English my second year. But even then, I didn't want to be an author. I thought I wasn't imaginative enough. I wanted to be an editor, but I also studied journalism and public relations just to make myself more well-rounded. Haha it's funny how life turns out.
2. Have you ever met anyone famous?
Yes, I've been to a lot of conventions, so there are always famous people there. As for actors, my interactions with Patrick Stewart and James Marsters were pleasantly memorable for me. I am always so happy to meet authors I admire. I completely fan-girled for Anne Bishop, and Steve Bein and Bishop O'Connell were some of the nicest guys I've ever met. Outside conventions? I had an interesting encounter with Dave Chappelle at a coffee shop once. I won't soon be forgetting that.
3. What is the first book that made you cry?
Where the Red Fern Grows by Wilson Rawls. We read it in seventh grade English.
4. How do you select the names of your characters?
A few ways. I keep a running list of interesting names I come across. I also might choose a name based off its meaning. And sometimes I just hit the next button on a random name generator until I find one that fits.
5. What creature do you consider your "spirit animal" to be?
This is an interesting question. I did an exercise once that was supposed to call my spirit animal to reveal itself to me in a dream. Apparently, my spirit animal is an opossum… I can 100% say I did not see that coming.
6. If you were the last person on Earth, what would you do?
What can you do? Pull a Snow White and sing to my animal friends probably. That's assuming there are any animals left. I mean, if I'm the last human on Earth, something tragic had to have happened? In reality, I would probably be spending a lot of time trying to survive whatever apocalypse just decimated the human race.
7. Do you have any advice for aspiring writers?
Tons. But specific to aspiring writers? Write. Finish that book. You'll never be an author if you don't complete your work. You can do it. I believe in you.
8. What is your favorite genre to read?
Urban fantasy and paranormal romance mostly. But I also can get into moods. I read classics and mysteries quite a bit as well.
9. When did you write your first book?
My first full book (Conjuring Zephyr) was written in 2015 and published in 2016. Before that, I wrote poetry and short stories.
10. What do you like to do when you're not writing?
Well, a lot of my habits have changed since COVID. I've always liked to watch foreign TV (K drama, anime, Bollywood), and classic movies. But my favorite thing to do was travel… I haven't done a lot of that for obvious reasons lately. But I did a lot of walking outside over the last year. And will do so again when the temperatures won't freeze my nose off my face.
11. What's a typical writing day like for you?
I write better in the mornings. So, I generally get up, eat breakfast, and write until lunch. If I'm really on a roll, I might go back to writing after lunch. But most of the time, the afternoon is spent figuring out what my next step is. I have to spend a lot of time doing this since I prefer to pants rather than plot.
12. Do you listen to music when writing?
It depends. When I was writing In Search of a Witch's Soul, I listened to film noir soundtracks to keep me in that dark mood. But mostly music (or any sound for that matter) distracts me. I need quiet when I write. The greatest hinderance to this is my cats, who cry incessantly if I'm at the keyboard for more than ten minutes.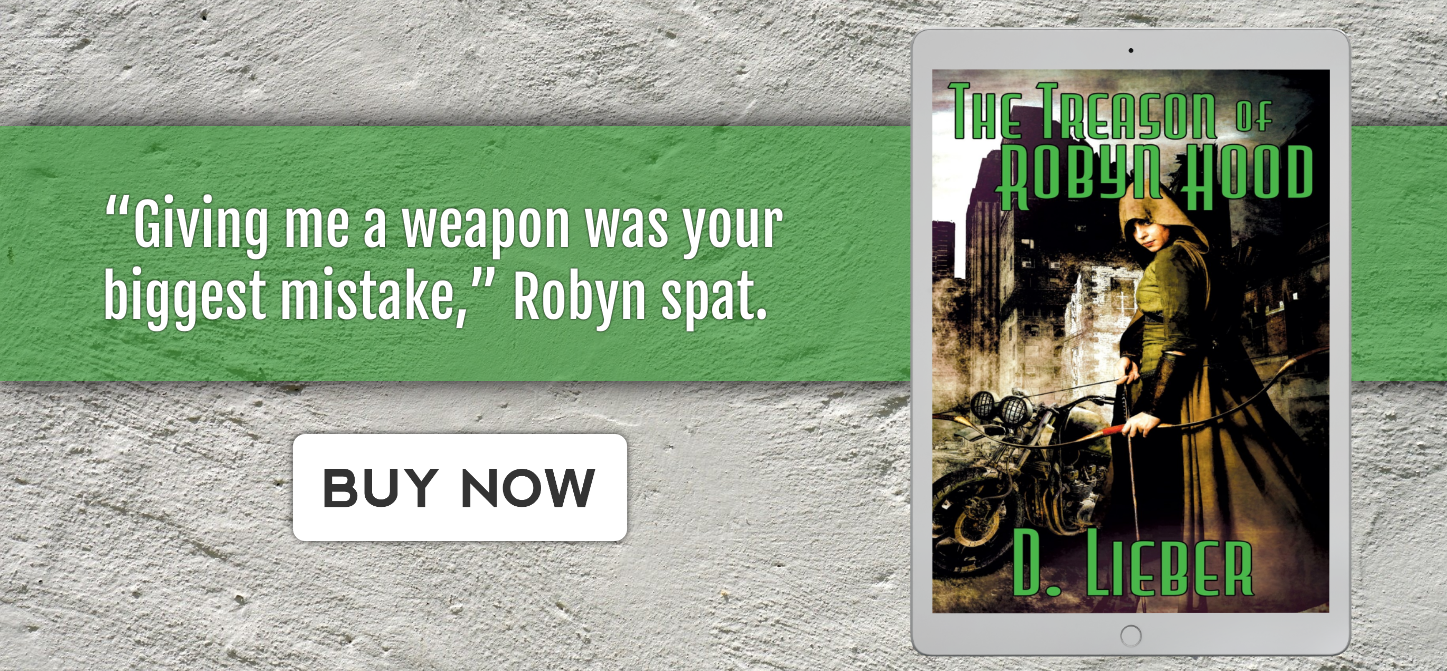 "The Treason of Robyn Hood has suspense, drama, humor, romance, and action, all jam-packed in a tightly paced novel full of intrigue...I enjoyed it immensely and will highly recommend it to fans of fantasy and adventure. "
"Connoisseurs of urban fantasy and offbeat romance will find this novel both a fun and fulfilling read. The clever characterizations and skillful melding of fantasy, adventure, and romance put a spotlight on sisterly devotion, oddball alliances, social conscience, and the human ability to rise above broken hearts and broken lives. "
About the Author
D. Lieber has a wanderlust that would make a butterfly envious. When she isn't planning her next physical adventure, she's recklessly jumping from one fictional world to another. Her love of reading led her to earn a Bachelor's in English from Wright State University.
Beyond her skeptic and slightly pessimistic mind, Lieber wants to believe. She has been many places—from Canada to England, France to Italy, Germany to Russia—believing that a better world comes from putting a face on "other." She is a romantic idealist at heart, always fighting to keep her feet on the ground and her head in the clouds.
Lieber lives in Wisconsin with her husband (John) and cats (Yin and Nox).
Contact Links
Purchase Links