Under the Light of the Italian Moon by Jennifer Anton - Book Tour + Giveaway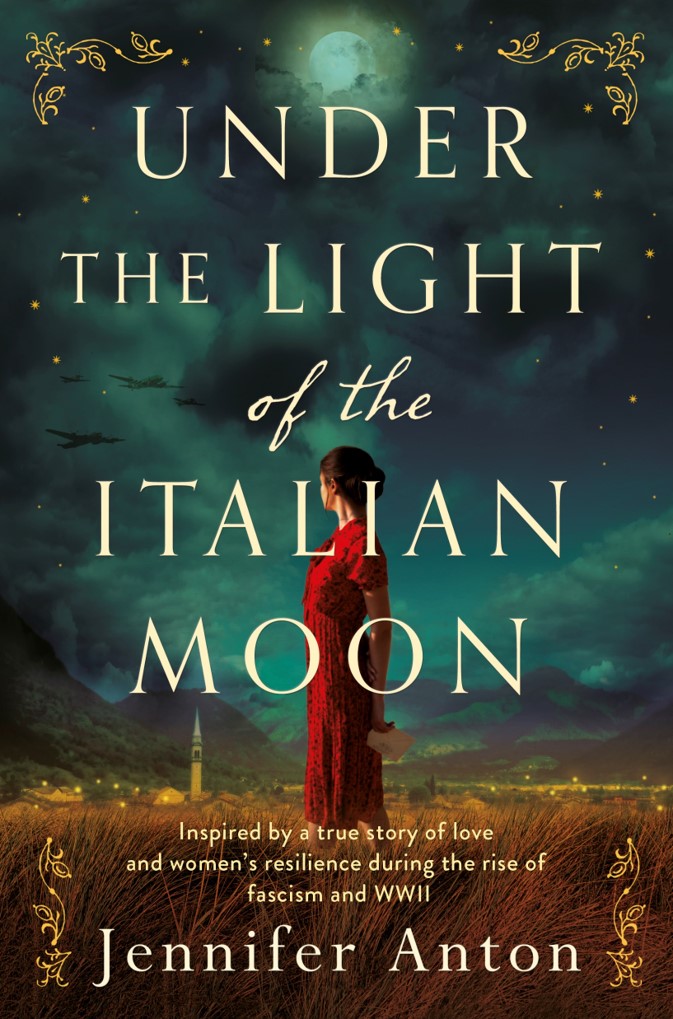 Historical fiction, women's fiction, biographical fiction
Date Published: March 8, 2021
Publisher: Amsterdam Publishers
A promise keeps them apart until WWII threatens to destroy their love forever
Fonzaso Italy, between two wars
Nina Argenta doesn't want the traditional life of a rural Italian woman. The daughter of a strong-willed midwife, she is determined to define her own destiny. But when her brother emigrates to America, she promises her mother to never leave.
When childhood friend Pietro Pante briefly returns to their mountain town, passion between them ignites while Mussolini forces political tensions to rise. Just as their romance deepens, Pietro must leave again for work in the coal mines of America. Nina is torn between joining him and her commitment to Italy and her mother.
As Mussolini's fascists throw the country into chaos and Hitler's Nazis terrorise their town, each day becomes a struggle to survive greater atrocities. A future with Pietro seems impossible when they lose contact and Nina's dreams of a life together are threatened by Nazi occupation and an enemy she must face alone…
A gripping historical fiction novel, based on a true story and heartbreaking real events.
Spanning over two decades, Under the Light of the Italian Moon is an epic, emotional and triumphant tale of one woman's incredible resilience during the rise of fascism and Italy's collapse into WWII.
Excerpt
On the day of the
Festa dell'Uva
the weather was blustery, and the tents of the merchants whipped and shook. No one wanted to cancel, but the conditions were less than ideal. It seemed it would rain any moment. Nina looked out the window, cursing her luck. The door to the house opened, and Corrado entered along with a gust of wind.
"Bundle up! The festa is still on. Even if we have to huddle under blankets, we won't be cancelling!" he announced. Everyone let out a cheer and grabbed their scarves and coats. Nina tied her chignon tight to avoid the wind making a mess of her hair. Vante, Aurora, Evira, and little Luigia tied blankets over their shoulders like capes as they marched to the piazza where the festivities would begin.
In the Piazza Primo Novembre, the Fonzasini huddled next to each other on either side, leaving space for the parade. Nina scanned the crowd for her friends and Pietro. To her surprise, Onorina grabbed her arm and shouted at her, "Come with me!"
Nina allowed herself to be pulled across the piazza towards a section of the crowd where Onorina's friends stood, anticipating the celebration, next to a row of young men in linen pants and wool caps. To Nina's nervous pleasure, Pietro was with them.
"Squeeze in!" yelled Toni Bianchi, a wilful and brawny young man who had spent time abroad in Canada, come back to fight in the Great War and returned to find his father had died of the Spanish flu. He pulled the two girls next to him with Onorina on his side, forcing Nina between her sister and Pietro.
"Hello there," Pietro said, jostling as the crowd pushed and pulled to get the best view of the parade. The wind tossed his curls. "You weren't at the festa in Frassenè!" he nearly shouted, and she didn't have time to respond to him as the crowd cheered. Each cart rolling by celebrated winemaking and depicted a different step in the process. The first cart came through the crowd, adorned with twisted grapevines covering every surface, and one of Onorina's old classmates, Bettina Napoli, waved from the carriage with a wreath of vines on her head. She was supposed to wear a Roman goddess costume, but with the cold and wind, whatever she wore was hidden beneath a coat. The girl held tight to her crown to keep it from blowing away.
The crowd shoved forward and tightened, pushing Nina against Pietro on the right and her sister on her left. To her secret delight, the pressure of the crowd on Onorina's side was rising, and she had the distinct impression Toni was instigating it, pushing closer to her sister, and forcing her into Pietro. She could feel Pietro's warm body under many layers, and they laughed, cheering as each cart went past. Pietro's hand brushed against hers, sending an electric current through her belly. As the carriage drove by with old men and small children stomping on grapes in a vat, the skies opened, and a light rain fell, flying about in the wind. Someone lifted a large blanket behind and above the group and Nina found herself squeezed underneath it, protected from the rain with Pietro. It was oddly intimate despite the entire population of Fonzaso and surrounding villages gathered around them. They laughed and shook their heads, unable to hear anything through the shouting crowd, accordion music, and roaring wind. They cheered along, laughing at the absurdity of the entire situation and the thrill of being close until someone released a corner of the blanket and the wind ripped it away. The group screamed in surprise as the rain drenched them.
Pietro's hair was soaked, his damp curls stuck to his forehead as chaos started around them, everyone running for cover from the storm. Nina imagined her hair must look wild, most of her chignon loose. The organisers announced the Alpini band would play in the Corsos' barn.
"Are you coming?" Pietro shouted to Onorina and Nina over the madness in the piazza and the intensifying rain.
"We'll see you there!" Onorina called in response, pulling Nina again with her.
"What was that about?" asked Nina when they found cover under an umbrella someone handed them.
"What was what about? It's a festa! Have fun, sorellina! Your life is too serious!" Her sister was in an exceptionally good mood, even though her waves were damp and would soon frizz. They were the first into the Corso barn as the Alpini band started, and the accordions hummed.
The exhilaration of the cold and the extraordinary situation of the festival took away any inhibition Nina had of being first to dance, and she and Onorina bounced to the music as soon as they entered. Onorina was an excellent dancer, and they both swung their hips, dipping and spinning with the music. Nina finally felt free. She twirled under the timber roof, giving in to an abandon she hadn't felt since childhood, since before the awful days of the war took it away.
A flood of people soon joined, swaying, and waltzing around them. Nina's cheeks hurt from smiling, and she danced with everyone. The temperature rose in the barn, making the air muggy with the earthy smell of rain and hay. Where was Pietro? The men passed bottles of wine and raised them to allow the liquid down their throats, swigging, and handing it on. Her father appeared and lifted her around, then swung her sister. Vante and her little sisters stamped past, clapping their hands, and twirling as the music played. It reminded her of the weddings she'd attended when she was small before the war. Everyone wanted to dance with her then, and she never wanted to leave the floor. Women swished their skirts, men slapped their thighs and when the Alpini band played 'Quel Mazzolin di Fiori', a cheer went up for the favourite song. Nina spotted Pietro through the boisterous crowd, but as he was about to break through, a young man with red hair swung her away. "Hey, Pampo!" someone shouted at him and gave him a wink as he swung Nina on the dance floor. She wanted to get away, annoyed at his awful dancing and even worse timing. She watched as Pietro found Onorina and gave her a twirl, both of them swaying to the music. Nina tried to move away from the redhead, but the barn was too packed with bodies, and he swung her again. This time, she lost her balance and, with two steps, trying to catch her footing, fell into the crowd.
"Whoa there," a low voice hummed in her ear as strong arms wrapped around her, catching her from her fall.
"I remember you telling me you could dance," Pietro said, smirking at her in a kidding manner while he pulled her into his arms.
"Don't blame me. A girl has to have the right partner," she quipped back, surprised by her own words and immediately taking in the heady scent of his cologne: wood and spice mellowed by dried rain.
'La Monella' played, and Pietro put his hand on Nina's lower back, guiding her in an easy waltz to the quick tune. No one had ever held her in such a way; his palm was firm on her lower back, possessive, as though sending a message to everyone in the room. He was smooth on his feet, confident. They spun around in the packed space until the other dancers parted enough to allow them to travel. As the pace of the song picked up, Pietro became animated; he raised his eyebrows dipping her, and teasing with his movements. Nina liked how he moved. He was smooth but didn't take himself seriously, and it was exhilarating to be twirled around in his arms. His hair had dried into a wild flop covering his left eye. She resisted the urge to push it back for him.
"Did you learn to dance like this in America?" she asked, as he spun her and then pulled her back close to him.
"I've learnt a lot of things in America." He leaned towards her and changed the subject. "Do you ever go to the movies?" he asked. When he spoke to her, he had to get close to her ear so she could hear him over the band. She felt the heat from his breath on her neck.
"Sì. In Feltre and we're meant to get a small picture house behind the church soon. I especially love American films!"
Pietro grinned at her, searching her face as if memorising her features. "Why weren't you at the last festa? I saw everyone else in your family but not you. Onorina was the star of the night."
"I'm sure she was," Nina frowned, a chill going through her at the mention of her sister. "I had to help my mother. Babies don't plan around events," she said, breathless and annoyed the conversation had headed again in Onorina's direction. How many times had men tried to get information about her sister through her? Was Pietro the same?
"You want to be a midwife, too?" It was a serious question to ask in the middle of a dance floor, but his brown eyes made her want to share her thoughts with him.
"I want to matter to the world," she admitted. "My mother has figured out how to do that." He spun her again, then looked at her seriously.
"You do and you will," he said. Un colpo di fulmine. The lightning bolt returned as his words sunk into her like she had been waiting to hear them all her life.
The song changed again and, this time, Corrado appeared, took Nina in his arms, and spun her around the barn. Losing sight of Pietro, she was tossed away again as Corrado seized her mother for a rare dance. She kept moving to the music as Pampo came up once more; this time she shook her head at him, unwilling to let him have her hand. He stayed nearby anyway, gesticulating towards her. For a moment, she thought she saw Pietro frowning on the other side of the barn as the annoying ragazzo danced at her. Nina smiled awkwardly, feeling uncomfortable, not wanting to be rude but miserable about the change in circumstances. Pampo grabbed her wrist and twisted her roughly again. This time, she stepped with intention away from him and inched into a corner of the barn where observers sat on stacks of hay. She searched the space until a flash of burgundy drew her attention. On the other side of the barn, there was Onorina, again in the arms of Pietro. He had her sister's scarf tied around his neck and was making the same animated faces at Onorina he had made at her. Nina felt the blood drain from her face, and her urge to dance died, replaced by the desire to escape. Her siren of a sister could enchant any man; and why shouldn't he fall in love with her? Hours before, it seemed like Onorina was steering Pietro her way, but, as she batted her eyes and grasped onto the ends of her scarf around his neck, it was clear she was interested, too. Nina wove her way through the crowd to the exit, pushing away tears with the palms of her hands, and ran up the moonlit stones of the Via Calzen and home to her bed.
Under the Light of the Italian Moon is available at the following retailers on preorder until it releases on March 8th, 2021:
Amazon (Worldwide) getbook.at/JAnton
Barnes and Noble (U.S. only) https://bit.ly/3n1nDqC​
Bookshop.org (U.S. only) https://bit.ly/3ofS39T
Or order it direct from your local bookshop
Follow Jennifer on Instagram @boldwomanwriting
Visit her website www.boldwomanwriting.com
About the Author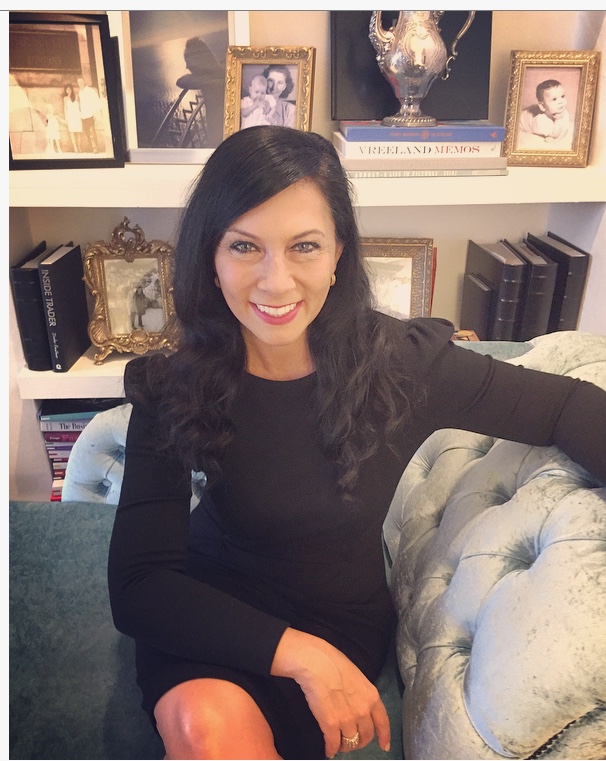 Jennifer Anton is an American/Italian dual citizen born in Joliet, Illinois and now lives between London and Lake Como, Italy. A proud advocate for women's rights and equality, she hopes to rescue women's stories from history, starting with her Italian family.
In 2006, after the birth of her daughter, Jennifer suffered a life-threatening post-partum cardiomyopathy, and soon after, her Italian grandmother died. This tumultuous year strengthened her desire to capture the stories of her female Italian ancestors.
In 2012, she moved with her family to Milan, Italy and Chicago Parent Magazine published her article, It's In the Journey, chronicling the benefits of travelling the world with children. Later, she moved to London where she has held leadership positions in brand marketing with companies including ABInbev, Revlon, Shiseido and Tory Burch.
Jennifer is a graduate of Illinois State University where she was a Chi Omega and holds a master's degree from DePaul University in Chicago.
Under the Light of the Italian Moon is her first novel, based on the lives of her Italian grandmother and great grandmothers during the rise of fascism and World War II.
Review the book at Amazon.com, Goodreads, and Bookbub
Connect with Jennifer on Instagram @boldwomanwriting
Connect with Jennifer on Facebook @jenniferantonauthorpage
Join her mailing list at www.boldwomanwriting.com
Purchase Link
Giveaway