Authors: Jordan Riley Swan, Hero Bowen
Narrators: Hillary Huber, Anthony Mark Barrow, Michael Crouch, Sarah Mollo-Christensen, Erin Spencer, Graham Halstead, Andrew Eiden, P.J. Ochlan, Peter Berkrot, Ray Porter, Adenrele Ojo, Andi Arndt
Length: 10 hours 17 minutes
Publisher: Story Garden
Released: Mar. 10, 2021
Genre: Mystery
These actors are going to steal more than the show.

This full-cast audiobook, featuring 11 different voice actors, and narrated by Hillary Huber, take on the roles of the Tandem Players, a group of community theater actors that love their community theater almost as much as they love the sweet old landlady who gave them a home to perform their plays in over the years. But when she passes away, and the will that was to leave the Broadtown Theater to the acting troupe disappears, they don't even have time to mourn their loss. Her son comes in like a wrecking ball, brandishing a 20-year-old will and an ultimatum: leave, or be buried under the rubble when he has the place demolished.

The ragtag group of actors - a street magician, a former stuntwoman, an IT student, an FX specialist, a leading man, and their stage manager - will have to pool their talents and steal the will back. And they'll have to act fast, because the next wrecking ball that swings in is going to be a real one.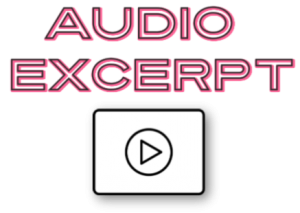 Jordan Riley Swan is a wild word hunter living in the far and dangerous reaches of rural Ohio. He spends his nights tracking down big-game stories, capturing them in paper cages, and training them to be better tales. He would like to list a cavalcade of awards and best selling titles into this bio, but alas he only has two books in the field as of yet and was always a late bloomer...
Q&A with Author Jordan Riley Swan
Tell us about the process of turning your book into an audiobook.

This was probably the funnest and easiest part of the whole audiobook adventure for me. I work with Erin Spencer from One Night Stand Productions audio boutique. She handled every technical aspect of getting the audiobook made. All I had to do was pick from the voices she suggested for the various roles and then listen to samples of the manuscript read by the narrators we had narrowed down to. It was a blast! Being that this was a full cast audio book it felt like being a big time hollywood executive casting stars for leading roles. Was a ten out of ten experience and I'm looking forward to the next book.

Do you believe certain types of writing translate better into audiobook format?

I think we could make a case that some books do translate better to audio. But I like to think that all prose, from commercial fiction to the deepest literary experience, will translate differently, but not necessarily negatively so, from the written page to audio.

Limelight and Larceny

, however, really lent itself for translation to audiobook for one major reason—we went full cast. Each major character had its own narrator for the dialogue and since this is a multiple character novel about theater actors having to turn to a life of crime it was made for this type of radio play like feel.

Was a possible audiobook recording something you were conscious of while writing?

It actually wasn't on my mind at the time. But as we got closer to finishing the book Erin Spencer was wrapping up producing the audio version of my first novel

The Heart's Bidding

(read by the incomparable Xe Sands) and I mentioned Limelight and Larceny off handily to her and we started talking about full cast production. Now, i'd heard full cast before and thought I'd love to do it but surely the price would be astronomical. It wasn't as bad as I had first feared (but lets not lie here, getting an audiobook produced isn't cheap even with one narrator) so I jumped off the deep end and said screw it. Lets have fun with it, you only live one, right?

How did you select your narrator?

Erin from One Night Stand Productions sent me a list of possible narrators for the main narrator and I went through audible and verified the ones I liked. Once we had the selection down to three choices for the main narrator they all read a page of my work so I could hear what they brought to the table. Hilary Huber really nailed the wry aspect we were going for so she read the bulk of the book. The voices for the characters were another matter.

Erin seemed to have a magical way of reading a few lines of dialogue and then saying "This person would be good for this role, and that person for that role," etc. I would listen and sure enough, bam! Perfect almost every time. We switched two voice actors roles during the audition part as the narrative of the book had changed during a beta read but otherwise it was crazy how dead perfect the roles were.

How closely did you work with your narrator before and during the recording process? Did you give them any pronunciation tips or special insight into the characters?

We worked hand in hand during the auditions, but once it went into production I didn't have to do much (which is exactly how I like it considering how lazy I am, LOL). There were some questions about name pronunciations but otherwise it was pretty smooth sailing.

Were there any real life inspirations behind your writing?

My co-writer Hero Bown and I both have had experiences in theater (though she definitely had a LOT more than I did) and a lot of the theater moments in

Limelight and Larceny

come from personal experience or from personalities that we have met in the theater world.

How do you manage to avoid burn-out? What do you do to maintain your enthusiasm for writing?

One of the tricks I use is to have multiple projects in the hopper at any one time. Maybe I'm first drafting a book this morning, then revising something my writing partner Hero Bowen wrote after lunch, then plotting out another book in the afternoon. By switching up what I work on every few hours (like right now working on answering these questions) I refresh and use a different part of my writer brain.

Are you an audiobook listener? What about the audiobook format appeals to you?

I am almost exclusively an audiobook listener when consuming books. I have trouble reading print after a half hour or so. It isn't as bad when I'm typing as I spend half my time looking at the keyboard and half my time watching the words appear, but if i try and just read straight my eyes get blurry and my attention starts to wander. Plus, I like to drive to parks and walk around and I can listen to an audiobook from the moment I step outside the front door until I return again.

If you had the power to time travel, would you use it? If yes, when and where would you go?

To quote

Beverly Jenkins

"I've seen enough time travel movies to know you don't ever go screwing around in your past lest you want to end up married to your grandparent or something." So, thats a hard no for me. LOL

What's next for you?

Erin Spencer is gearing up production for Hero Bowen and my newest book, Wish Hunter, which will be out in June. My co-writer and I are also working on a RomCom series and book two in the Limelight and Larcey series. Wish us luck and hopefully you'll hear from us soon… 'hear from us' hahahaha. See what I did there?

Plugging you into the audio community since 2016.
Sign up as a tour host here.