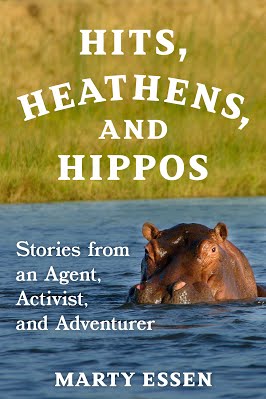 Stories from an Agent, Activist, and Adventurer
Memoir, humor, nature, music business
Date Published: February 28, 2021
Publisher: Encante Press, LLC
Be inspired, intrigued, and entertained!
Everyone has dreams of what they want to accomplish in life. Marty Essen's childhood dream of becoming a herpetologist gave way to his dream of becoming a popular DJ, which led to his dream of becoming a big-time talent manager, which morphed into the dream of becoming an in-demand author and college speaker. While he achieved most of his dreams at various levels, he also realized that he didn't necessarily have to reach the top to find success or happiness. Sometimes "almost" is close enough.
Hits, Heathens, and Hippos: Stories from an Agent, Activist, and Adventurer is a humorous and inspirational memoir that explores relationships and careers and how seemingly minor events can lead to life-changing results. Compelling stories have filled Marty's life, and he tells those stories in a conversational style that combines his talents as an award-winning author with his talents as the creator of a one-man stage show that he has performed at hundreds of colleges across the United States.
This is a must-read for anyone faced with an unexpected career change, worried about finding and keeping the partner of their dreams, forced to take on bullies (whether individual, political, or corporate), eager for ideas to make life more satisfying, or just in search of a fun-filled adventure.
REVIEWS
"A thoroughly absorbing and inherently fascinating account of a most unusual life lived out in a series of equally unusual circumstances."—Midwest Book Review
"With thought-provoking explorations into making peace with family members who adhere to differing religious values, tales of his time as a talent agent, and escapades with gigantic rainforest monitor lizards—there is much to enjoy in Marty Essen's memoir Hits, Heathens, and Hippos: Stories from an Agent, Activist, and Adventurer."—a 4/5 starred IndieReader-Approved title, reviewed by C.S. Holmes
Excerpt
The below excerpt is from
Hits, Heathens, and Hippos: Stories from an Agent, Activist, and Adventurer
by Marty Essen. © 2021
From the chapter "The Little Blond-Haired Kid"
I loved going to church as a child. I would snuggle in between my mother and father, listening for the moment when Rev. John Reppe, of Bethlehem Lutheran Church, would begin talking about a man he admired almost as much as Jesus. The minister would saunter to his lectern, gaze over the congregation, and say something like this: "Today we turn to the Epistle to the Philippians, where Paul writes, 'Look out for the dogs, look out for the evildoers, look out for those who mutilate the flesh.'"
I was too young to understand much of what Pastor Reppe said, but I did know this: once again, he was quoting the strongest and wisest man in the world, my hero, my father, Paul Essen—and the entire congregation was hanging on his every word!
***
Life began for me in the Minnesota town of Two Harbors, located on Lake Superior, twenty-five miles north of Duluth. I was the youngest of three siblings; my mother, Marcie, was a housewife, and my father was the owner and president of one of the two banks in town. My father's bank was the Commercial State Bank, and the other was Satan's Savings and Loan, or something similar to that. In addition to believing my hero-father was the Paul Pastor Reppe quoted so often, I also believed he was the richest man in town. That belief would be shot down years later, when I learned that running a bank in a town of a little over four thousand people wasn't all it was cracked up to be.
I lived in Two Harbors only through kindergarten, but those years were rich with small town experiences. When I think back about it now, I'm amazed at just how much freedom I had to roam. Usually I was with the local mortician's son, Brent, or Luann, the girl I was determined to marry when I was older—like ten. Both lived just down the street from me. No part of town was off-limits to us, including Lake Superior, where we would spend hours on the pebble beach searching for agates, or uptown, where we would check out the water tower to make sure it wasn't leaking. And, naturally, we would tiptoe into the mortuary attached to Brent's house, where we'd ultimately chicken out before seeing any dead people.
Haircuts in Two Harbors were also unaccompanied. My father would simply hand me a few dollars and say, "Walk over to the barber's after school. Tell him to give you a butch." Hmm. . . . Now there's a word that's evolved over the years.
Family entertainment in northern Minnesota meant Captain Kangaroo in the morning, leaf-viewing automobile rides in the fall, and skating in the winter. Then, during the summer, we'd spend weekends at our cabin on Stone Lake, where we would swim, fish, and my brother would shut me inside the hide-a-bed. In retrospect, I was lucky to have lived through playing hide-a-bed-sandwich. People have actually suffocated doing it. Me? It just gave me a lifetime of claustrophobia.
Other family fun at the cabin included watching our neighbor, Lenny, put-put by on his motorized DDT fog machine. Back then, few people in the woods of northern Minnesota understood the dangers of DDT. All anyone knew was that after Lenny made his rounds, mosquitoes and biting flies disappeared for several days. Years later, my mother claimed that after reading Rachel Carson's Silent Spring, she always called everyone inside when she heard Lenny's contraption coming down the gravel road. While I don't doubt that, I still have vivid memories of watching the man riding his machine. Perhaps that's why I always sleep dead insect-style, with my arms and legs tucked in.
Of all the cabin activities, hunting for frogs, snakes, and turtles was my favorite. I adored wildlife and always carefully released everything I caught after showing them to my mother, who would pretend to be impressed. Sadly, as I grew older, the vast majority of those creatures disappeared from Stone Lake. Kid-logic told me they had all become craftier hiders. Now, of course, I know DDT did them in. As for Lenny? He lived to be ninety.
***
After I triumphantly aced kindergarten, my parents announced that we were moving to Fort Collins, Colorado. The year was 1968, and at the time, I didn't understand that the move was an attempt to save their marriage. I was just excited to see the mountains. The eleven-hundred-mile drive, in our 1963 Buick station wagon, went something like this:
Me (age six): "When will we see the mountains?"
Mom: "It will be a while, dear. We aren't even out of Minnesota yet."
Paul Jr. (age eleven): "Diana just stuck her tongue out at me."
Diana (age thirteen): "I did not!"
Me: "Pauly and Diana are squishing me!"
Paul Jr.: "Stop calling me 'Pauly.' I'm 'Paul' now."
Me: "I see the mountains!"
Dad: "Those are hills, son. We won't see the mountains until late tomorrow."
Paul Jr.: "Diana just wiped a booger on me!"
Mom: "Stop it! All of you."
Dad: Turns on the radio and frantically searches for Johnny Cash.
Me: "I think I see the mountains."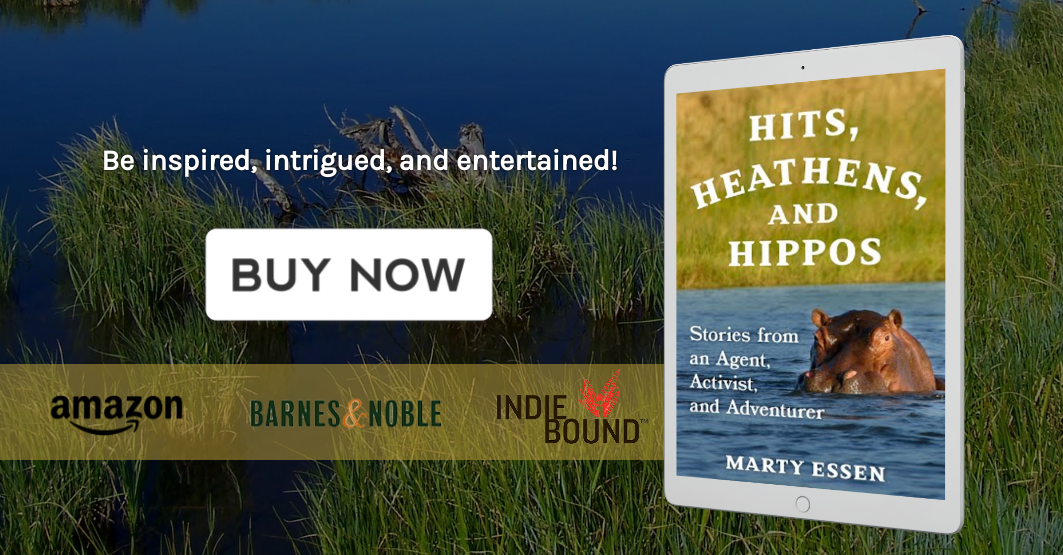 About the Author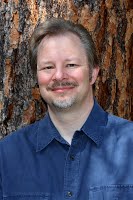 Marty Essen began writing professionally in the 1990s as a features writer for Gig Magazine. His first book, Cool Creatures, Hot Planet: Exploring the Seven Continents, won six national awards, and the Minneapolis Star-Tribune named it a "Top Ten Green Book." His second book, Endangered Edens: Exploring the Arctic National Wildlife Refuge, Costa Rica, the Everglades, and Puerto Rico, won four national awards. His novels, Time Is Irreverent, Time Is Irreverent 2: Jesus Christ, Not Again! and Time Is Irreverent 3: Gone for 16 Seconds are all Amazon #1 Best-Sellers in Political Humor. Hits, Heathens, and Hippos is Marty's sixth book, and like all of his books, it reflects his values of protecting human rights and the environment--and does so with a wry sense of humor. Marty is also a popular college speaker, who has performed the stage-show version of Cool Creatures, Hot Planet on hundreds of campuses in forty-five states.
Contact Links
Twitter @MartyEssen
Purchase Links
Giveaway
a Rafflecopter giveaway