Date Published: June 1, 2021
Publisher: Atmosphere Press



The Jesus Nut tells the parallel stories of three unlikely pilgrims—a reviled professor, a delusional homeless veteran, and a priest who loves strip clubs—searching for the greatest religious relic of the 21st century. Thrown together after a raucous showdown with evangelists, they decide to ignore their differences and work as a team in pursuit of their holy purpose. Their journey to New York City leads to a fateful encounter with a former advertising executive, whose mad ramblings suggest he might be the very oracle to help them fulfill their destiny.

A quirky, subversive novel that addresses timely issues and lampoons evangelical hypocrisy, The Jesus Nut ultimately reveals itself to be a story of second chances and agape love. Along the way, you'll meet self-righteous academics, a curious and ambitious stripper, a farmer with a remarkable peanut, a trucker fascinated by the constellations, a profane church maintenance crew, and more. Prepare for an irreverent journey which will remind you of the value of friends and the miraculous power of faith.

Author Interview
1. If you could tell your younger writing self anything, what would it be?
As soon as I earned my MA in screenwriting from the University of Texas, I headed to Hollywood, where I spent a little more than two years trying to get into the industry. I was close. But then my mother got cancer so I moved back to Arizona. When she died a couple of months later, I should have immediately moved back to California, but I stayed in Arizona and my life went in a different direction. I would tell my younger self to never let anything distract you from your writing dreams, because regret is a horrible thing to bear.

2. What book do you feel is under-appreciated? How about overrated?
Underappreciated: The Traders by Scott Shibuya Brown. Was published by a small independent press, yet deserved better. It was a finalist for the Saroyan Prize, for crying out loud! A wonderful, funny, smart novel.

Underappreciated #2: The Yellow Arrow by Viktor Pelevin. A weird Russian novel that portrays existentialist philosophy better than even The Trial or The Stranger.

Overrated: Heart of Darkness. I've started it three times and never gotten past page 20.

3. Favorite childhood memory involving books?
The Scottsdale Public Library used to have a "bookmobile," a trailer filled with library books that parked at the nearby grocery store every Saturday. And I was there every single week, usually to get a Matt Christopher book.

4. If you could dine with any literary character, who would it be and why?
Phillip Marlowe, the hard-boiled detective created by Raymond Chandler. Farewell, My Lovely is one of my favorite novels. Sure, our dinner would probably be in some sketchy greasy spoon, would include too much bourbon, and would take place in the middle of the night. But what interesting stories he'd have to tell, and what style he'd tell them with.

5. Did you want to be an author when you grew up?
As a kid, I enjoyed writing but wanted to be either a professional baseball player or an astronaut. It wasn't until college when I played softball with a bunch of journalists—including the local film critic, Mike Petryni—that I began to explore the possibilities of storytelling. That's what led me to pursue my MA in screenwriting.

6. Have you ever met anyone famous?
Most of the famous people I've met are athletes, because I was in the track & field world (as athlete, coach, and official) for much of my life. For example, I trained with Johnny Gray, who held the American record in the 800 meters for more than 30 years. I've also met a dozen or more Major League Baseball players and a member of the Hockey Hall of Fame. I met Phil Hartman (Saturday Night Live, News Radio) in an elevator in Pittsburgh. Kevin Hearne, best-selling author of the Iron Druid Chronicles, was a teaching colleague for a few years. And my audiobook is being narrated by my friend Harley Jay (who played Mark in RENT on Broadway) with additional voices by Jayme Lake (most famous for voicing Edith Downes in Red Dead Redemption 2).

7. What is the first book that made you cry?
The Book Thief. What a remarkable accomplishment. Zusak tells us at the beginning what will happen, but it's still heartwrenching because the narrator (Death) has such humanity and even he acknowledges that the result is so unfair. Children who are filled with love and wonder should not have their lives taken, especially under such stupid circumstances. I'm crying now just thinking about it. (Note: I cry at movies frequently.)

8. How do you select the names of your characters?
Sometimes completely at random. Sometimes the name has important symbolic meaning to the narrative, like Phineas in The Jesus Nut. And sometimes as tributes to friends, such as The Jesus Nut's Brian William Callum Robert O'Shea, whose first name is for my friend who died too young of cancer and whose three middle names are for Brian's three sons.

9. What are your top 5 favorite movies?
La Vita e Bella (Life is Beautiful), From Here to Eternity, Breaking Away, Double Indemnity, Jaws. As a guy with an MA in film (screenwriting)—my final semester, I watched 8-10 films a week—I revisit this question often.

10. Do you have any advice for aspiring writers?
Read. Write. Repeat often.

David Morrell, author of First Blood (which became the Rambo film franchise), once told me that a writer needs to "find your ferret." That is, in the same way an escaped ferret burrows into the sofa cushions, a writer must find the thing that burrows so deeply into their soul that it absolutely must be explored. I know this idea was a driving force behind The Jesus Nut.

11. Tell us 10 fun facts about yourself!

· Have broken my nose 16 times. (Might be fun for you, not so much for me)

· Ran 999 miles in one eight-week period in preparation for a marathon. A math error kept it from being an even 1000.

· Became a San Francisco Giants fan in 1966 and, thus, have hated the Dodgers my entire life.

· Once ate one-and-a-half 24-inch pizzas for lunch. The area of 678 square inches of pizza is equivalent to more than two-and-one-half normal "large" (18-inch) pizzas.

· I love math, and earned a 4 on the Calculus AP test in high school.

· My favorite American city to visit is New Orleans.

· Began my freshman year of high school at 4'11" and 74 pounds.

· Have taught 15 different college classes and 21 different middle school and high school classes.

· Passed the Arizona bar exam 23 years after graduating law school.

· Absolutely cannot drink red wine. The result, shall we say, would be most unpleasant.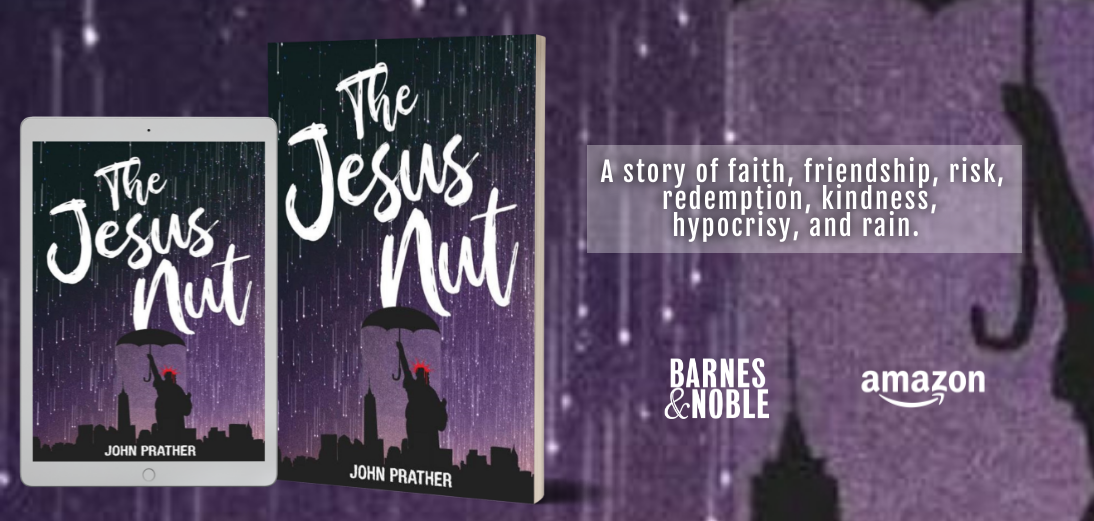 Advanced Praise
Jerry MacNeil, author of Rules of Thumb "Three people share a life-changing adventure. Pilgrimages are more rewarding during the journey than at the destination, and The Jesus Nut is a great ride."
"Masterful raconteur Prather pulls out all the heretical stops... A highly original mix of belief and balderdash."
About the Author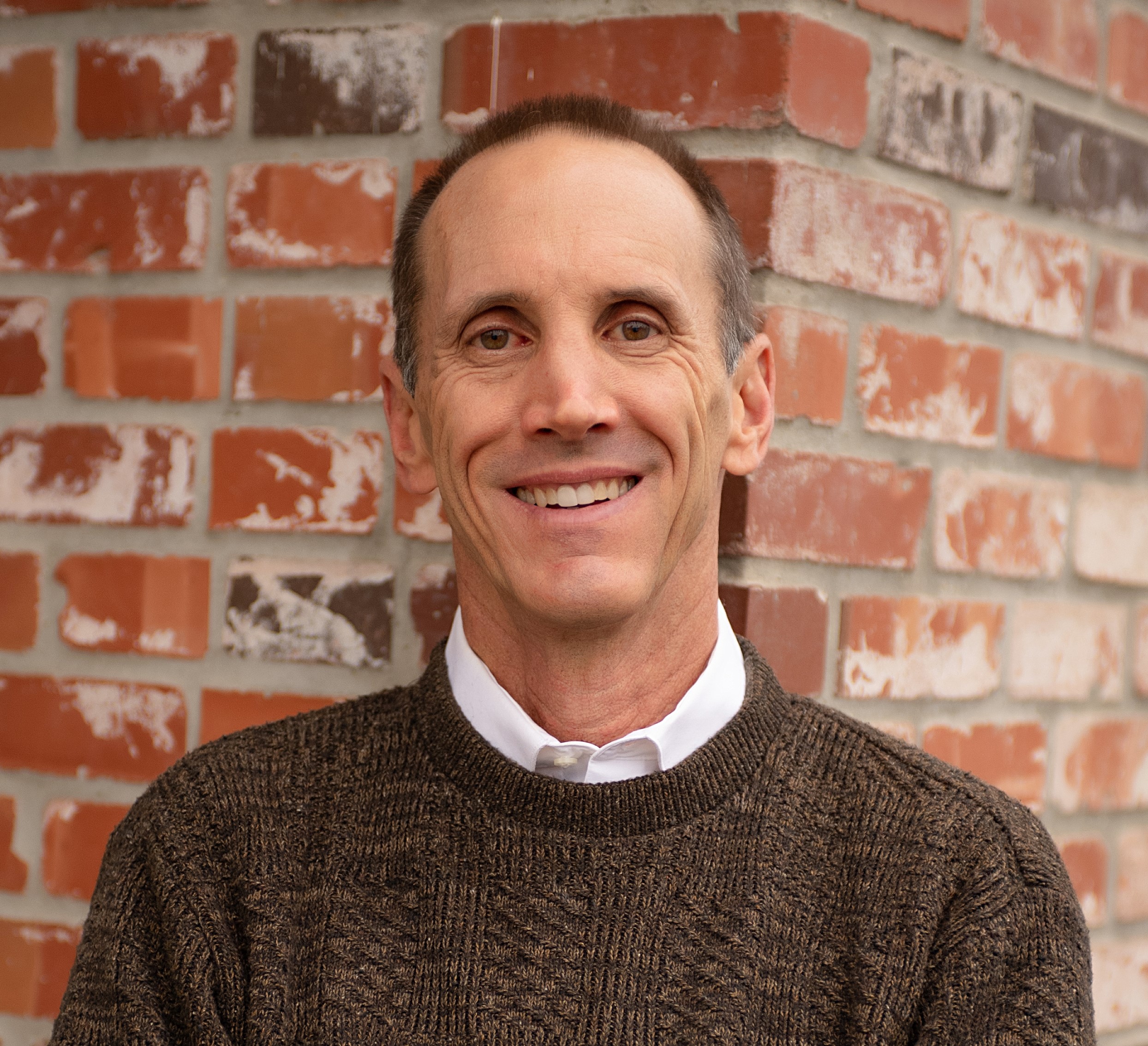 John Prather is a baseball fan, satire aficionado, mustard enthusiast, and film noir devotee. Now retired from teaching and coaching, he lives in Carlsbad, California with his long-suffering wife, extraordinary teenage son, and neurotic Bichon/Poodle mix. He once ran, a lot. His favorite color is orange. He has broken his nose 15 times. Visit him at JohnPratherWriter.com.
Contact Links
Facebook: John Prather, Writer
Twitter: @JohnPrather3
Purchase Links
Giveaway