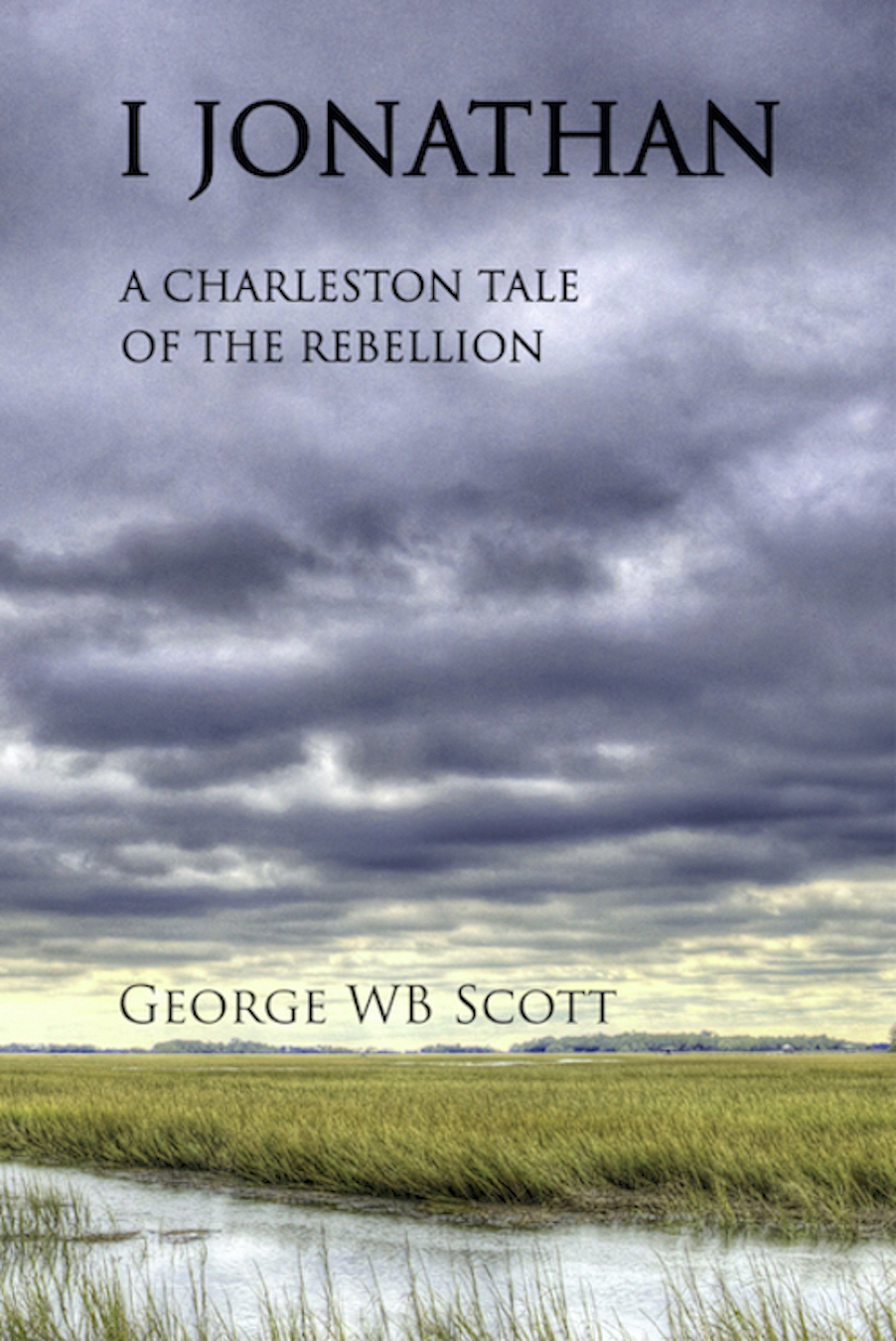 Historical Fiction - Civil War Era
Date Published: 10-03-2020
Publisher: Southern Rocket and Fountain City Publishing
A young stranger from Boston is marooned in Charleston just as the Civil War begins. His relationships with working men and women, slaves, merchants, planters, spies, inventors, soldiers, sweethearts and musicians tell the story of a dynamic culture undergoing its greatest challenge.
It's also the story of everyman. He grows into manhood dealing with the issues we all must face.
Jonathan's adventures include witnessing the bombardment of Fort Sumter, the last great Charleston horse race, the Great Charleston Fire of 1861, the Battle of Secessionville and visits to the North Carolina mountain homes of wealthy Low Country planters. He even has an encounter with a Voo-Doo conjure man. He makes a run through the Federal Blockade and visits the raucous boomtowns of Nassau and Wilmington. The author describes battles of ironclads and monitors, and the Battle of Battery Wagner (made famous in the movie "Glory"). Jonathan's story documents the hopes and struggles of a young man making a new life in a strange land in times of war and change.
Excerpt
I edged my way toward the kitchen where Cato was awaiting my exit and would escort me through the rear. As I neared my escape, Jenny, accompanied by the Duchess, neared me. Aunt Peggy was discussing the pedigree of Pierre with a man about her age. The dog kept a watchful eye on him and occasionally turned his canine attention upon me.
Jenny placed her hand on my arm. A sudden warmth filled me.
"Mr. Vander, I am glad I get the chance to thank you for your assistance this evening. Martin and I will one day be married, but until things are more settled, we are expected to be chaperoned. We appreciate your rescue."
That was the first time an American woman of social quality had touched me since my voyage to Europe. Or, as Laura's behavior showed, maybe the first touch ever of an American woman of quality. Save Dear Mother.
Long months had passed since I had looked on a woman of her class at such close quarters. Often it is easier if there is not a common verbal language between a man and a woman; the best communication need not be verbal, and in my experience in France and Belgium, shy as I was, often is better so. Paris was far away as was my former life, but that night I played the part I had fashioned for myself.
"Miss, it was my duty and pleasure to help you. I wish you all the happiness possible, and I am at your service if ever I can be of help of any kind in the future." I wondered at the irony I felt leaking into my voice. "It is only a matter of time before you and Martin can share in the wonderful future I know both and each of you will have."
Any more of this and I would burst! Yet what was to eventually happen to Martin, Jenny and myself was beyond ironic.
Her touch on my arm drew heat from my body, and a trickle of sweat on this cool evening ran down my side. She did not leave, and the Duchess continued her conversation with her own elderly beau. I did not want her to leave, but I realized what a low beast man is, to covet another's woman, while I could offer her nothing. She would want nothing of me if she knew who I was, where I was living – who I really was.
The young men's impromptu chorus from the side porch again began, this time with the rather ribald "Billy Boy," and stanzas which should best be sung in segregated company, if at all.
"A lovely gown, Miss Jenny. I believe I recognize a lace pattern from Antwerp." I had seen her servant carrying that silk at the soda-water shop nearly a year ago on my first day in Charleston.
"Thank you, yes." She stopped short and looked at me, as if trying to place me. "Mr. Vander, that is a lovely shirt you are wearing. My father had one similar to it at one time. It was his favorite dress blouse, until he tore the cuff while calming a horse. I think he gave it to the groom. Who is your tailor?"
"Oh," I lied, "an Italian man in Boston. I'm sure you have never heard of the man. He has a little shop near Beacon Hill." Her eyes flickered at the name of the city where my father had patronized such a shop. I should stop speaking to her, but didn't want to leave her company.
The line of guests moved ever closer to the two Mr. Morays and the wife and daughter of the estate. I felt I must flee from the light of this woman Jenny, lest I be drawn in like a moth.
"I must congratulate the chef on his fine presentation tonight. If I do not see you again this evening, thank you for your company, and good luck to you and your beau. I grasped her hand in the French manner to kiss it, and as I did the mended shirt cuff was exposed from my stolen coat.
I did not miss a beat of the performance, but the eye of Jenny saw the cuff of her father's favorite shirt, now repaired, and her eyes widened. I turned from her gaze and felt her raised eyebrow follow me as I bade farewell to Aunt Peggy and her companion. Pierre gave me the slightest quiet growl as I approached to pet him so with a wave, I went into the kitchen.
An older man was seated at the piano and was gamely playing a version of "Old Rosin the Beau" as I entered the kitchen and its steamy haven of anonymity.
Pots and pans were being cleaned amid steam and the rhythmical movements of one of the scullery crew. He was a slender black man of medium height and build, but when he turned his turbaned head toward me, he nodded, then stopped and looked right through me. I had seen him before.
He was one of the men in the cart Jacob was carrying to work that first day after I had marooned myself in Charleston. His name was Tommy.
He would scrub pots. He would follow orders to lay brick on brick, or dig ditches, hoe cotton, pick rice, and die owning nothing, not even himself.
Yet the man was obviously not propertyless.
This man owned a thing, a natural affinity to music which lived in every component of his body. I saw him from time to time, and no matter the conditions he always was singing, usually an inner song, but often making songs out of the common language he spoke in his daily work.
He would create natural rhymes and rhythms from his speech, his work, even that night as he was cleaning pots there was a cadence of his work magnified by the resonance of the pans.
He looked at me and smiled, a wide toothy smile, and nodded again before returning to his labor, rattling the pots and swishing the water in a rhythmical music created from his own being. This happy wretch had made peace with his world, and so was no wretch at all.
I know the difference!
More Trailers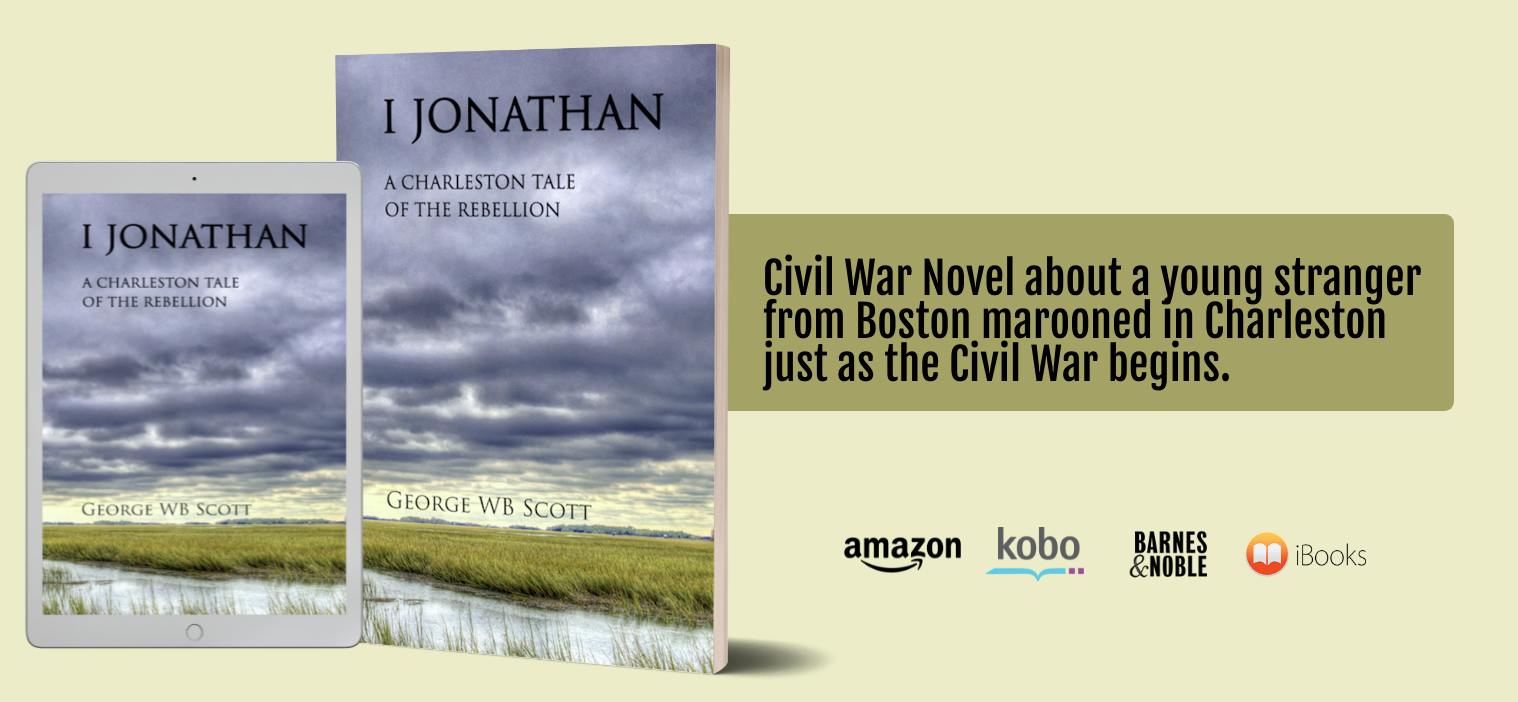 About the Author
G
eorge WB Scott is an East Tennessee video producer and videographer with a life-long interest in the causes and events of the Civil War. His years of research on this topic are the basis of a story of Jonathan's personal journey through one of the most interesting and important regions of the South. Scott was born in Stuart, Florida, and is a cum laude graduate of Appalachian State University. He lives with his wife Mary Leidig in Knoxville, Tennessee.
Other Books by Author: "Growing Up In Eden"
Contact Links
Purchase Links
Giveaway
a Rafflecopter giveaway