Author: Jenny Knipfer
Narrator: Jenn Lee
Length: 7 hours 9 minutes
Series: Sheltering Trees, Book 1
Publisher: Jenny Knipfer
Producer: Audiobook Empire
Released: July 7, 2021
Genre: Historical Romance; Christian Fiction

A HISTORICAL NOVEL OF THE PERILS OF NEWLYWED LIFE AND ALL THAT COMES TO DIVIDE LOVERS

In 1897 newly married Beryl and Edward Massart travel more than one thousand miles from Quebec to farm a plot of land in Wisconsin that they bought sight-unseen. An almost magical grove of maples on their property inspires them to dream of a real home built within the grove, not the tiny log cabin they've come to live in.

Misunderstandings and tempers get the better of them when difficulties and troubles arise. Just months after they wed, Edward leaves pregnant Beryl in the midst of the coming winter to tend the farm and animals while he goes to be a teamster at a northern Wisconsin logging camp.

Will Beryl and Edward walk into the future together to build their house of dreams in the grove of maples, or will their plans topple like a house of sticks when the winds of misunderstanding and disaster strike?

Readers of Christian historical fiction, Historical fiction, Women's fiction, and Christian historical romance will be endeared to this slice of late 19th century farm life.

Jenny lives in Wisconsin with her husband, Ken, and their pet Yorkie, Ruby. She is also a mom and loves being a grandma. She enjoys many creative pursuits but finds writing the most fulfilling. Spending many years as a librarian in a local public library, Jenny recently switched to using her skills as a floral designer in a retail flower shop. She is now retired from work due to disability. Her education background stems from psychology, music, and cultural missions. Jenny's favorite place to relax is by the western shore of Lake Superior, where her novel series, By The Light of the Moon, is set. She deems a cup of tea and a good book an essential part of every day. When not writing, Jenny can be found reading, tending to her many houseplants, or piecing quilt blocks at her sewing machine. Her new historical fiction, four-part series entitled, Sheltering Trees, is set in the area Jenny grew up in, where she currently lives, and places along Minnesota's Northern Shore, where she loves to visit. She is currently writing a four-part novella series entitled: Botanical Seasons. Keep current with Jenny by visiting her website at https://jennyknipfer.com. Ways to connect with Jenny via social media, newsletter, and various book sites can be found on her website.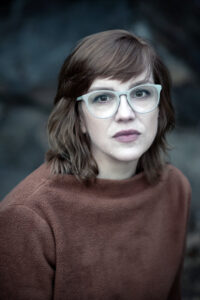 After 20+ years as professional NYC actor, I stumbled into some documentary voiceover work. From that moment on, I knew the trajectory of my career had been changed forever. I adore narrating and doing VO, and every job feels like a gift.
Beryl:
Courageous and willing to give her all, Beryl doesn't back down from a challenge. This kind of fortitude, in part, provides her with the ability to navigate through some tough circumstances. Though strong, Beryl constantly needs reminding of Edward's love. She struggles with seeing his overtures in the way he can express them and taking him at his word.
At average height with russet-brown hair, hazel eyes, and boasting even, fine features, Beryl portrays a lovely image of womanhood.
Edward:
Edward cuts the figure of a tall, lanky man. Manly with a square jaw and high cheekbones, his sparkling blue eyes crown his looks. Though a jokester on occasion, he can easily lose his patience, struggling especially with that when faced with failure. Hard working, Edward strives to be the provider his wife Beryl needs, but it's also what contributes to their division.
Cedric:
Too self-assured, Cedric, Edward's cousin, assumes too much when it comes to Beryl. He's a man who works hard for what he wants and isn't afraid to question societal boundaries.
With a sturdy, muscular body, tightly curled dark hair, flashing dark eyes, and a smile that always says he's got things under control, Cedric is an attractive man but can often come across as too full of himself.
Nola:
Thank goodness for Nola, Beryl's neighbor and close friend. A mothering, no-nonsense type of woman, Nola takes charge but in a loving way. She most always exudes a cheerful disposition. She's a true friend, and without her support Beryl would have floundered when the harshest trial hit. With light hair and eyes and rosy cheeks, Nola is the opposite of Beryl in looks and renders up the image of a sweet Scandinavian middle-aged woman.
Olivia:
Beryl and Olivia are drawn to each other, sharing some similar traits and pursuits. Olivia is the picture of a raven-haired beauty with fair skin and delicate features but plenty of inward gumption and spunk. The two friends bond over their visits and quilting times. And despite other trying circumstances, Oliva assists Beryl when she needs help the most.


Plugging you into the audio community since 2016.
Sign up as a tour host here.