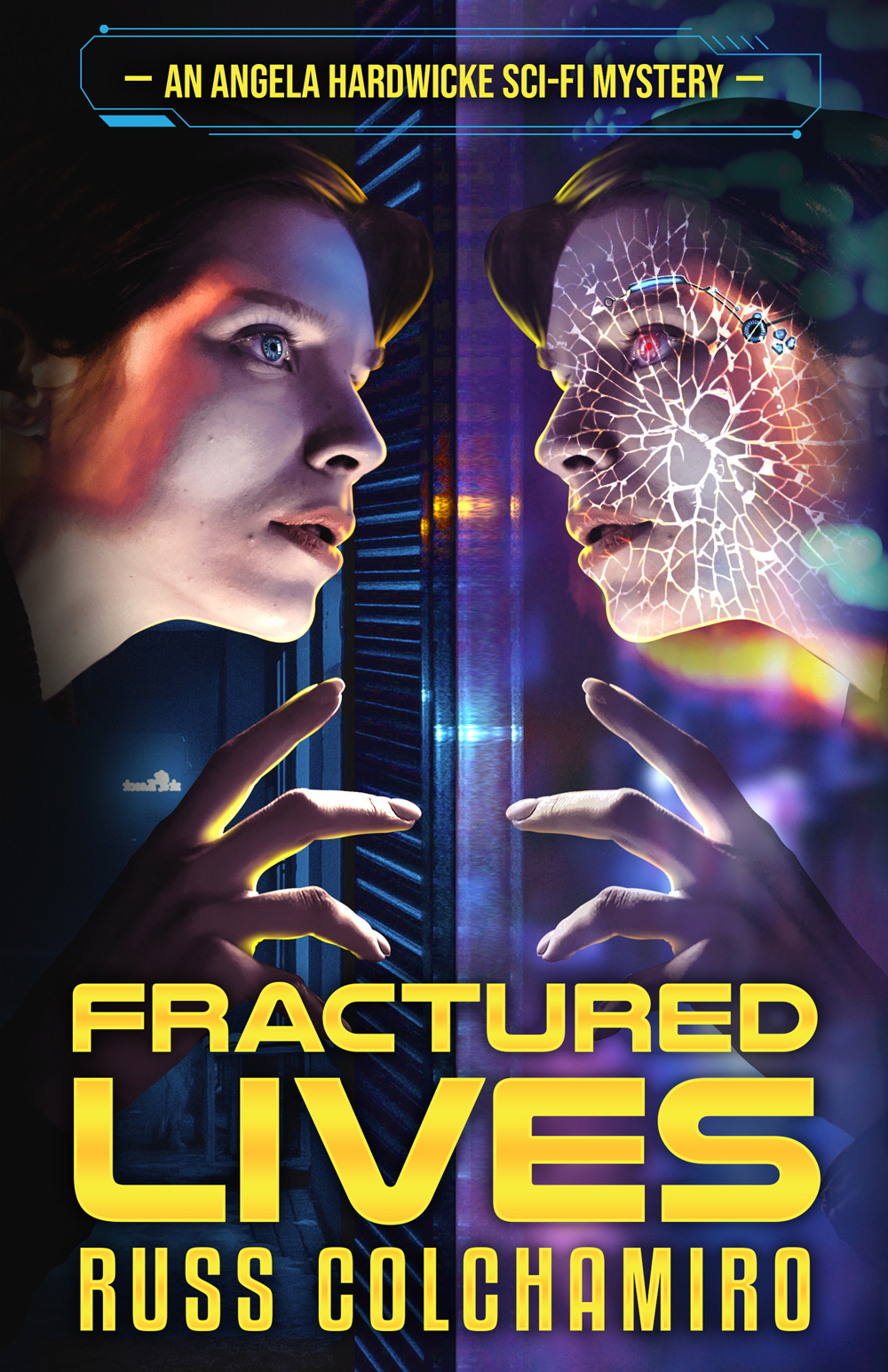 The Angela Hardwicke Mysteries Book 2
Sci-Fi Mystery
Date Published: Sept 2021
Publisher: Crazy 8 Press
In the cosmic realm of Eternity, there's only one private eye to hire when your world gets turned inside out—Angela Hardwicke.
Darla Fyne, a college freshman and galaxy design savant, is suffering from a nervous breakdown—or is she the victim of an urban legend known as the Scarlet Raj?
As Hardwicke follows the intersecting worlds of art galleries, college dorms, and a semi-secret clan that patches up tears in the Universe, her investigation will either uncover a hoax gone wrong or a plot that could shift the balance of power across the entire realm. If only she can fight through her own paranoia to tell the difference.
In Russ Colchamiro's new Sci-Fi mystery Fractured Lives, Angela Hardwicke is confronted by a PI's worst nightmare—dark secrets from her past.
Author Interview
Q: If you could tell your younger writing self anything, what would it be?
RC: Relax! Do the best you can each time out, share your work with beta readers you trust and respect, take the feedback you agree with, and move on. But don't shy away from criticism. You need to hear what's wrong with your work so you can fix it. After that, market as well as you can and hope for the best. No quick rises to the top. The life as an author is the long-game, so try not to burn out.
Q: If you could dine with any literary character, who would it be and why?
RC: Sherlock Holmes! Would be fascinating to see his mind at work in real time.
Q: If you had to describe yourself in three words, what would they be?
RC: Serious, goofy, loyal.
Q: Have you ever met anyone famous?
RC: Kevin J Anderson, Joe R Lansdale, Nicholas Meyer, John Leguizamo, C Thomas Howell, Chris Daughtry, Anson Mount, Melissa Gilbert, Timothy Busfield, Mike Bloomberg, just to name a few.
Q: How long, on average, does it take you to write a book?
RC: From first word to publish-ready, about 8 months.
Q: What are your top 5 favorite movies?
RC: Raiders of the Lost Ark, The Empire Strikes Back, Shawshank Redemption, Groundhog Day, Star Trek II: The Wrath of Khan.
Q: Do you have any advice for aspiring writers?
RC: Work at your craft. The more you write, the better you'll get. Read as much as you can. And don't be afraid to fail. That's how you learn.
Q: Tell us 10 fun facts about yourself!
RC: Here you go
· I've never had a cup of coffee
· I'm married with 11-year-old twins – my ninjas
· I have an 8-month old black lab named Jinx
· I've driven cross country by myself, twice (U.S.)
· I HATE tomatoes yet love ketchup and red sauce
· I equally despise mushrooms, cooked peppers, and raw onions
· I'm a bonkers Billy Joel fan
· I'm a drummer
· I've never worn a cast (although I broke a few bones)
· The older I get the more easily I cry at the silliest things
12. What is your favorite genre to read?
RC: Depends on my mood, but mystery novels and comic books of various genres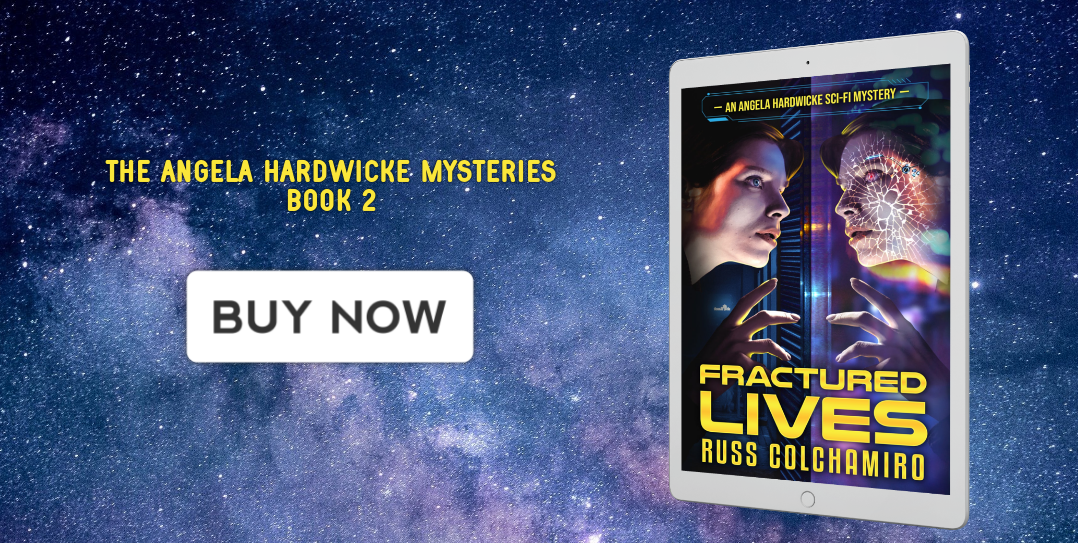 About the Author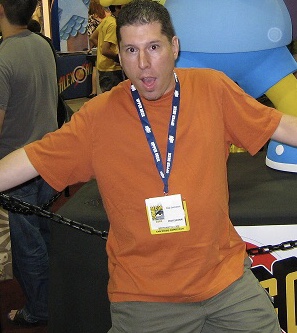 Russ Colchamiro is author of the Sci-Fi mystery Crackle and Fire the first novel in his ongoing series featuring intergalactic private eye Angela Hardwicke. Russ is also the author of the rollicking time travel/space adventure, Crossline, the SF/F backpacking comedy series Finders Keepers: The Definitive Edition, Genius de Milo, and Astropalooza, is editor of the Sci-Fi mystery anthology Love, Murder & Mayhem, and co-author of the noir anthology Murder in Montague Falls.
Russ has also contributed to several other anthologies, including Tales of the Crimson Keep, Pangaea, Altered States of the Union, Agents of the Abyss, Camelot 13, TV Gods 2, They Keep Killing Glenn, Thrilling Adventure Yarns, Camelot 13, Footprints in the Stars, Devilish and Divine, Badass Moms, and Brave New Girls.
Russ is a member of the Mystery Writers Association and Crazy 8 Press, and hosts Russ's Rockin' Rollercoaster podcast, where he interviews best-selling and up-and-coming scifi, fantasy, crime, mystery, and horror authors.
For more on and Russ's books and his podcast, you can visit www.russcolchamiro.com, and follow him on Facebook, as well as Twitter and Instagram @AuthorDudeRuss.
He lives in New Jersey with his wife, two ninjas, and black lab, Jinx.
Contact Links
Facebook: Russ Colchamiro
Twitter: @AuthorDudeRuss
Instagram: @AuthorDudeRuss
Purchase Link
Giveaway
a Rafflecopter giveaway