Author: Lauren Smith
Narrators: Zachary Johnson & Vivienne LaRue
Length: 7 hours 38 minutes
Publisher: Lauren Smith Books
Producer: Audiobook Empire
Released: Oct 29, 2021
Genre: Dark Romance; Mafia Romance
Elena Allen thought she'd left her dark past behind her after leaving Russia and coming home, but she stumbles into the arms of tall handsome Russian, Dimitri Razin. He warns her that her life is still in danger and that she must trust him even though trusting a man is the last thing she's capable of after what she survived.

Dimitri Razin knows the hell Elena went through when his hated enemy kidnapped and tortured her for months. As much as he wants to let her be alone to heal, the danger for her is just beginning. In order to save her life, she'll have to trust him in all ways, even with her heart. In return, he'll show her that she doesn't need to fear passion and that she can find her pleasure again.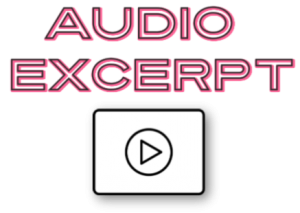 USA Today Bestselling Author Lauren Smith is an Oklahoma attorney by day, author by night who pens adventurous and edgy romance stories by the light of her smart phone flashlight app. She knew she was destined to be a romance writer when she attempted to re-write the entire Titanic movie just to save Jack from drowning. Connecting with readers by writing emotionally moving, realistic and sexy romances no matter what time period is her passion. She's won multiple awards in several romance subgenres including: New England Reader's Choice Awards, Greater Detroit BookSeller's Best Awards, and a Semi-Finalist award for the Mary Wollstonecraft Shelley Award. She was a 2018 RITA ® Finalist in the Romance Writers of America Contest.

Lover of mathematics, devourer of science fiction, and connoisseur of the dad joke. When he's not doing math for business or fun, he's devouring science fiction and fantasy, reading up on scientific advancements, going for a jog, or, on all too rare occasions, taking a refreshing swim at the beach. At your service, you shall have an able storyteller and gifted conveyor of information. Experienced in narrating fiction, from the romantic to the post-apocalyptic, and nonfiction, from the historical to the corporate, and armed with the tools to make it all sound great, Zachary promises that, no matter the job, you'll be read-iculously pleased!

Vivienne LaRue is a nom de vox (pseudonym) of Stephanie Németh-Parker. Stephanie is a SAG-AFTRA/Equity UK audiobook narrator, voiceover artist and actress with 30+ years acting experience. With a voice that has been described as Smart, Soothing and Luxurious, her versatility and adeptness with accents has enabled her to work in many different areas of the voiceover community – from commercials to corporate narration, animation to audiobooks. She was the voice of Omega Watches for over 5 years and has done over a hundred voiceovers with clients including IKEA, Audi, Novartis, Roche, and Swiss Airlines to name a few.
At Audiobook Empire, audio reigns supreme, narrators are hailed as heroes, and headphones are worn with pride. Marrying pomp and circumstance with quality you can count on, Audiobook Empire is a full-service production house that produces and promotes audiobooks with gusto. Give your audiobook the imperial treatment by producing it with Audiobook Empire.
Q&A with Author Lauren Smith
How did you select your narrator?

I listen to voices from books that I love and find voices that match what I feel sounds like the character. I also listen for narrators who naturally seem to know the intonation and emphasis as I've written them.

How closely did you work with your narrator before and during the recording process? Did you give them any pronunciation tips or special insight into the characters?

Yes, especially when there are foreign names and places, I work closely on how to say the names correctly. I also give advice on how the characters should sound, age wise, energy wise, personality wise.

Were there any real life inspirations behind your writing?

Yes, the heroine is descended from Anastasia Romanov and there were rumors after the imperial family were murdered that she had survived. It was later proven untrue when the Russian govt said they found her remains in a different grave. But a woman in the 30s by the last name of Andersen claimed she was Anastasia and was pretty convincing. I named my heroine's birth mother Andersen to let readers sense the connection ties to reality and that the book could have been true.

Are you an audiobook listener? What about the audiobook format appeals to you?

I pretty much only read books these days when they are on audio. When I sit down to work, I need to do my own book work. So when I'm running errands, exercising, in the shower, doing my hair and makeup, folding laundry, I'm always listening to a book. It makes all of those mundane activities feel like a treat because I get to read.

😊

If you had the power to time travel, would you use it? If yes, when and where would you go?

Probably the Gilded age in New York or the 1880s in London. I absolutely love the fashion of those time periods.

What do you say to those who view listening to audiobooks as "cheating" or as inferior to "real reading"?

It doesn't isn't cheating. If you can tell exactly what happened in the book, you clearly read it. It doesn't matter how. Your brain still processes that information. I actually have an auditory issue where I have trouble hearing the difference on consonant sounds. So cap and cat sound the same to me. Listening to audiobooks help me learn to anticipate or guess the word better so it helps my ability to listen to other people in conversation. I also am a visual learning and learning anything by hearing it really hard. Using audiobooks, I learned to focus on what I'm hearing rather than seeing and it's improved my auditory memory to an insanely good level.

What gets you out of a writing slump? What about a reading slump?

I shake things up. If I've reading romances, I jump over to a true crime non-fiction book, or if I've been reading high fantasy, I jump over to a scientific book on nature or the cosmos. My Mind just wants to learn and it really helps to keep it trying different things.

In your opinion, what are the pros and cons of writing a stand-alone novel vs. writing a series?

I love, love, love series, but when I do that, I can't write all the books in a row, I need to clear the air and write something different, so then I upset readers when I don't immediately write the next one in the same series.

What bits of advice would you give to aspiring authors?

Write what you love, but learn how to make it marketable. Too many new writers want to write some crazy out there story and then when no agent or publisher wants it and no readers will read it, it may be too crazy and off the beaten path. Readers need to see an established story arc. It can still be a unique plot, but the flow of the story itself needs to be recognizable to readers. Ie, don't end a book with an unsatisfying ending. It should start interesting, have turning points and then a climax and resolution. And if you're writing with in a genre, research the genre fiction.

What's next for you?

I'm working on my first ever historical fiction book set in WWII. The topic is a bit hush hush but I'm so excited about it!


Plugging you into the audio community since 2016.
Sign up as a tour host here.