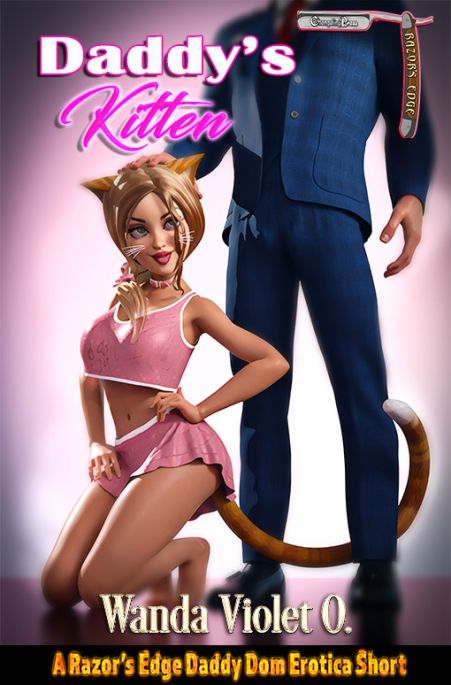 BDSM Erotica
Release Date: February 18, 2022
Warning: This is a Razor's Edge Daddy Dom BDSM Erotica short story. Expect limited plot and character development, and lots of heat. If you're looking for a lengthy plot driven erotic romance, this is not it!
Life doesn't always happen as we expect. When I found myself in the hands of a sexy Daddy Dom in the form of a powerful billionaire, I wasn't sure what to expect. What I got was more pleasure and satisfaction than I'd ever known. But my Daddy pushes me. Sometimes further than I ever thought I could go. How I respond is up to me. But the last thing I want is to disappoint the man who's come to mean everything to me.
Excerpt
"It's OK, princess. I just need you to understand what I expect from you. You're fine. Trust me to protect you." He placed a soft kiss on my lips. "This is about my pleasure and what I want, but I'll never abuse you, and I promise I'll always give you pleasure. All you have to do is be what I tell you to be."
I nodded and whispered, "Yes, Daddy."
Daddy smiled, then positioned the pillow under the table and between his spread legs. "If you need my attention you are to place your head in my lap. While you're my pet, your name is Kitten. You will still call me Daddy, do you understand, Kitten?" I was sure he repeated my name to emphasize it for me.
"Yes, Daddy."
"Take your place, Kitten."
I did, curling up on the plush red pillow. It was large and velvet soft. Had I been an actual kitten I would have purred. I accidentally let out a soft moan of pleasure as I laid my head down. I was against Daddy's calf, but he didn't move. I took it as a sign he didn't mind my touch.
With me out of the way, the meeting continued. I didn't pay attention to anything but Daddy's voice. It was gravelly but pleasing. I loved to listen to him, especially when he praised me. His voice sent shivers through me. Now, with my hot bottom and knowing how that voice sounded when he got stern, that voice made my pussy clench. I wondered what it would be like to hear him scold me for being naughty. What it would sound like if he commanded me to come for him. I squeezed my legs together to get friction on my clit at the thought. I rolled my hips slightly, needing to have Daddy's hands on me.
"Excuse me, gentlemen," Daddy said.
Uh oh. His voice sounded irritated. Why?
"You'll have to forgive me. My pet is new and is still not sure how to behave."
"Better to correct naughtiness as it happens," Victor said. "Otherwise pets become confused."
Daddy rolled his chair back and gave me a hard look. "Up, Kitten," he said softly. I hesitated, but one look from him had me scrambling to my feet. He held my arm and turned me around to face the group at the table again, pulling my skirt up and tucking the hem into the waistband. He pressed me forward so I was bent over the table. My breath hitched, then I started to hyperventilate. "What were your instructions when I told you to sit, Kitten?"
I thought for a moment, and it cost me. Daddy smacked my ass. Hard. I yelped, but it definitely jogged my memory.
"I wasn't supposed to move once I settled," I said in a rush. "I was to place my head in your lap if I needed something."
"And what were you doing, Kitten?"
"I moved," I said softly.
"You were squirming," Daddy corrected.
I hung my head. "I was squirming, Daddy."
"Now. Before I give you your punishment, I want to know why you were squirming not fifteen minutes after you settled in." He rubbed my back from my neck to the base of my spine just above the curve of my ass.
I knew better than to hesitate. Daddy commanded instant obedience. Also, if I were honest, I was afraid I'd think up a lie if I thought about it too hard. If I did that, Daddy might get really angry. "I was listening to your voice, and I liked it, Daddy."
"I see. Explain why you liked it, Kitten."
I sighed, not wanting to tell him but knowing I had to. "I wanted to hear you telling me I was a good girl."
"And?"
Could he read my mind? "And I wanted you to tell me to come." This last sentence was nearly a whisper. I could only hope the other men couldn't hear me.
"I see," Daddy said again. He moved his rubbing down to my ass. In praise? "Anything else, Kitten?"
"I wondered what you'd sound like scolding me, but I found that out now," I said, cheekily. More than one man chuckled. I thought Daddy did too, but when I looked over my shoulder at him, he wasn't smiling.
"The sass is more than it should be, but I'll ignore it this time. Since you told me the truth, I'm only giving you ten spanks. You will count them, Kitten."
"Yes, Daddy."
About the Author
Welcome to Wanda Violet O.'s world of bedtime fantasy, where you'll find a variety of sexy creatures ready to drink their fill. Wanda specializes in extreme kink. Monsters, BDSM role play... she's got it all. Come take a look for yourself!
Follow the Publisher on Facebook, Instagram and Twitter: @changelingpress