Author: Daisy Landish
Narrator: Harry Frost
Series: Series: The Lady Series, Book 1
Length: 1 hours 5 minutes
Publisher: Daisy Landish
Released: Sep. 29, 2021
Genre: Historical Romance
Josephina flaunts society's rules to drive carriages in the park and join the men in a spirited hunt. She refuses to marry and wears her old maid label with gusto.

The Earl of Sunningdale reluctantly fought a duel to defend his sister's honour and had to leave the country for some years. When his father died, he inherited the title and returned home.

Fated to meet, their relationship is doomed to failure. Bathed in a scandal, thwarted by well-meaning mothers, and engrossed with their siblings' antics, Frederick and Josephina are sure to win you over in this engaging Regency Romance.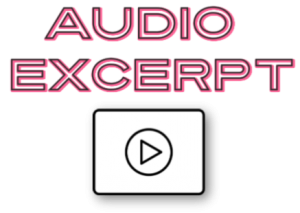 When she's not writing romance books, Daisy Landish enjoys hiking at dawn and riding into the sunset on her trusted steed, Rosebud.


Harry Frost is an English voice actor specialising in audiobook narration and production. He's passionate about the power of the audio medium to bring literature to life in every sense; to turn books into true companions for life as it is lived, rather than things one must escape the world and defer responsibility to read. His studio is in rural Leicestershire, he has recently found an unlikely love of Economics, and he mixes a really good Manhattan.
Q&A with Author Daisy Landish
T

ell us about the process of turning your book into an audiobook.

I used the ACX platform, an Amazon subsidiary. As that is where my books are published, it was a very simple process. I chose the book I wanted to be narrated, filled out the form, uploaded a script, and selected a narrator. The narrator recorded the tracks; I checked and approved them. The audiobook went through a quality assurance process and voilà: an audiobook!

Do you believe certain types of writing translate better into audiobook format?

No, I think a talented narrator can breathe life into the most boring of books. That being said, I doubt a recipe book would make for a compelling audiobook.

How did you select your narrator?

I ran auditions. Harry's voice really stood out from the lot. It amazes me that he can sound so swoon-worthy as a man and still deliver entirely convincing female parts.

How closely did you work with your narrator before and during the recording process? Did you give them any pronunciation tips or special insight into the characters?

For the first book, Harry and I went back and forth a bit at the start. I may have given him direction for some of the characters. I remember being very meticulous and listening to every single minute to check for errors. But Harry is a pro, and by the second book, I just let him have his way with the book, so to speak.

Are you an audiobook listener? What about the audiobook format appeals to you?

Of course! At least half of my annual reads are audiobooks. I like to take them along when I'm driving, travelling, or hiking.

If you had the power to time travel, would you use it? If yes, when and where would you go?

I'd love to have a London Season, go to balls, and marry a wealthy Duke. I'd spend my days reading, horseback riding, writing, and drinking tea. Oh, wait. I already do that! Except I'm still looking for a Duke, an Earl, or a Prince.

What gets you out of a writing slump? What about a reading slump?

I don't typically have slumps. I think it's important to take care of yourself, regardless of your chosen profession. Every day, I spend some time out of doors, get 7 to 8 hours of sleep, eat well, drink water (and tea!), and curl up with a book. Reading is the best form inspiration for writers.

In your opinion, what are the pros and cons of writing a stand-alone novel vs. writing a series?

I like to compare them to staying home vs travelling. Writing a standalone lets you explore new characters and locations, new themes and tropes. It feels fresh and new. However, it's more work to start over and create a new world for readers. Whereas a series has all the comforts of home, and you can always spice things up by adding new characters.

Do you have any tips for authors going through the process of turning their books into audiobooks?

Producing an audiobook can be very pricey. I went the route of co-producing. That means sharing the profits of the books in exchange for a lower rate to record the audiobooks. I can't say I regret it. I seem to be on a roll with this series and I hope Harry comes along for the ride!

What's next for you?

Of all my books, The Lady series has been the most popular. I had intended on concluding the series with Dancing with The Lady, but I've decided to continue the series for as long as I can come up with interesting plots. I've grouped the first six titles into a paperback called

The Ladies of Sunningdale Manor: The Allington Collection

. It should come out after the sixth book is published in mid-February.

I have two other series of Clean Romance, one is a Contemporary Western called The Ranch Series. That series should be complete in April. The Cherry Tree Island series concludes in March. It's a second chance at love romance with characters over 40.


Plugging you into the audio community since 2016.
Sign up as a tour host here.