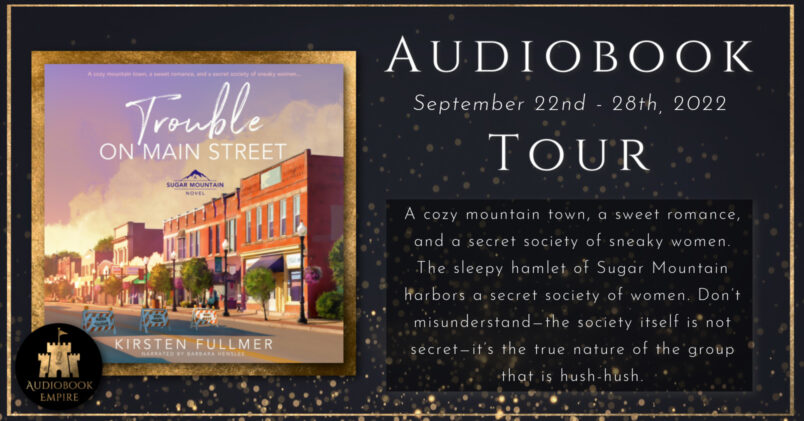 Author: Kirsten Fullmer
Narrator: Barbara Henslee
Length: 4 hours 30 minutes
Series: Sugar Mountain, Book 1
Producer: Audiobook Empire
Publisher: Augustine Press
Genre: Cozy Mystery
Released: Aug. 30, 2022
---

A cozy mountain town, a sweet romance, and a secret society of sneaky women.

The sleepy hamlet of Sugar Mountain harbors a secret society of women. Don't misunderstand—the society itself is not secret—it's the true nature of the group that is hush-hush.

Sugar Mountain is the kind of charming village that tourists adore. If you like small-town charm, quirky shops, and local art, this is the place for you. But when a blood smeared package shows up at the post office and it appears to be linked to a scheme that threatens Heidi Collinsworth's historic home, the town takes on a sinister vibe. Heidi would lay odds that slimy Mayor Winslow is involved, but even with the enquiring skills of The Sugar Mountain Ladies Historical Society at work, proof is scarce.

With conflicting theories abound and tensions running high, it's up to the ladies of the society to don disguises and go undercover. If they're not careful, the town may fall to a wrecking ball, Heidi may fall for Adam, the new guy in town, and the secret society will be exposed.
Kirsten is a writer with a love of art and design. She worked in the engineering field, taught college, and consulted free lance. Due to health problems, she retired in 2012 to travel with her husband. They live and work full time in a 40' travel trailer with their little dog Bingo. Besides writing romance novels, she enjoys selling art on Etsy and spoiling their four grandchildren.
As a writer, Kirsten's goal is to create strong female characters who face challenging, painful, and sometimes comical situations. She believes that the best way to deal with struggle is through friendship and women helping women. She knows good stories are based on interesting and relatable characters.
Barbara completed her training in audiobook production and began marketing herself to independent authors and publishers. Prior to her voice acting career, she was as a marketing assistant in Fortune 50 corporations, where she excelled in problem solving, anticipating needs and making her bosses look good. Her meticulous organization skills, reliability and communication expertise translates well to the audiobook industry.
Growing up, Barbara was a latchkey kid. She learned discipline and responsibility while her mom worked as a surgical head nurse on the late shift. She inherited her mom's optimism and empathy. During high school, she met her husband, Rick. They have a daughter and three grand-daughters, all of whom learned how to empower themselves and become independent young women.
Barbara and her husband currently live in the quaint town of Magnolia, Texas just northwest of Houston with their German Shepherd mix named Luke, who doesn't speak English, but hangs on every word she says.
At Audiobook Empire, audio reigns supreme, narrators are hailed as heroes, and headphones are worn with pride. Marrying pomp and circumstance with quality you can count on, Audiobook Empire is a full-service production house that produces and promotes audiobooks with gusto. Give your audiobook the imperial treatment by producing it with Audiobook Empire.