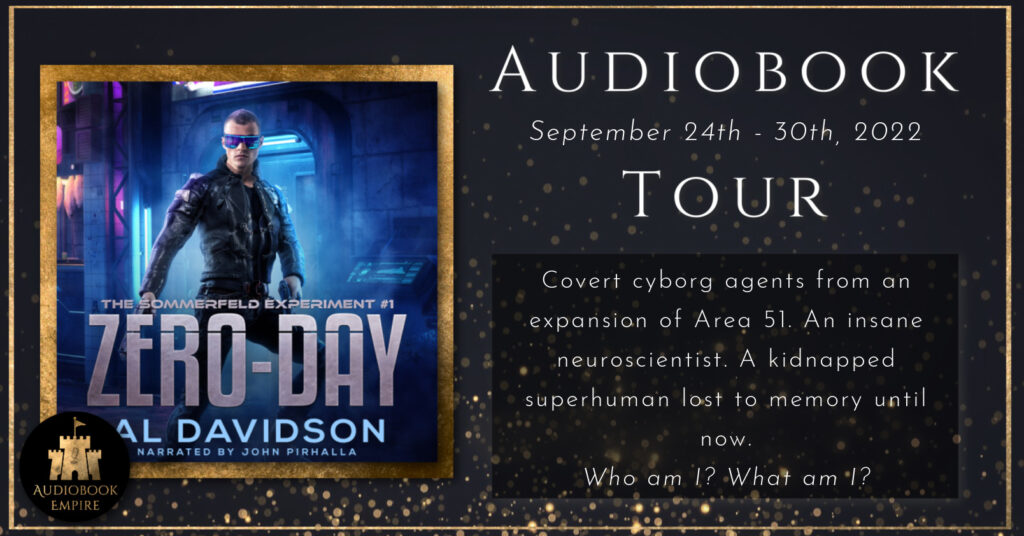 Author: Al Davidson
Narrator: John Pirhalla
Length: 14 hours 7 minutes
Producer: Audiobook Empire
Publisher: Al Davidson
Genre: Science Fiction; Cyberpunk
Released: July 22, 2022
---

Covert cyborg agents from an expansion of Area 51. An insane neuroscientist. A kidnapped superhuman lost to memory until now.

Who Am I? What am I?

These questions have plagued Joshua since childhood. Mysterious amplified senses and boosted reflexes have helped him survive and thrive in a brutal, lawless megacity, and he leads the notorious Epitaph gang with keen street instincts.

When Joshua's unexplained abilities draw the attention of a covert government entity, he finds himself on the run. Only his skills, street smarts and a rogue hacker named Shelby keep him one step ahead of his relentless hunters.

They know what he is. They know who he is, and they will tear apart a megacity, placing everyone he cares for in danger, to bring him in.
Al Davidson has loved writing action adventure stories since he could pick up a crayon in kindergarten. Zer0-Day: The Sommerfeld Experiment is a Kirkus reviewed first novel in a planned series of 5. Gauntlet, the second book in the series, released in April. He lives on a small ranch in the California mountains above the Pacific Ocean with family and two dogs. Besides making up fantastical stories, he's a Star Wars nerd, a comic book collector, a devoted fan of action movies, and enjoys reading, world travel, hiking and camping.
John has narrated over 270 audiobooks. His smooth-toned narration and story-tellers-ease highlight his productions. John's versatile array of character voices and skill with accents is on display with all of his work. He is a lover of the well-written sentence and the art of reading them. Although SciFi, Thriller/Suspense and Fantasy make up most of his work, John is a true genre-hopper working with publishers and independent writers alike.
At Audiobook Empire, audio reigns supreme, narrators are hailed as heroes, and headphones are worn with pride. Marrying pomp and circumstance with quality you can count on, Audiobook Empire is a full-service production house that produces and promotes audiobooks with gusto. Give your audiobook the imperial treatment by producing it with Audiobook Empire.
Q&A with Author Al Davidson
How did you select your narrator?

I was looking for a quality in the voice that fit the narrative in the book. It's hard to describe, but I knew I'd recognize what I was looking for when I heard it. I needed someone with gravity to their voice because Zero-Day has some heavy themes in it despite being an Hollywood action type story. When I heard John Pirhalla, I knew he would do a fantastic job.

How closely did you work with your narrator before and during the recording process? Did you give them any pronunciation tips or special insight into the characters?

I had a phone call and exchanged several emails with John Pirhalla about pronunciations and we talked about the characters, who they were and their motivations. I gave John a few characters from movies that he could listen to and get a feel for voice and characterization. For example, when I created Kevin, I thought of Moss from the IT Crowd, and send John several Youtube links to snippets of Moss. I think John did a fantastic job with all of them, especially Joshua, the main character, and Farrell the main antagonist.

Were there any real life inspirations behind your writing?

People no, personal experience, not really. But movies, definitely. I'm an action movie junkie, so John Wick, Blade Runner, The Bourne Identity, The Matrix, Ready Player One, Driver with Ryan Gosling, a little bit of James Bond, Pitch Black with Vin Diesel. I've always been fascinated by the anti-hero or the outright bad buy who nonetheless does good things. Joshua, the protagonist of Zero-Day, is more on the level of Riddick.

Is there a particular part of this story that you feel is more resonating in the audiobook performance than in the book format?

All of it. Can I say that? I think Zero-Day is a dynamite action story, but under John Pirhalla's narration, it became a new experience, like I was hearing it for the first time. I didn't realize how well it would translate into audio format. John's pauses, and word emphasis and speech patterns for each character brought them alive. I'd love to see Zero-Day made into a Netflix type series, but John's narration is the next best thing.

If this title were being made into a TV series or movie, who would you cast to play the primary roles?

I have thought about this a little, because as a former screenwriter, it's fun to pick who might be in the lead roles.

For Joshua

I would cast

Noah Cintenio

. He is mostly known as a romantic lead, but I think he would throw himself into a male action lead role if given the chance to play against type. He has the look of Joshua, I certainly think he would enjoy playing him.

For Farrell

it would be

Skeet Ulric

h. He has that resting menacing face.

Shelby

would be

Amandla Stenberg

, no question. She has an innocent adorable look about her that seems exactly how Shelby would be.

For Kevin

, I'd pick

Kelvin Harrison Jr

. When he smiles, that's Kevin. Just a genuinely good person, who is unfortunately, in the story, pulled into a situation that's way over his head. Yet he tries to maintain a positive attitude. He has some heroic moments in book #3, which I'm currently writing, where he really steps up and saves the day.

In Zero-Day, the bad guy is the protagonist, how do you make a villain sympathetic enough to be the main character?

Writing a bad guy as a main character is a fine line tip one way you lose your readers, tip the other and the character feels forced. Joshua is neither a traditional anti-hero or a straight up bad guy. My goal was to take someone who might have been a decent person, who might have been successful and a contributing member of society, and then put him in a situation that would eat a good person alive. So you have this mix of someone who struggles with the bad decisions he has to make to help him stay alive, and to help his gang and who also longs for something normal which is out of reach. His struggles, despite not being all good, are relatable. Everyone wants a safe place to live, good friends, and a decent meaningful life. Joshua can't have any of those, but he tries and fails.

My favorite villain as a main character is Riddick from Pitch Black, so I was aiming for that vibe with Joshua. He's not a good guy, but he does enough good things and makes enough mistakes, that he's human and relatable. He realizes his ambitions hurt other people, and he sometimes trusts people he shouldn't.

Have any of your characters ever appeared in your dreams?

Interesting question because Zero-Day was inspired by a dream that became Chapter 22 "Sombras". I was Joshua in the dream standing in a burned out, ruined city, breathing in the misty rain falling around me, breathing in the cold air. The character Barber was chasing me and I was worried but not afraid. Why was she chasing me? Why was I in this burned out, ruined city? I had to know. I woke up the next morning and started writing the story that became Zero-Day.
What bits of advice would you give to aspiring authors?
Write every day, even if it's just for 15 minutes. Set a timer, put everything else on hold while that timer is going and write. Everyone can spare 15 minutes. Find a good editor who specializes in your genre. Writing a fast paced thriller requires a different cadence and movement in prose than, say, a romance story, so while an editor might be good with romance, they won't understand writing the thriller. If you can't afford an editor, use a beta editing swap with another writer in your genre. Read aloud programs like the one in Word, and tools like ProWritingAid or Grammarly will help in the writing process and are your best self editing tools, but are no substitute for a real editor. There are so many fantastic Youtube videos by successful authors who talk about the art of writing, characterization and plot, plus the all important topic of how to advertise and promote your book once it's written.

Do you have any tips for authors going through the process of turning their books into audiobooks?

Definitely. Best way to make sure your book is ready for a narrator is to run it through a 'read aloud' program. Word has one built in with several male and female voices and there are free programs you can download if you don't use Word. Listening to your book read to you is not the same as reading it to yourself, it's easy to accidently read what you think is there, and not what is there. When you listen to your book read to you, you'll notice funky, confusing sentence structure, repeated words or phrases, it also helped me hear plot inconsistencies. Even if an author doesn't plan on an audiobook for their story, 'read aloud' is still a good editing tool.

What's next for you?

I'd like to get John Pirhalla to narrate book #2 Gauntlet, in the Sommerfeld Experiment Series, and hopefully the others, too. I'm continuing to work on book #3. I have a few working titles for it, but haven't decided. The end of #3 leads right into #4 called "Kill, Switch" where Joshua gets a redemptive arc. "Kill, Switch" ends with hints at book #5, but it does wrap up the series with a satisfying ending on its own.

After The Sommerfeld Experiment, I'm moving on to an epic fantasy series called The Alchemist's Son #1 "Summoner's Blood"--the titles are still a work in progress. The first book is in a 2nd draft state, and the second book is partially written. I expect it to come out in the middle of next spring, 2023.