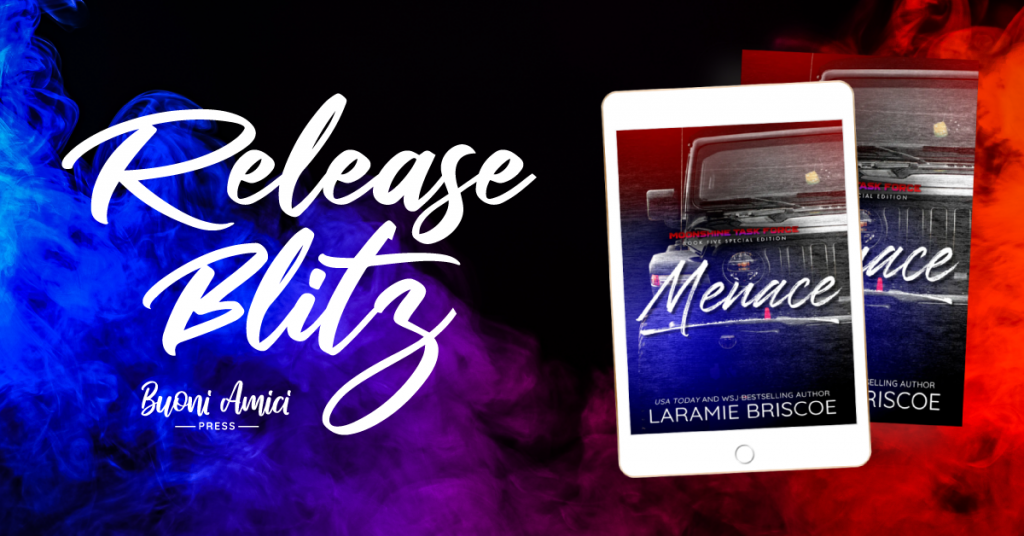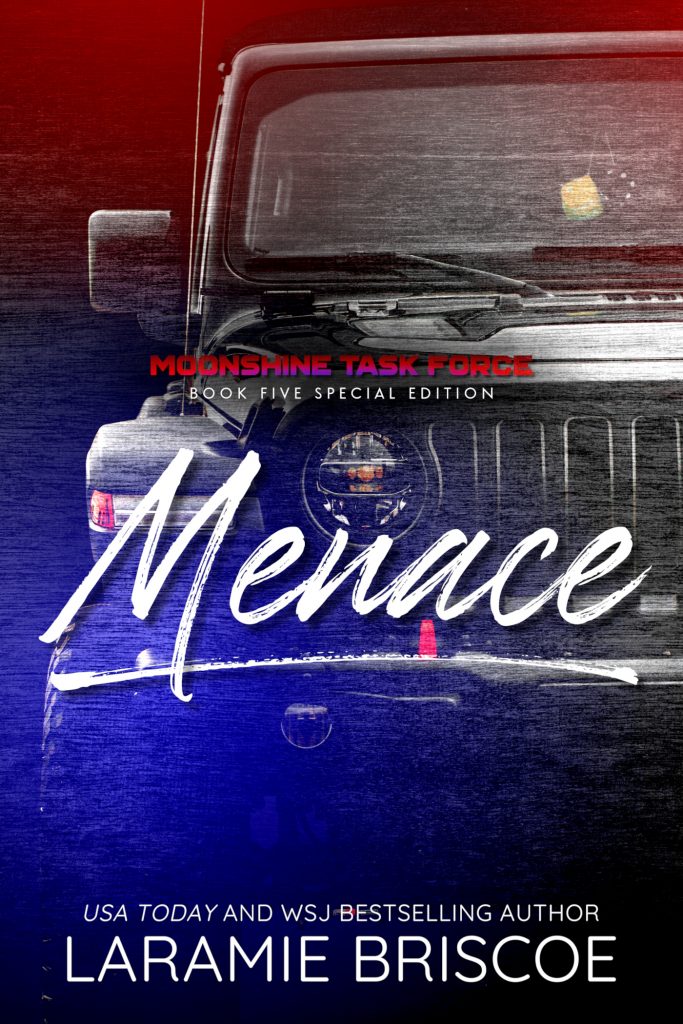 Title: Menace (The Moonshine Task Force: Special Edition), #5
Author: Laramie Briscoe
Genre: Small Town Contemporary Romance
Release Date: February 10, 2023
Hosted by: Buoni Amici Press, LLC.
From USA Today and Wall Street Journal Bestselling author, Laramie Briscoe, comes the special edition of a fan favorite series. Nobody writes blue collar romance like Laramie Briscoe, and nowhere is it more apparent than in the Moonshine Task Force: Special Edition Series. This edition includes a never-before-released short story, as well as all the slices of life scenes and text messages I've written for this couple.
The sexy, single dad of the MTF finally gets his turn...
Mason "Menace" Harrison
"Single and ready to mingle…" Those are the words above every picture of almost every female that strikes my interest on this dating app my son talked me into getting. After being a single dad for seventeen years, I'm ready to spread my wings, just not with most of the co-eds who keep hitting on me and calling me daddy. Now that Caleb's in his Senior year of high school, I feel like I can let go of the iron-clad control I've had on myself without his Mom in our lives. I've enjoyed raising him, love the relationship we have, and while he went off the rails for a bit last year, we're closer than we've ever been. He's got a full ride to the University of Alabama, and I've settled into my spot with the Moonshine Task Force.
But my son doesn't warm my bed, he isn't someone I can share my dreams with, and he's not the person I want to grow old with by my side. I'm not sure who that is yet, but the smokin' hot lady going by the name BeachBum83 definitely has every single bit of my interest.
Karina Holland
"Looking for a good time, maybe more….." Those were the lamest words I ever typed in my life, but it was the best I had for the dating app my friend, Violet talked me into joining. I didn't have any high hopes for myself. As a High School English teacher, I'm sick of pervy Dad's hitting on me when they come in to discuss their child's lack of motivation to read the classics and apply themselves. Until the day Mason Harrison walks into my classroom. I had no idea Caleb's Dad was the man I met off that dating app who showed me how flexible I really am in the back of his Jeep. Within minutes of the parent/teacher conference he proved the sparks weren't one-time only when we christened my desk. Mason and Caleb? They touch a part of my heart that no one's ever touched before, and when a threat from the past shows up, I prove just how tough I really am.
AMAZON | APPLE BOOKS | NOOK | KOBO | LARAMIE BRISCOE DIRECT
Laramie Briscoe is the USA Today and Wall Street Journal Bestselling Author of over 30 books, with sales of over half a million copies.
Since self-publishing her first book in May of 2013, Laramie has appeared on the Top 100 Bestselling E-books Lists on Apple Books, Amazon Kindle, Kobo, and Barnes & Noble. Her books have been known to make readers laugh and cry. They are guaranteed to be emotional, steamy reads.
When she's not writing alpha males who seriously love their women, she loves spending time with friends, reading, and marathoning shows on Netflix. Married to her high school sweetheart, Laramie lives in Bowling Green, KY with her husband.
Purchase Renegade Today!
AMAZON | APPLE BOOKS | NOOK | KOBO | LARAMIE BRISCOE DIRECT
Purchase Tank Today!
AMAZON | APPLE BOOKS | NOOK | KOBO | LARAMIE BRISCOE DIRECT
Purchase Havoc Today!
AMAZON | APPLE BOOKS | NOOK | KOBO | LARAMIE BRISCOE DIRECT
Purchase Ace Today!
AMAZON | APPLE BOOKS | NOOK | KOBO | LARAMIE BRISCOE DIRECT
Preorder the rest of the last book!
Cruise, #6: Special Edition: